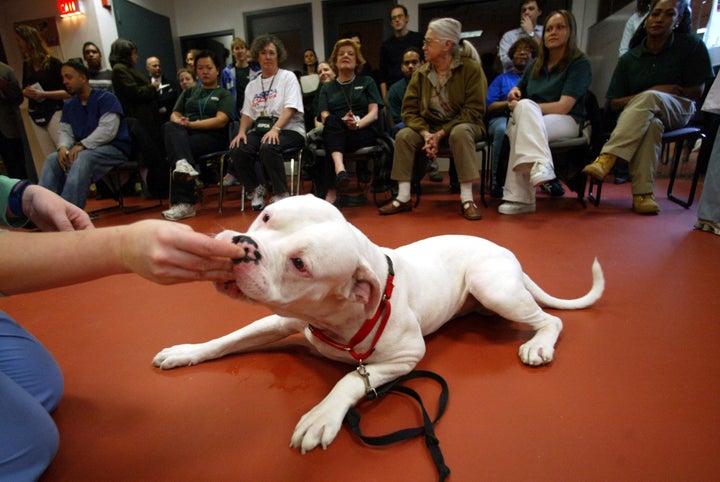 As 2011 rapidly draws to a close, I marvel at all the great work that has been done by animal welfare organizations this year. Throughout the country, more individuals are volunteering in shelters, adopting animals, and advocating for animals than ever before. Each of these groups and individuals will have accomplishments to share, and most likely saw areas they could improve in 2012. For now, though, let's reflect on some of what the ASPCA accomplished this year:
o The ASPCA made approximately $15 million in grants to help animals, which makes us one of the top three animal welfare grant-makers in the country. These funds were used for numerous worthy purposes, such as providing hay for horses in drought-ravaged states and preparing a report on the horrific conditions racing greyhounds endure in Florida.
o We collaborated with community partners across the country to save the lives of homeless animals, and we sponsored the ASPCA $100K Challenge in which the animal shelter and rescue group contestants saved 52,484 dogs and cats during the three-month competition - 8,977 more lives than last year.
o We provided free and low-cost spay/neuter surgeries to financially needy pet parents in New York City, and we trained other communities how to provide quality high volume spay/neuter surgeries. Since a majority of the dogs that end up in the shelter system are pit bulls, we continued "Operation Pit," which provides free spay/neuter surgeries and continuing veterinary care to pit bulls in New York City.
o Our Field Investigations & Response Team assisted the animal victims of natural and man-made disasters across the United States. Our largest rescue effort this year was helping the animals left homeless following a tornado in Joplin, Missouri that left 160 people dead and more than one-third of that community destroyed. Just a few hours after the tornado struck, the ASPCA dispatched its disaster response team to lead emergency sheltering efforts for animals displaced by the tornado. The ASPCA provided emergency sheltering for more than 1,300 animals affected by the tornado and food and supplies to more than 7,500 affected animals. We reunited almost 500 pets with their families, and then we hosted a major adoption event where 5,700 people came from 24 states to adopt 745 cats and dogs left homeless by the tornado.
o We partnered with other animal welfare organizations to rescue and shelter victims of puppy mills, but also focused on cutting off the cycle of puppy mill sales through our "No Pet Store Puppies" campaign. We asked animal lovers to refrain from buying anything-pet supplies, collars, kitty litter, etc. - from pet stores that sell puppies. People are getting the message, and many pet stores have discontinued their puppy sales, including Jack's Pets, which owns and operates 27 regional stores located throughout Ohio, Kentucky and Indiana.
o We advocated on behalf of animals before the federal, state and local governments and at the grassroots levels. One of our successes was our collaboration with other animal welfare groups to get New York City officials to raise funding levels of the public animal shelter so that by July 2014 its annual budget will exceed $12 million - a 77 percent increase over the current budget.
o We partnered with the U.S. Department of Justice to develop the first-ever toolkit aimed at assisting law enforcement agencies in addressing dogfighting. The resource, a 96-page, illustrated manual, is available free of charge from the Justice Department to law enforcement agencies, investigators, prosecutors, animal control officers, veterinarians and interested community partners.
o We launched an Animal Relocation Initiative, which moves shelter animals from areas of oversupply to areas where there are few, if any, similar pets available in shelters for adoption.
o We collaborated with Baltimore and Maryland leaders to create a task force to combat animal abuse - the first anti-animal abuse commission of its kind.
o Our Humane Law Enforcement agents investigated and helped acquire the DNA evidence that resulted in felony convictions in two animal cruelty cases that went to trial in New York City. This was the first time in New York City's history where DNA analysis performed during animal cruelty investigations was then entered into evidence during the trials.
o We hosted shelter medicine conferences and evening seminars at Cornell University, Colorado State University and the University of Wisconsin.
o More people are our "friends" than ever before - we are one of a few animal charities to have more than 1 million people who "like" us on Facebook.
Through each of our successes this year, we also took note of ways we could do better in the future. We look forward to saving more lives in 2012.