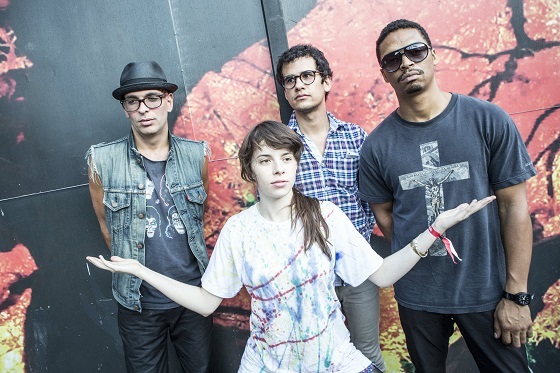 Last week Red Bull Music Academy in Los Angeles announced a surprise invite-only performance to be held on Friday, June 28 at the Silverlake club Los Globos. With the only clue being that this show would be under Red Bull's Panamerika brand, we waited until Wednesday night for the artist to be revealed via Twitter.
Bosnian Rainbows was announced as the surprise special performance. This new all-star indie group is comprised of Omar Rodriguez-Lopez (Mars Volta), Teri Gender Bender (Le Butcherettes), Deantoni Parks (Mars Volta) and Nicci Kasper (KRS-ONE).
They released their self-titled debut album recently, and have been on the road consistently since August 2012 touring extensively in North America, Europe, Russia, Australia, New Zealand, and Japan. They made their U.S. festival debut at last September's Fun Fun Fun Fest, and appeared at Festival Vive Latino in Mexico City in March 2013.
The show was scheduled for an early 8 PM start time. Outside the clubs doors on Sunset Blvd., indie-rockers where lined up ready to see the band in this intimate setting.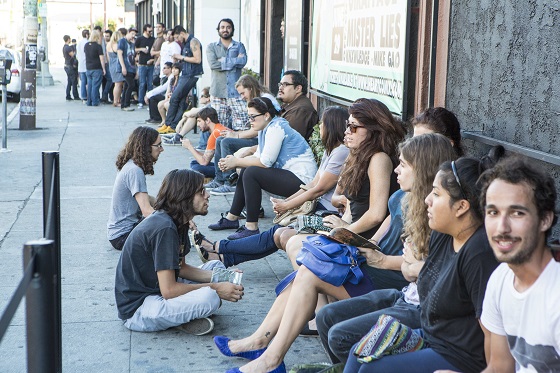 The room was hot and sweaty with a couple hundred fans pushed up to the front of the stage. Everything that Omar Rodriguez-Lopez produces is awesome, and Teri Gender Bender has been a favorite to watch live with Le Butcherettes. Dripping in sweat, Teri paced the stage back and forth, and captivated the audience with her expressive faces and haunting vocals.
Bosnian Rainbows rocked hard and left the crowd stunned. Below are some photos captured at the show: