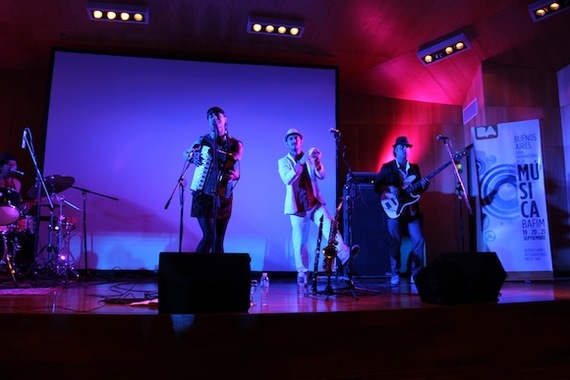 (Photo courtesy of BAFIM)
Earlier this Fall, I headed down to Argentina for the annual Buenos Aires Feria Internacional de la Musica (BAFIM). The three-day conference started as a support system for Argentina's music scene, but has expanded drawing music professionals from all over Latin America.
I knew just enough about Argentina's music before going on this trip, with groups like Bajofondo, the eclectic roster of ZZK Records, and of course some tango here and there. With only three days in Buenos Aires, I dug in and explored everything within reach.
Thursday and Friday consisted of intense business meetings during the day between local artists and international programmers at the Centro Metropolitano de Desino. The giant center is home to offices for design firms and creative entrepreneurs that help generate arts for the city. One thing that caught my attention is that almost every music group at BAFIM had really cool album artwork. The city prides itself in design and seems like the music scene is benefiting from it.
Over the two days, I sat down with about 35 artists, managers, and other business professionals from not just Argentina, but also Chile, Uruguay, Brazil, and other places. All were excited to present their work and discuss the possibility of expanding to other markets like the U.S.
In the evenings, showcases were held at 12 venues throughout the city. It gave us a chance to bounce around different neighborhoods and circle through the town. Buenos Aires has a decent subway system and taxi service that got me wherever I needed within 20 minutes.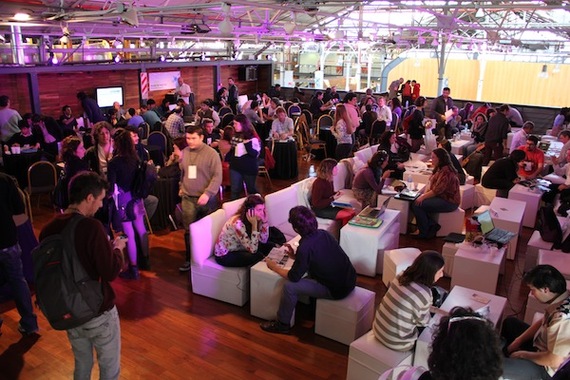 (Photo courtesy of BAFIM)
Before heading out to the showcases on Friday night, I caught an Alicia Keys concert at G.E.B.A. Stadium. It's always interesting to see how international crowds react to our American artists. I shouldn't have been surprised to witness the entire stadium singing along to her hits. Also performing was Diego Garcia - an Argentine singer-songwriter by way of New York. His new album is amazing and recommend giving it a listen.
On Saturday night, the city got a treat with a free concert by Argentine rock legends Los Fabulosos Cadillacs in a city park. It was their first hometown show in years. They pretty much owned the city that night. It was the talk of the town, and even had the concert broadcasted live on the local radio station. I left just before the concert finished to beat the crowd and catch a taxi to the showcases.
To end the conference, everyone headed to the venue Konex for a special closing party. There was a 17-piece percussion band named La Bomba de Tiempo keeping hundreds of people dancing till the early morning.
Of course the trip wouldn't be complete without a little sightseeing, shopping, and eating.
My favorite restaurant was Don Julio in Palermo. It was packed at midnight with people devouring the juiciest Argentine steaks. The Malbec wines, empanadas, and sausages were what I hoped for.
I spent a couple hours one day at Plaza de Mayo, and loved The Casa Rosada museum. There were vendors in the plaza selling arts, crafts, and deserts. A short walk down the street we ran into the Buenos Aires Dia de Brasil festival. A carnival style dance and drum troupe broke out in the streets. From there I walked towards Plaza Dorrego in the neighborhood of San Telmo. It was a great walk for exploring the artsy streets and antique shops of the city.
Other highlights include taking a stroll through trendy shopping areas of Palermo SoHo; taking photos with colorful building backdrops and tango dancing in the streets at El Caminito in La Boca; the weekend market in Recoleta, were you can buy gifts from some of the most unique artisans and visit the historic cemetery where Eva Peron's grave rests; and walking along the water in Puerto Madero.
Can't believe I experienced so much in just three days!
I left BAFIM with tons of music, and met some artists I hope to bring to Los Angeles soon. Here are a few you should get to know: