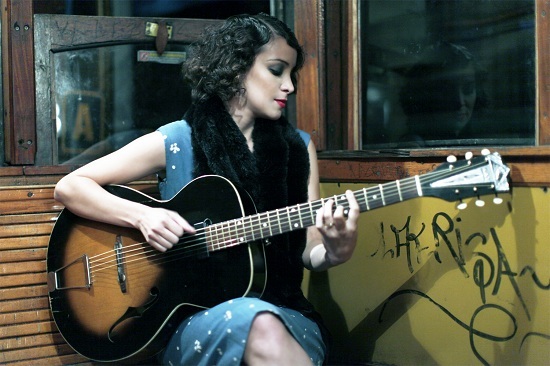 Gaby Moreno released her first all-Spanish album Postales earlier this month. I sat down with her at my Los Feliz neighborhood café to discuss her new music, that I believe has the potential to break boundaries and integrate new audiences to Spanish-language music.
Moreno represents to me how exciting Los Angeles can be as a multicultural market with unique immigrant stories. People from other countries settle in Los Angeles everyday. Where you settle, and the people you first meet, shapes your very own experience. The outcome of those experiences for an artist like Gaby Moreno, is a piece of work that only a city like Los Angeles can inspire.
She is obsessed with the 1920's; aspires to be creative like her favorites Cat Power, St. Vincent, and Grizzly Bear; and also claims to not have many Hispanic friends.
"I never speak Spanish in L.A. and I am surrounded by English-speaking people twenty-four seven," she said.
Moreno emigrated from Guatemala and has been living in Los Angeles for 12 years now.
I remember first seeing her perform back in 2006 after coming across her on Myspace. Her music has evolved from almost completely English, to bilingual on the Illustrated Songs album, and now all Spanish on Postales. The idea of the new album came from Guatemalan artist Ricardo Arjona, which collaborated with Moreno on his song Fuiste Tu.
That single also raised her recognition with the Guatemalan community. In general, she has never really been seen as a Latin artist. Los Angeles has the highest Guatemalan population in the country, but only recently have they started showing up waving flags at Moreno's shows.
"Before Arjona, you never saw a Guatemalan at my concerts," said Moreno. "Now even when I go to Europe and play a city like Copenhagen they show up."
Moreno does not plan on moving away from the audience she has built in the U.S. market. "If anything I want to be a world artist reaching out to more cultures. I'm a Latin American artist with international reach," she explained.
Her style is more American vintage soul and blues, and she struggled with the image record labels tried to give her when first signing to Warner Bros. at the age of 18. She explained how they saw she was Latina and wanted to make her a Latin artist.
For those of you that have been sleeping on Gaby Moreno as an emerging talent will be convinced with Postales that it may be the freshest sounding Latin music release of the year. Compare it to your favorite soul and blues artists in any market, and you will see how she can't be limited to the Latin category.
The new single Ave Que Emigra, is a song also on her previous album. Since she was fairly unknown to the Latin music audience, they decided to go with this song as a way to introduce her, because it's about the immigrant journey.
Listening to my favorite tracks on the album like No Estoy Tan Mal, Valle de Magnolias, Que Voy Hacer, Moreno's story becomes clear with all her favorite things blending together to create her unique sound - The blues, Latin culture, and Los Angeles.