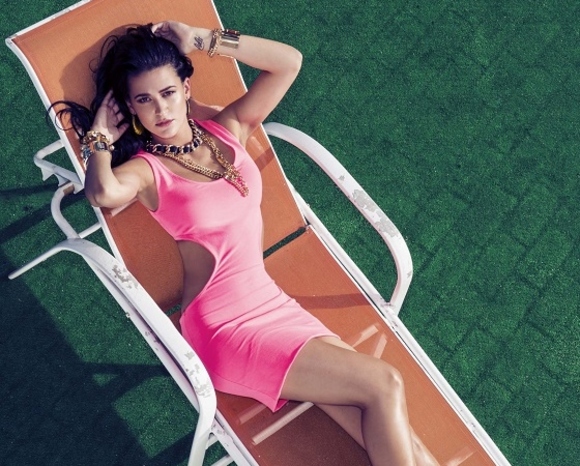 An artist to watch this year is Cuban-American Kat Dahila. The Miami raised 22-year-old released a single titled Gangsta, which caught everyone's attention and has her new fans wondering what's next. She made a stop in Los Angeles recently and we had a chance to discuss her moves in music.
Her debut album titled My Garden is scheduled to drop sometime in September through Vested in Culture/Epic Records. She has been in the studio with some impressive beat makers like Timbaland and Salaam Remi and says the hardest part will be selecting from all the recorded music to make her first album.
The inspiration behind her lead single Gangsta came when one of her producers gave her the track and she automatically thought of 50 Cent's hit rap song Wanksta.
"There was no song that was telling me how I was feeling, so I made Gangsta, explained Dahlia. Now it's a female anthem."
She also recorded a Spanish version of Gangsta, proving that she can make music in both languages. Listen to the Spanish tack here:
Kat Dahlia is not just a rapper though. She sings and writes all her own music as well. Her music style ranges from a mix of pop, hip hop, and reggae. Her taste in music is just as eclectic with current favorites like Ellie Goulding and Little Dragon, and legends like BB King and Robert Plant.
"My songs are a plethora of meanings and different sides of myself. I just wanted to put out different dope shit, said Dahlia.
Her latest single released is titled Fireman. Listen to it here:
It has not been easy for Kat though. Growing up she remembers having tough times when her parents divorced, and at one point lived in a hotel room with her mom and three of her six siblings. She recalls sleeping on a sofa-bed with two of her sisters while her other sister slept in on an armchair. That's when she realized she had to do her own thing.
It all started happening for Kat Dahlia when left her South Beach comfort zone, where she was waitressing at local hot spots, and moved to New York City at the age of 18 to pursue her dream of becoming a recording artist. Although being inspired by the big city, she was quickly sidetracked by a relationship gone bad. She gained the courage to leave the relationship after a year and found that her negative experiences helped inspire much of her songwriting.
"Everything happens for a reason and it made me who I am. You become a person that's building and not breaking down. I turned it into music."