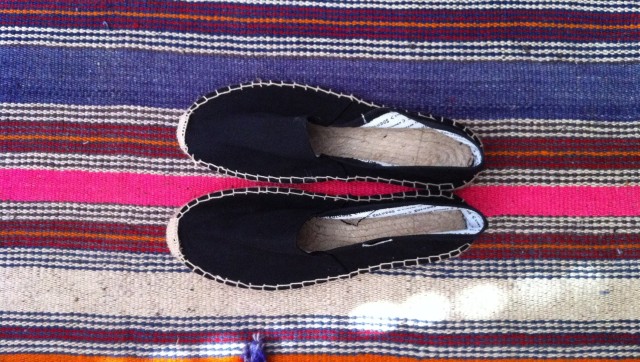 For a long time, I have heard of Aspen described as "Diamonds and Denim" but after my recent visit I saw more diamonds and gortex or fleece. Lululemon must consider Aspen a runway of their most recent activewear -- it's everywhere; on a bicycle, running into "Peaches" to grab a healthy snack, and in the afternoon: shopping.
Aspen is 6,000 people off season and 36,000 during peak season. It is the only place in the world that when I have seen someone with a messed up pedicure and exposed feet, instead of being disgusted, I just thought they probably biked 30 miles, climbed a mountain creek, possibly wrestled a bear, and all before 9:00 a.m. No one in Aspen goes to the gym; they live in it. Aspen is so impossibly beautiful that you would think Disney would have the rights to all the views but in fact there are people from all over the globe that call it home, but very few a first home.
Of course, I was more interested in the locals so I asked Elizabeth K. Slossberg what fashion sightings she had seen recently. She recalled a llama on a leash and two male pleated skirt sightings (I think it was Marc Jacobs in for a weekend). That being said, I don't know why -- the men of Aspen are so gorgeous and fit that if they can afford the best fabric and tailoring -- why not?
There are some cheezy Euro fashion outlets but why would any of these guys go into that time warp, it's like Georgetown in the late 80s/early 90s. There's not a cool men's shop that isn't specifically for performance gear. Surely these guys are going to have an event or they might just want to be "hot" and dress up -- a couple of the local fashionistas predict that there will be an "apre fashion" movement ala James Bond chalet scenes in On Her Majesty's Secret Service. Some slim gorgeous suiting or super luxe fabrications that so far are mostly offered by Prada but their clients are surely ready for a new brand. I had a quick chat with a gorgeous local guy named Oliver about fine knit wool cardigans from the late 60s -- the kind with piping and elbow pads and he said he was looking to buy one but everyone carries Underarmour or Performance Fleece. Then his equally stunning girlfriend walked up and she was dressed in an amazing shift and she said she shopped at "The Gallerie."
As much as I can talk about the men of Aspen being gorgeous there are stunning women with reason to dress. Aspen has a large and still growing art scene with a new Aspen Museum of Art already breaking ground. Between gallery openings, charity benefits, performing arts, and private dinners there is a huge fashion scene in Aspen. Everyone I met will tell you how laid back the atmosphere is but that doesn't exclude great fashion -- there are people mingling in workout gear and designer apparel.
All the major designers have shops in Aspen but I wonder how many are profitable? I was standing outside the Louis Vuitton shop admiring the fact that they did a great job with their Yayoi Kusama installation when the manager came out to comment how beautiful the window was and walked away. I was curious how these stores stay open when they have a strict selling season. Retail in Aspen must be a science with most of your yearly volume falling into summer and winter periods. I was impressed with the extensive lists of designers at "Nuages" and they have been open forever. I poked my head into "Bonnie Young" to admire what can only be explained as works of art that happen to fit onto little people and double as clothing.
There is so much to offer in designer apparel if you know where to look and what better line can someone have when asked where they got their look -- "Oh, I picked it up in Aspen." I think that is what is great about Aspen, you can go to the effort to dress up for the night or dress down and everyone just rolls with it. Personally, I don't recommend a llama on a leash but at the same time who am I to say?