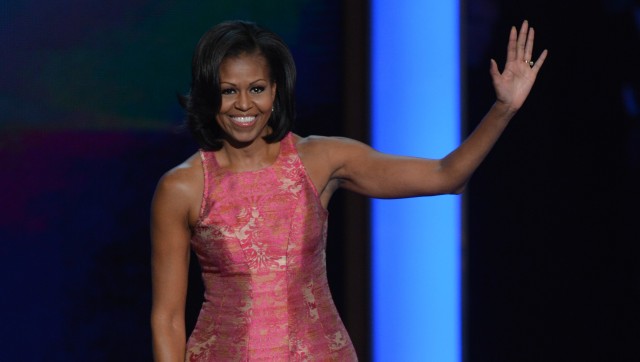 This weekend we have another DC fashion spectacular (much like Disney on Ice, the inauguration is going to be filled with colorful characters wearing winter costumes). The celebrity roster is shaping up to be a powerhouse of fashion, which is especially exciting given that the Republicans in DC always complain about how the Democrats are not glamorous. There are fewer galas this year, making a ticket to dress up even more coveted. Gowns will be displayed at night, but brunches and other daytime events will be filled with sleek, modern silhouettes.
I am curious to see what coats will be out on the town. The coat will be such a key item this weekend, and with a limited amount of decent down coats on the market, my guess is that everyone go with shearling or take the political risk of wearing fur. The Democrats generally stay away from fur and lean towards sensible dressing, but this inauguration is different, there will be a confidence in dressing that we didn't see previously. Last time, the players were just feeling each other out and getting to know each other with conservative choices, but this time there can be a freedom of expression and maybe even some fun?
My eyes are going to be on Hillary Clinton. Clinton will be stepping down as secretary of state -- and striking a blow to the pantsuit industry. Her pantsuits have become fashion history. I know that one day there will be a retrospective at the Met or a Sotheby's auction of all those coordinating jacket-and-pant combos. What would be the most incredible fashion play is if she collaborated with Zang Toi on one of his amazing convertible gowns with a breakaway skirt. Zang is known for his appreciation of strong women, so why not shake up the industry with a full-skirt gown that breaks away to expose an evening pantsuit! She can steal Michelle's spotlight and position herself as a fashion world leader, too. I love the idea of Hillary Clinton being scouted as a spokesmodel for a major fashion label. Imagine a full campaign for St. John surrounding their knit pantsuit collection (it would be more successful than that Angelina Jolie debacle) or a soft jacket from Armani Collezioni named "the Hillary." Picture Clinton in a fashion house with a room full of creative types critiquing her runway walk or in front of a wind machine while being told to give the camera sexy eyes. I am convinced Hillary has been growing out her hair for a Vogue cover, and as farfetched as this visual may seem, there is the rumor of Anna Wintour becoming an ambassador so never under estimate the fashion world.
Michelle Obama will no doubt take some risks that say, "I got this and I'll do what I want with it." She generally does something that focuses on her athletic shape, so either a strapless or racer back, but what if she pulls out some Jessica Rabbit-esque cleavage or extensions in a high ponytail down to her waist or, even better, she can rock an equestrian look and break out an over-the-knee boot to keep it real. Even with the current trend towards nude colors, I bet Michelle goes with a bright blue or even an emerald for her gown choices. She is a seasoned professional, at this point, and will definitely bring something fresh for us to see.
As for what the men will be wearing for inauguration... who really cares? As long as they make an effort to wear something other than a boxy Hugo Boss suit from the '90s, they can't go wrong.