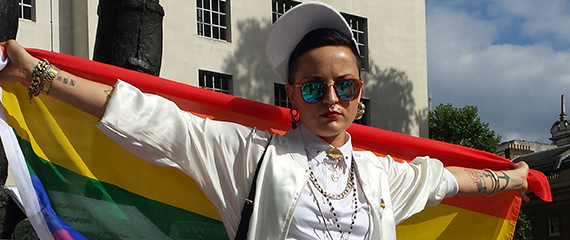 There's a big hoo-ha going on about Russian and their policy of hate against the LGBT community. In response to this policy of hate there's been condemnation by the global LGBT family and our allies. The Russians are saying that they have nothing against gay people but against our propaganda and if there's one country that should know about propaganda it's Russia who are really only second to North Korea.
Stephen Fry was on TV the other day being interviewed about his opinion on the situation and he called for some symbol a silent protest in the same way Tommie Smith and John Carlos did at the 1968 with their Black Panther salute. Others are calling for a boycott of the Winter Olympics altogether.
Paul Burston wrote a strong analysis and discussion piece in today Guardian online exploring the options available and the debate within the community continues.
The more I think about it the more I realize that a one-prong targeted protest won't work, it'll get our message across that we're not happy about the situation in Russia but it won't change anything especially when the UK has an elitist Etonian in charge who's proved himself time and time again to more interested in money and his cronies than he is about the person on the street. Stephen Fry wrote an open letter asking for the issues to be addressed to which David Cameron responded in 215 characters via Twitter because that's all he thinks about a well considered plea for solidarity from the LGBT community, he couldn't even be bothered to use all 280 available to him.
With the failure of governments to act in the name of the voters in anything other than war and death it's up to the LGBT community to take action on our own, we have to stoke this fire and fan the flames until people do listen. I'm still calling for a boycott but not just of the games but of the sponsors. I'd like us not to buy from those companies that are willing to put their profits before human rights.
Really the LGBT community isn't that big in its localized state based on national borders but on a global level we have power, we have influence and we have financial clout, the don't call it The Pink Pound for nothing.
This takes a commitment from all of us, changing your drink from something you know to something you don't, if you're upgrading your mobile moving from a Samsung based android tab or phone to an apple product could be a techno-nightmare and GE own half the planet don't they?
Personally the Samsung thing hits my button but I'll switch to Apple this week and consign my Samsung products to the crap drawer along with my Omega Seamaster and I won't be taking my annual diving trip to the Maldives with Thomas Cook.
In the UK we import our fuel for power stations, we import almost 20 millions of tons of coal from Russia which I think is the real reason our illustrious spineless leader isn't willing to do anything in support of the LGBT movement; at the back of his mind he's having a worry about coal prices and keeping the lights on across Britain, or perhaps he's still the Gay Hater that he's shown himself to be in the past and that he has more in common with Putin than he's willing to admit to camera.
I am of course a hypocrite, while I type this watching the Athletic World Championships beamed live from Russia into my living room onto my sexy flat Samsung TV listening to the keys click on my Microsoft fueled Laptop protected by a Kaspersky Labs firewall.
Luckily Twinings don't sponsor the Winter Olympics their chamomile and spiced apple tea is the only thing that keeps me calm when I think about this whole situation.
Sponsors:
Coca-Cola, Atos, Dow, GE, M, Omega, Panasonic, P&G, Samsung, Visa, Avaya, Baltika, EF, Ottobock, Jet Set, Kommepcaht, Adecco, Arcelor Mittal, Cadbury, Cisco, Deloitte, Thomas Cook, UPS, Adecco, Detech, Kärcher, World Class, KIOUT, Exect Business Training, Kelly Services, Microsoft, Kaspersky Lab, Contemporary International, Russian Buses -- Gaz Group, Scania, Life Fitness, Parter.ru, PR agency CROS,