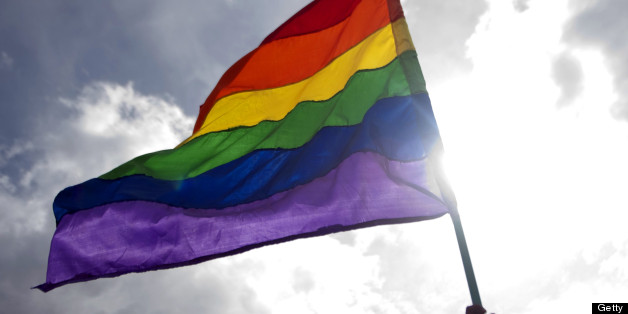 All over the world every year, the LGBTQI community is going crazy in a display of color, whistling, and naked flesh marching through the streets in a cavalcade of togetherness, a glorious celebration of who we are. I used to do Pride quite a bit, traveling the UK looking for my next busy weekend of partying until my eyeballs felt like they were falling out. For me there are three truly amazing Pride events in the UK: Manchester, London, and of course Brighton. But these days I don't do any.
This past weekend was Brighton Pride, which, yet again, I didn't attend. My Facebook feed was lit up with photos and status updates from friends sharing the joy and illustrating the emotion. Prominent author V.G. Lee posted that she was reading in the literature tent and posted about what an amazing time she had. I incorrectly assumed that V.G. Lee was reading in the women's zone, and I made a comment that reminded me why I don't do Pride anymore.
For me, Pride is more than a party. I remember the hatred for the LGBTQI community. I remember Leicester 2000, when the police ended up arresting a handful of neo-Nazis who, like a lot of sexually insecure men, took umbrage at our presence on the streets as we snaked our way to Abbey Park.
The month before the march, the Scottish Parliament had repealed Section 28, which had criminalized being gay and placed queers -- mainly men -- on the sex offenders registry for having consensual sex with an adult person of the same sex.
Starting the march, we knew that the right wing would be there, but spirits where high, although lurking at the back of my mind was a nagging image of me leaving the march in the back of an ambulance. Luckily (this time) nothing happened to me, and I proceeded to get wasted before waking up the next day next to a woman whose name escaped me even then.
Every year since, until recently, I've been to at least one Pride event. Really, the UK is so small and there are so many events that you almost can't help but go to at least one, but Manchester will always be my favorite.
A few years ago I was in London and had arranged to meet friends outside Baker Street tube station. We were going to march as a group before heading off to enjoy the rest of the day. The march went well, the weather was good and the turnout was amazing. My own personal highlight, as always, was watching the LGBTQI service men and women from the armed forces, pristinely turned out and showing us walkers what marching really is.
Crowds lined the streets while we stopped traffic -- people from every corner of the LGBTQI community, from all over the country. Banners, color, whistles. Lesbians, drag queens, transvestites, transsexuals, genderqueers, anarchoqueers, all in one place, all claiming the streets.
The atmosphere gradually builds to the thudding of the samba drums, then fades into the beat of the dance tracks blaring out from a float carrying dancers in rubber hot pants handing out ID lube, condoms and dental dams. I love being part of the march, I love the feeling of being part of something bigger. For that moment in the sun, you feel the community, the symbolism of us all moving in the same direction no matter which section of the LGBTQI community you're from. The underlying message is that we are all connected, and to some onlookers who have little interaction with our community, it's their only opportunity to see the variety within our world, and for us to surreptitiously chip away at the edges of some of the stereotypical roles that can be forced upon us.
However, within our community there's an all-too-common problem with stereotyping. This last time I ever went to Pride, my friends had gone ahead to the women's area with the understanding that I'd meet them in the dance tent. Half an hour later I was standing outside talking to the security officer, who simply wouldn't let me past the gate... because I didn't meet their expectations of what a female or woman should look like. As I didn't have my driver's license or any other form of ID, I simply couldn't enter.
This wasn't the Michigan Womyn's Music Festival, which bans anyone who's not a cisgender woman; this was supposed to be an inclusive event. But I learned that day that while some people want an inclusive society and community, if your face doesn't fit, then inclusion doesn't apply.
In that crushing moment I was branded "male" because of my masculinity, because of my 185-cm height, because of my gangly gait, my flat chest and my short hair, because of my aspiration not to conform to a socially accepted visage of "woman."
"Sorry, but unless you can prove you're a female, you can't come in."
I sent a text to my cis friends who weren't born hermaphrodites, who came back out to speak to the security woman. In the course of the next five minutes, a debate ensued, and the woman guarding the gate was joined by the senior security officer. Eventually, after talking to my friends, they agreed to let me in, but by that time the damage was done. I wasn't being allowed in because they saw me as female; I was being given access because my friends had become very vocal in my defense.
The screaming voice in the back of my head was telling me that I'll never meet expectations, that I'll always be seen as male, and I was showered in my own self-loathing, acutely aware of my hermaphrodism. I made the head of security aware of how this event had affected me, and of the facts that I didn't want to go in anymore and the weak apology offered wasn't enough.
It wasn't neo-Nazis and threats of violence that stopped me from going to Pride. It wasn't Section 28 and the institutionalized homophobia that it encouraged. It wasn't the commercialization of Pride that deterred me from staking my claim to my part of the LGBTQI space. It was a butch lesbian with a bouncer's badge who made me feel so unwelcome that I've never been back, which is a shame, because in a world where we strive for inclusion within our own ranks, there are still prejudices.