Remember my first blog when I said there were no gators around the convention site? Well, I lied. Not in the "I really knew the truth but wanted to keep it from you" way. That would be, well, wrong. That's not who I am. I leave that type of deception to others. Hmm, I wonder who these "others" could be. No, in my 15 years at UT I really had never seen a gator in Plant Park. But this morning sunning himself on the banks of the Hillsborough River was a six-foot gator. I am affectionately calling him "Arnold Schwarzengator." I think he deserves an appropriate republican name that emphasizes his power and fitting today's blog topic.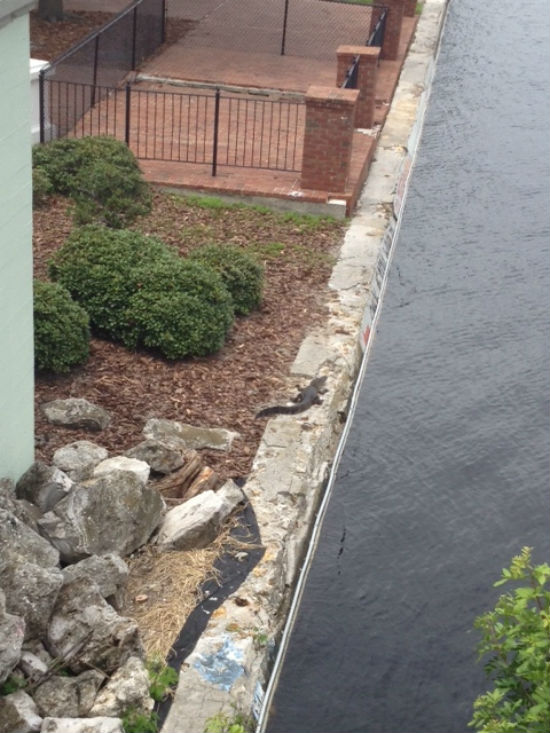 The gator
I was visiting UT's vice president of operations who oversees security on campus this morning. I asked her how things were going, and she said everything was pretty quiet. The real commotion this morning was the gator sighting. She was in the process of ordering campus safety to "shush," (yes, that is the official gator moving term) him off the wall and back into the river. I admit I was kind of miffed. In my book "Schwarzengator" has every right to be sunning himself on the sea wall. Actually, gators were here first.
I am, however, happy to hear that delegates and protesters alike are getting the full Florida experience; hurricanes, heat, humidity and now gators. We aim to please! I have been hearing that protesters were upset because the weather had ruined their plans. Yep, tear gas and pepper spray they can handle, but rain and wind without an umbrella, no way. They are willing to do a sit in and get stomped on by a police horse, but please do "shush" all the gators from the park.
I was speaking to a member of one of the delegations who was surprised by the number of law enforcement on the streets. Even some protestors were overwhelmed by the number of police and military presence. What did you expect to find in Tampa? I told you in my first blog that we are a military town, is nobody reading this? We have an image to uphold, and UT is a big part of this town's image.
And here is when the lesson comes in. During the Vietnam War three of UT's graduates earned our nation's highest award, the Congressional Medal of Honor. This is an accomplishment that has only been surpassed by our nation's military academies. In 1991, Queen Elizabeth II held an official reception for Gen. Norman Schwarzkopf in Fletcher Lounge, the large ballroom in Plant Hall, after bestowing an honorary knighthood on him. I wonder if the general likes to be called "Sir Stormin' Norman." Anyway, UT is often visited by the military elite. We knew Gen. David Petraeus long before he became famous for the "Iraq Surge."
Tampa is a hardy town, and gators and military people are part of who we are. When Henry B. Plant built the Tampa Bay Hotel, now Plant Hall, he called it, "The Palace in the Wilderness." So it is only fitting that we have a gator sighting. If you wanted to see a mouse and princesses that city is to the east. If you wanted fruity drinks with umbrellas and lots of strange looking tan lines, that city is to the south. Folks, this is Tampa, if you can't handle military uniforms and gators, get out of the swampland.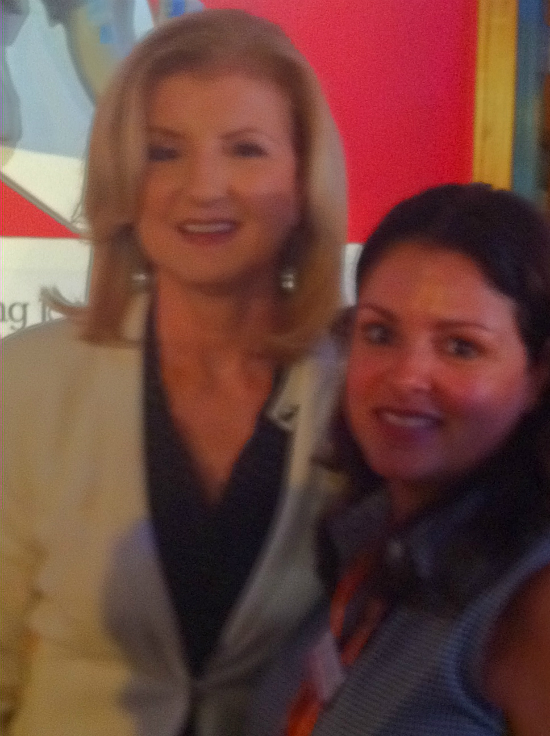 The author with Arianna Huffington at the RNC