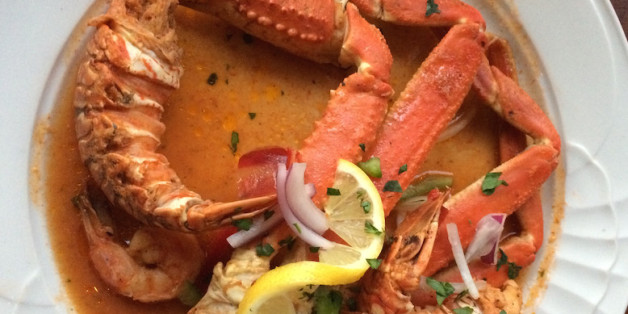 By Rachel Wharton, Writer at Edible Brooklyn
If reading about the spicy-tart Haitian condiment called pikliz in our fall travel issue inspires you to try one of the borough's many Haitian restaurants, you're in luck. We've compiled a list of five favorites to get you started.
1. Immaculee Bakery
1411 Nostrand Ave., East Flatbush; 718.941.2644
This tiny takeout bakery specializes in pate (pronounced pah-tey), a Haitian Kreyol word originally derived from the French term for pastry. Similar to Jamaican patties but with a thicker, denser crust and a squarer shape, pate are filled with everything from ground meat and peppers to guava paste and cheese. They're perfect with a bottle of Immaculee's housemade vanilla-spiked lemonade.
2. Kreyol Flavor
2816 Church Ave., East Flatbush; 718.856.2100
Kreyol Flavor is brand new to a stretch of Church Avenue lined with West Indian shops and restaurants, and most diners here create a heaping platter from the many well-spiced stews in the steam table. Most come with your choice of white rice, rice and red beans or the mushroom-flavored black rice called djon djon, plus fried plantains and a cold side like beet and corn salad. Shown above: a stewed mix of greens, chayote and vegetables called legume, made here with lima beans and crab, and underneath, okra stewed with goat. To the side is a cup of the spicy house pikliz.
3. La Caye
35 Lafayette Ave., Fort Greene; 718.858.4160
La Caye -- whose name is a riff on the Haitian Kreyol term la kaye, meaning home -- serves refined versions of the Haitian food the partners in this two-year-old spot grew up eating at home in Brooklyn. That includes chiktay, a flaky smoked fish spread spiked with Scotch bonnet chilies, a grilled conch dish called lambi boucane, and the seafood creole shown above. There's also live music, a backyard, a lengthy wine list and multiple fruity flavors of house-made sangria. Better still, La Caye has a beautiful storefront spot just across the street from BAM.
Still hungry? Click here for the complete list of 5 places to enjoy Haitian food in Brooklyn.
Photo Credit: Rachel Wharton