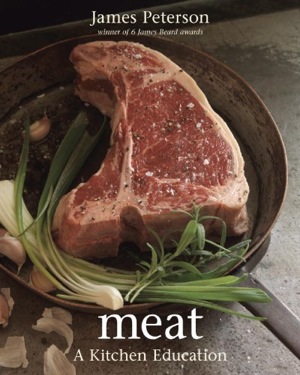 Listen to this podcast on Edible Radio.
Blue Plate Special hosts Kurt and Christine Friese talk to James Peterson about his new book Meat: A Kitchen Education.
Pantry Raid: Mealtrain.com and food for shut-ins of all sorts. What to bring when taking food to friends and family recovering from illness or childbirth, to seniors who need help preparing meals? How to make it easy, tasty and not too heavy.
James Peterson is the winner of six James Beard awards, a photographer, a chef and cooking instructor and his newest book is Meat: A Kitchen Education. In it he discusses techniques for cutting, preparing and cooking a variety of meats, encouraging a more critical tasting to recognize high quality meats. We talk about the ethical issues of meat eating and the proper method for cooking a terrific hamburger.
Do you ever struggle with what to take to people who are recovering: from surgery, childbirth or grief? Do you handle some food duties for seniors? There is a great website that can organize the volunteers so that not all the food arrives at once and so that the person's tastes and health needs are clear. We talk about some ideas for healthy, light but tasty foods that are also portable and easy to prepare.