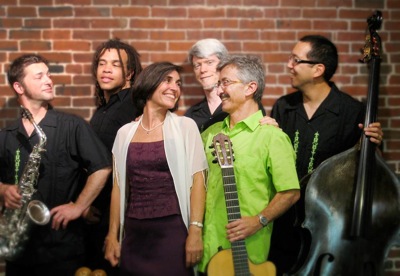 Listen to this podcast on Edible Radio.
Growing Home host Marla Camp, publisher of Edible Austin, talks to musicians Rosi and Brian Amador about their touring musical feast in seven courses, Sabor y Memoria.
Rosi and Brian Amador are founders of the Boston-based musical ensemble, Sol y Canto.
Composer and MacDowell Fellow Brian Amador's newest multi-media, pan-Latin musical suite, Sabor y Memoria (Flavor and Memory) is performed by the Sol y Canto sextet--plus strings, and touches on issues of memory and nostalgia for one's home country, immigration, hunger, cooking and, of course, chocolate! From appetizer to dessert, each movement is a "dish" of an imaginary meal. Everyone wants a taste! Rosi and Brian talk about what inspires their music, the role food plays in their lives and how food defines and brings together family and community.
Edible Radio Episode 88 Growing Home: Marla Camp with Sol y Canto.