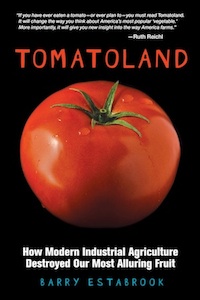 Smart Food is the Edible Radio podcast hosted by Jane Black. Jane's guest today is Barry Estabrook, journalist and author of Tomatoland: How Modern Industrial Agriculture Destroyed Our Most Alluring Fruit.
Listen to this podcast on Edible Radio.
"My obituary headline would have read: Food Writer Killed by Flying Tomato."
This is first line of Barry Estabrook's new book, Tomatoland. It describes what might have happened as industrial tomatoes flew off the back of a truck as he drove at 60 miles an hour along I-75, a highway in southwest Florida. These tomatoes, picked hard and green, are designed so they cannot be damaged during shipping - though clearly scientists didn't consider how they could damage others.
On this episode of Smart Food, Barry talks about the sweeping human and environmental dangers caused by the tomato industry, which go a lot further than flying, hard, green fruit. Workers are underpaid and, in extreme cases, enslaved. Pesticides endanger their health and that of nearby residents. Happily, he also points out efforts to improve the industry and bring back the juicy backyard tomatoes of the past.