Want to talk about miracles? How about the person who was once shot by a friend and survived? A couple of years later, the same person was crucified -- yes, he was literally nailed to the back of a Volkswagen. And once again, he survived. No, I am not talking about Jesus Christ; I am talking about the one and only Chris Burden, the famous American artist that passed away this past Sunday at the age of 69.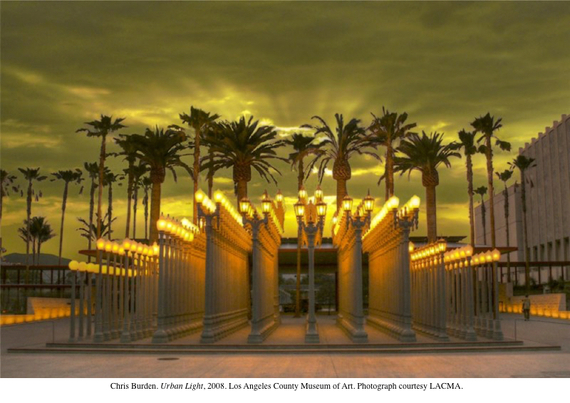 Burden was an Angeleno not only by the fact that he lived and worked in our City of Angels, but also by the way that he epitomized in his art the very essence and spirit of this great city. After his seminal sculptural installation, Urban Light, was installed in 2008 in front of LACMA, it became an overnight sensation -- with both the public and critics. For years, the artist collected Los Angeles' antique streetlamps. As a result, 202 of them comprise his Urban Light, which now serves as an unofficial emblem of our city. It seems people just cannot get enough of it. Day and night, dozens of people weave through the columns of this contemporary temple and do what happy people do these days -- obsessively shoot photos.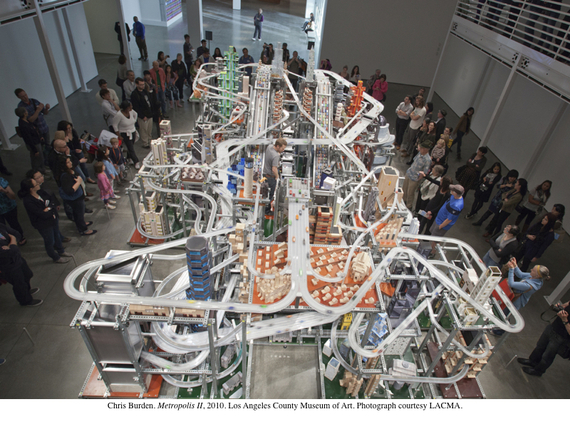 Inside of LACMA resides another iconic Chris Burden sculpture, Metropolis II (2010), comprised of thousands of electric toy cars madly running every which way -- a great poetic metaphor of LA freeways and our commuter culture. It took the artist and his assistants years to create this amazing, meticulously constructed work of art.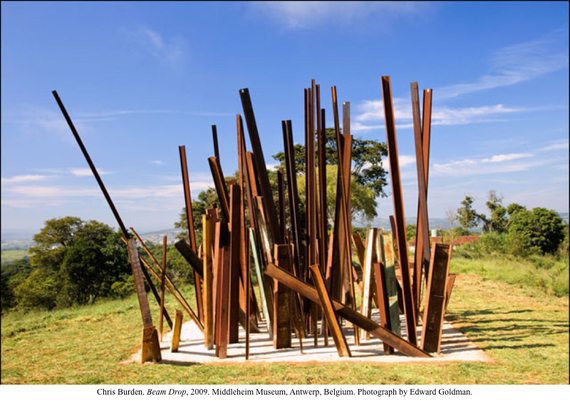 The first time I saw Metropolis II was at the artist's studio in Topanga Canyon. And in a surprising turn of events, a few days later, while on a press trip in Belgium, I ran into his public sculptural installation, Beam Drop (2009), in Antwerp. It is composed of several dozen steel I-beams dropped from a helicopter into the ground, stuck there like a wild, menacing bouquet of rusty branches. What a great artist, never trying to ingratiate himself to the public. Always challenging us. May you rest in peace.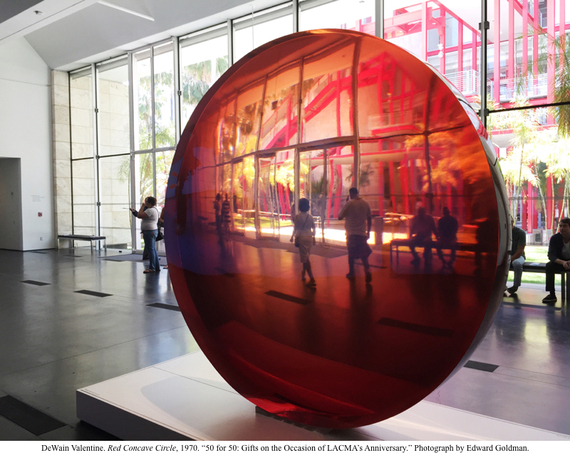 Being away for a couple of weeks, I missed the opening of the exhibition, "50 for 50," celebrating the 50th anniversary of the Los Angeles County Museum of Art. The exhibition consisted of 50 important artworks gifted to the museum by various collectors. Only a few of these artworks were given as outright gifts, most of them are promised gifts, meaning that it will likely take years before the gifts will become a part of the museum's permanent collection. So, don't miss your chance to see these rare works, ranging from the 15th century Christ Blessing by Hans Memling to Two Marilyns by Andy Warhol.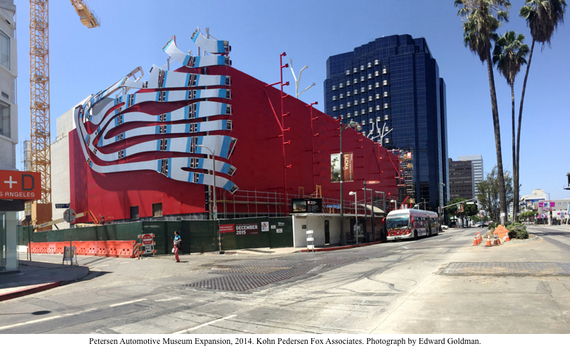 I have a feeling that Chris Burden would be amused watching the transformation of the Petersen Automotive Museum kitty-corner from LACMA. A couple of days ago, I was startled to see the new, bright red color of Petersen Museum's façade, with stainless steel ribbons slowly starting to wrap around the building. Once upon a time, the Petersen Museum had the dullest façade along the Miracle Mile. Now, with its intriguing transformation, it positions itself as a major attention grabber along Wilshire Boulevard.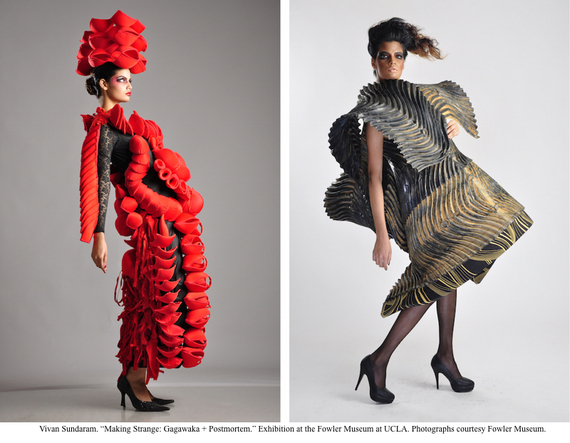 In the last couple of weeks, I heard from a number of friends that I absolutely must stop by the Fowler Museum at UCLA to see its new exhibition, "Making Strange" by leading contemporary Indian artist Vivan Sundaram. And indeed, it is a fascinating show consisting of more than two-dozen garments made from the most banal recycled materials and medical supplies, which are miraculously and seemingly effortlessly transformed into high fashion. I recently saw the grandly staged and somewhat overwhelming fashion show of Jean Paul Gaultier at the Grand Palais in Paris. It left me tired and unimpressed. At the Fowler Museum, I kept giggling in disbelief at the sight of haute couture made out of hundreds of ladies' bra pads, or skirts and blouses made out of corrugated metal originally meant for roofing purposes. With this exhibition, the Fowler Museum once again pulls the rug from under our feet, and we are better off for it.
To learn about Edward's Fine Art of Art Collecting Classes, please visit his website. You can also read The New York Times article about his classes here.
___________
Edward Goldman is an art critic and the host of Art Talk, a program on art and culture for NPR affiliate KCRW 89.9 FM. To listen to the complete show and hear Edward's charming Russian accent, click here.