For the last few days the combination of heat and humidity was unbearable, even here in Santa Monica. So the question is, where to go to escape the heat? To the movie theater? The nearest shopping mall? Or a museum? As far as the shopping malls are concerned I leave you to your own devices. But my suggestion for a very cool film is Ai Weiwei: Never Sorry, a documentary about Chinese artist/provocateur Ai Weiwei.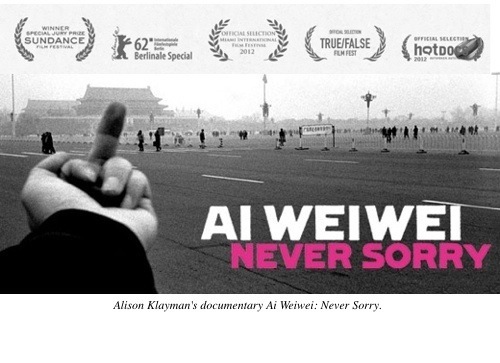 For years he has been a thorn in the side of the Chinese government, literally giving the finger to the powers that be. There is a famous series of photographs of his middle finger in front of Tiananmen Square and other sites of global authority in Paris, Berlin, and Washington. After the disastrous earthquake in China which killed more than 5,000 children in shoddily built schools, an event that the authorities tried to downplay, Ai Weiwei started to collect the names of the victims and put them on his blog. Needless to say his blog was shut down and his studio compound in Shanghai was destroyed. Then, under pretense of unpaid taxes, he was imprisoned for three months and only recently released.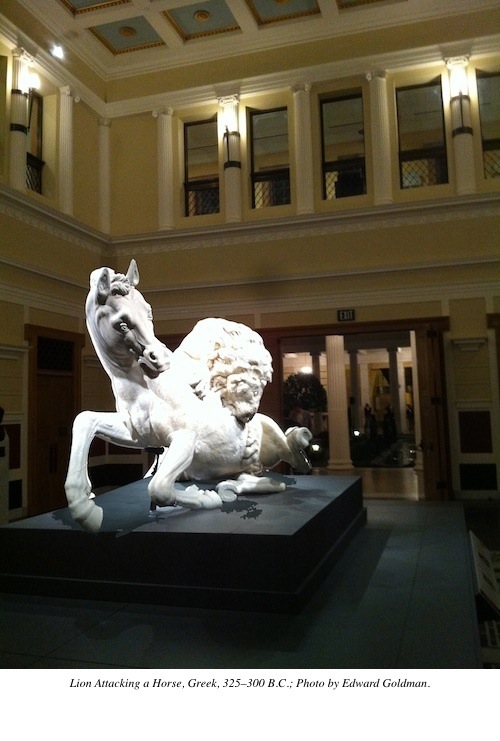 Last week I went to the Getty Villa for the unveiling of the recent loan from the Capitoline Museums in Rome: a stunning Greek marble sculpture titled Lion Attacking a Horse. It dates from the 4th century BC and with its dramatic and gory depiction of a desperate battle between life and death, it gives Hollywood action movies a run for their money. Trust me, staring at and walking around this sculpture will give you the shivers, which is a good thing on a hot summer day.
And now, a few words about a peeve I have with LACMA, the museum that I visit more often than any other in the city. I went there three times in recent days and every time I was wrong about the time when the museum closes. For years it was open until 8 p.m. but now the schedule changed and it closes at 5 p.m., 7 p.m., or 8 p.m. depending on the day of the week. Very confusing, at least for yours truly.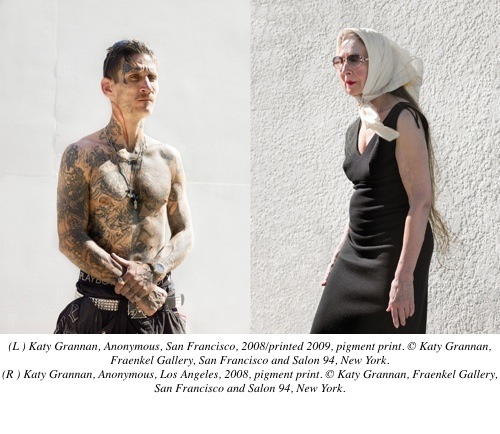 Right now LACMA has an unprecedented variety of photographic and video exhibitions, at the Broad and Resnick Pavilions. In several darkened rooms, Sharon Lockhart presents a series of enigmatic videos and photographs inspired by Israeli artist and choreographer Noa Eskol. Then there is an exhibition of the recent acquisitions made by LACMA for its photography collection. And brace yourself for the aesthetic equivalent of a splash of cold water in your face--a series of photo portraits by Katy Grannan. You are confronted by the strangest people you have ever encountered. These anonymous men and women, plucked from the streets of San Francisco and Los Angeles, look vulnerable, pathetic and even threatening. But almost always, they break your heart.
The biggest, or should I say the coolest, exhibitions I stumbled upon at LACMA were two super-sized installations honoring Michael Heizer's larger than life Levitated Mass. Every time I go to LACMA I cannot resist the temptation to walk around his monumental piece. And if you want my advice, the sunset is the best time to be there and to snap a photo.
Since Renzo Piano built the Broad Pavilion, its top floor gallery has never looked as good as it does right now. The vast space is flooded with daylight streaming through the exquisitely designed glass ceiling. Huge black and white photographs are plastered to the walls. These are images of gigantic boulders, photographed by Michael Heizer in their natural environment, and presented at their actual size. As you stand in the huge gallery space, you are totally dwarfed by the scale and authority of the images. At the same time, looking at these photos, you feel inspired by the beauty and magic of Mother Nature.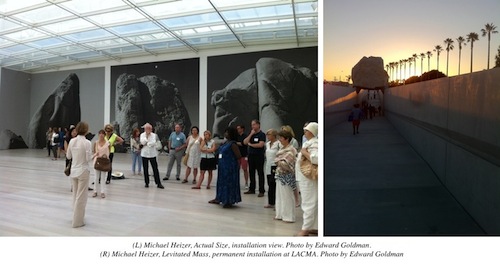 Equally impressive is the video installation on the ground floor of the Resnick Pavilion where Michael Heizer projects on the wall a series of super-sized images from the project he undertook 40 years ago in Munich. There he displaced 1,000 tons of soil, creating a 100-meter wide crater.
I am still trying to decide what is the best sequence in which to visit these three Michael Heizer projects. But one thing is clear: the two temporary exhibitions which are additions to his Levitated Mass, are a well-deserved tribute to this great American artist and I cannot help but feel sorry that both are running only through September 9. So hurry up...
Edward Goldman is an art critic and the host of Art Talk, a program on art and culture for NPR affiliate KCRW 89.9 FM. To listen to the complete show and hear Edward's charming Russian accent, click here.