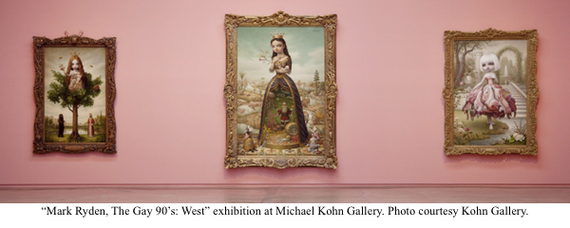 In the last few years, a number of major Los Angeles art galleries relocated to new, larger and more ambitiously designed spaces. A couple of weeks ago, Michael Kohn Gallery opened the doors of its impressive new space on Highland Avenue. Its large main gallery, with its skylights and 22-foot ceiling, has the gravitas of a museum space. The new space was inaugurated with an exhibition by well known LA artist Mark Ryden, who has a following not only among serious art collectors, but among young, hip crowds as well.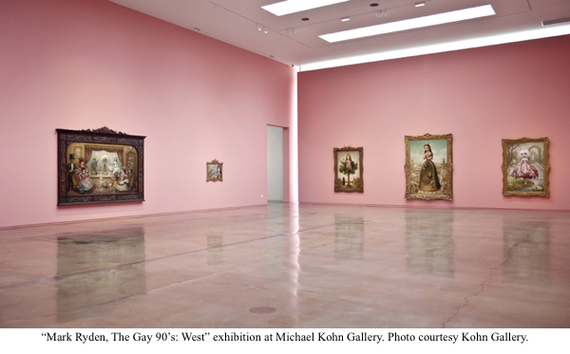 The title of the exhibition, "Mark Ryden: The Gay 90's: West," has nothing to do with what you and I might remember of the 1990s. No, my friends, the artist invites us back to the Wild West of the 1890s. In one of the small side galleries, there is an amusing presentation of visual paraphernalia from this period that Ryden obsessively collected over a number of years.
Some critics completely dismiss Mark Ryden's work. The LA Times review of this exhibition was negative to such an overwhelming degree that if I were the artist I would take it as a badge of honor. To be completely honest, I myself have never been a big fan of Ryden's artwork. But this exhibition, with its aura of a mid-career museum retrospective, made me see his work in a new light.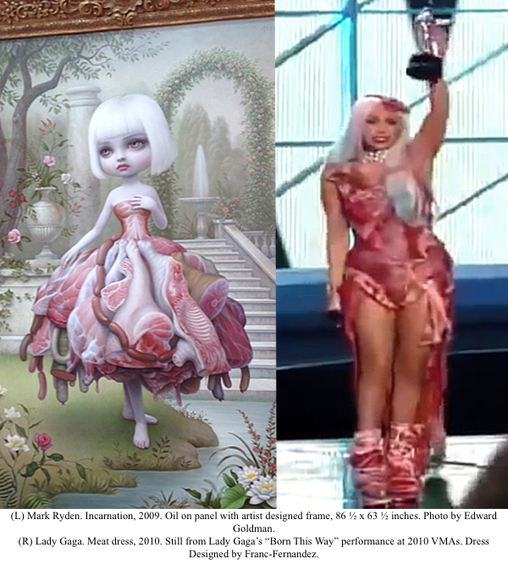 The trademark of his paintings is the sentimental image of the doll-like girl with the big, sad eyes. Her innocence serves as a smart tool that allows the artist to introduce far-from-innocent subjects, such as the chunks of bloody raw meat that these doll-like girls play with. Looking at the photo of Lady Gaga in her infamous raw meat dress, one can be certain that her inspiration came from one of Ryden's paintings.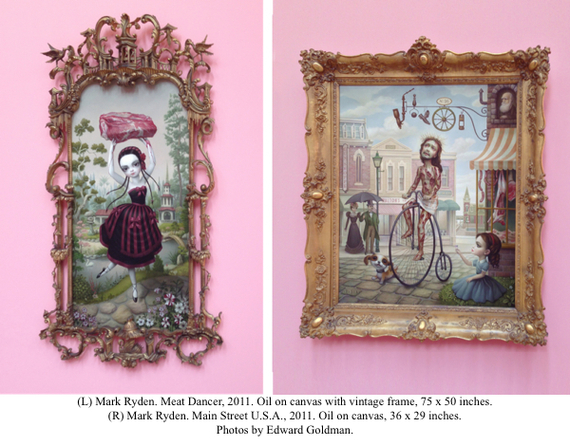 There is no one way to interpret his work. For example, take a look at the medium-sized canvas, Main Street U.S.A., with its bleeding figure of the naked Christ riding an old-time bicycle. Christ is riding past a butcher shop, with raw meat displayed in the window. There is an old man looking down on Christ from a window above the shop, and it is none other than Charles Darwin. How about that? I bet that no two people will have the same interpretation of this image.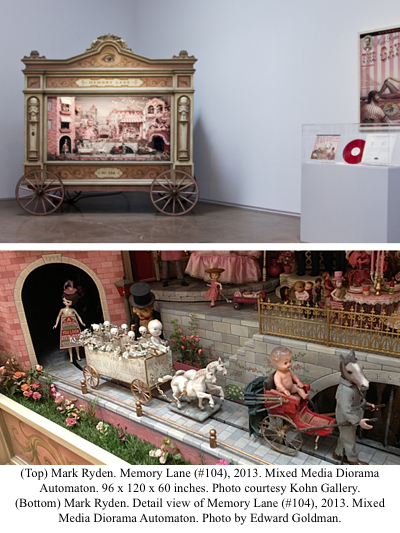 Obsessive attention to detail is particularly impressive in the large, diorama automaton, Memory Lane (#104), consisting of hundreds of tiny figures and objects either executed or collected by the artist. With the drop of a penny into a slot, everything starts to move to the sounds of music. Yes, it's strange, it's slightly creepy --even scary --but nevertheless, it is impossible to tear your eyes away. I've never met Mark Ryden, but I bet that a conversation with him would be great fun.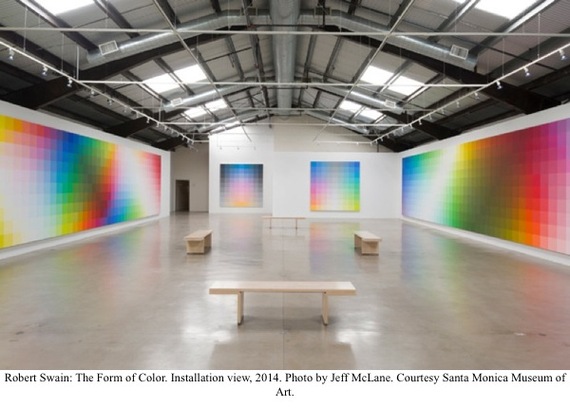 Now, let's completely shift gears. May I ask you how many colors you think the human eye can distinguish? A hundred? A few hundred? When New York artist Robert Swain, whose exhibition, "The Form of Color," just opened at the Santa Monica Museum of Art, asked me this very question, I hesitated for a moment and wanted to say, "Maybe 500?" But staring at his huge abstract paintings, with its grid of thousands of small squares --each a different color --I opted for a higher number and suggested, "Perhaps around 700?"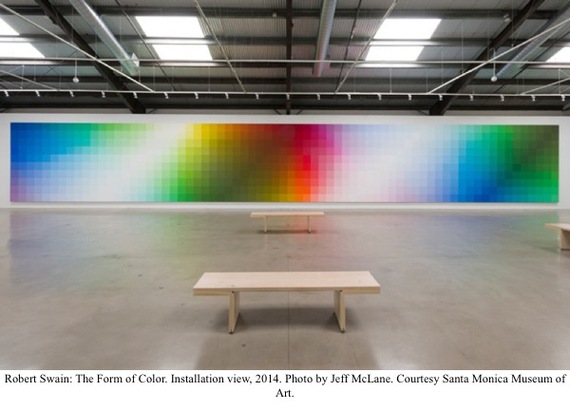 The artist looked at me with a touch of disappointment and said, "No, Edward. The human eye can detect several million different colors." Hmm. I am not sure whether or not I believe him, but his paintings are pure joy. The movement and extension of each color, whether its red or blue, green or white, go beyond what you've ever experienced before. Give yourself a chance to meditate in front of Robert Swain's so seemingly simple, and so endlessly complex geometric dance of colors.
P.S. If you want to learn about Edward's Fine Art of Art Collecting Classes, please visit his website here. You can also read The New York Times article about his classes here.
___________
Edward Goldman is an art critic and the host of Art Talk, a program on art and culture for NPR affiliate KCRW 89.9 FM. To listen to the complete show and hear Edward's charming Russian accent, click here.