Borrowing from the famous line by Gertrude Stein, "Rose is a rose is a rose..." let me say that wherever and whenever we see it, "good art is good art is good art." I first saw the Mona Lisa when it was shown at the Pushkin Museum in Moscow and since then, I have seen her at the Musée du Louvre displayed in two different galleries. Every time it was magic. However, she looked her best on the wall of la Grande Galerie, amidst other masterpieces of Italian Renaissance painting. But in recent years, to accommodate the crowds of tourists eager to experience her smile, the painting was moved to the more spacious Salon Carré where the crowd is controlled by a wooden barrier. She is still the same, but the experience is less intimate.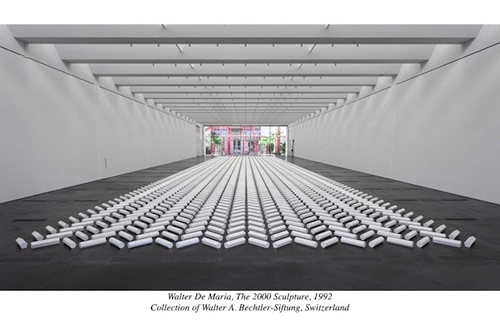 Seeing the recently installed The 2000 Sculpture by Walter De Maria at LACMA's Resnick Pavilion, made me once again think about the crucial importance of an artwork's presentation. This monumental work is composed of 2,000 white plaster rods, arranged like soldiers on parade in a complex patterned grid that stretches more than 160 feet along the gallery floor. This is the first time that the American public can experience this impressive sculpture, executed in 1992. I had the privilege to see this piece when it was briefly shown in 2010 after construction of the Resnick Pavilion was just completed but the interior walls were not yet installed. Then, it occupied the whole expanse of the Resnick Pavilion, while now it is shown in a smaller gallery with much less breathing room. To see it now is a pleasure, but to see it then was to experience a dramatic dialogue between Renzo Piano's architecture and the visual drum beat of Walter De Maria's sculpture.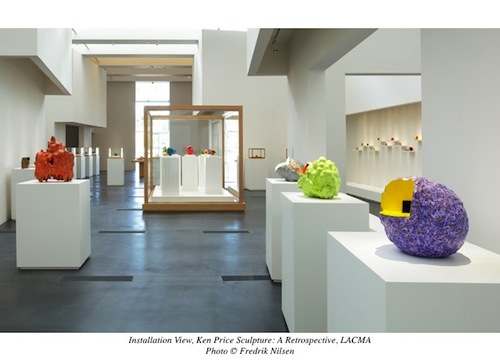 The Resnick Pavilion is also hosting the excellent retrospective of works by Los Angeles artist Ken Price (1935-2012), in an exhibition designed by Frank Gehry. Gehry did his best to create the intimate space needed to experience the relatively small sculptures, but still he couldn't make you forget the vastness of the museum's space, which on occasion dwarfs the artwork.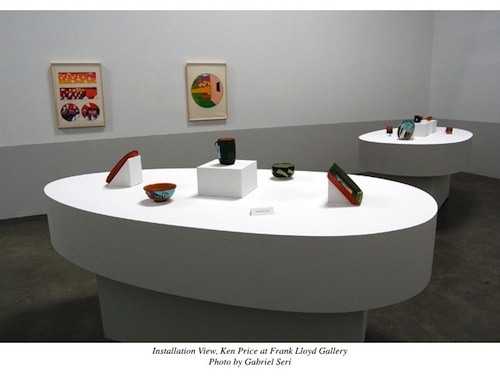 To experience Price's works in a more intimate setting, you may want to visit Frank Lloyd Gallery, which is currently showing a selection of his works.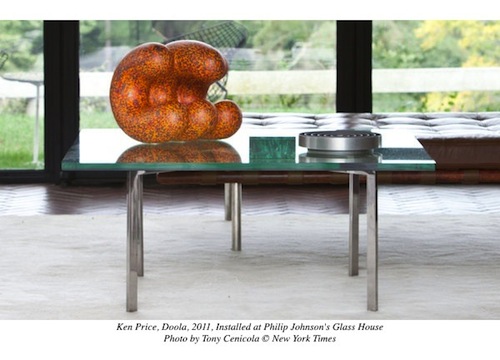 On Friday the New York Times reported on another tribute being paid to Price, this time at the iconic Glass House of Philip Johnson. A Ken Price ceramic sculpture is displayed there as the first in a series of important art loans from different collections. The photograph shows his work installed in the space previously occupied by a small Giacometti sculpture. Quite an honor.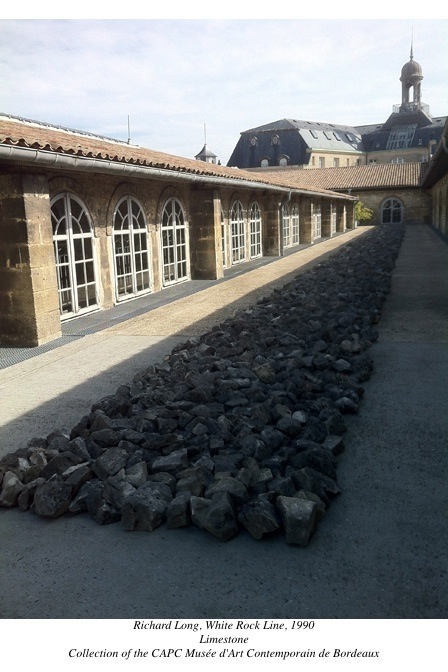 And while I'm talking about dramatic and challenging presentations of contemporary artworks,
I want to tell you about the delightful surprise I had recently, when I saw the works of British artist Richard Long at CAPC, the Museum of Contemporary Art in Bordeaux, France. The thousands of rocks that compose Richard Long's White Rock Line are placed there, in tight formation along the upper terrace of the museum. Seeing this piece just a few days after peeking at the Walter De Maria installation at LACMA, I couldn't help but compare these two works, executed only two years apart, which seem to be in dialogue with each other.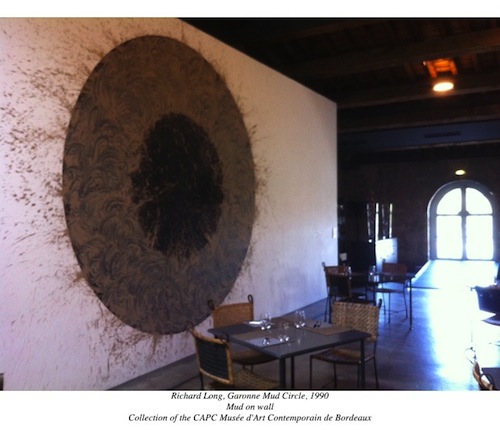 Walter De Maria: The 2000 Sculpture, LACMA, October 1, 2012- April 1, 2013
Ken Price Sculpture: A Retrospective, LACMA, September 16, 2012- January 6, 2013
Ken Price at Frank Lloyd Gallery, September 26, 2012-November 10, 2012
Banner Image: Walter De Maria, The 2000 Sculpture, 1992, Collection of Walter A. Bechtler-Siftung, Switzerland. Photo © 2012 Museum Associates/LACMA
Edward Goldman is an art critic and the host of Art Talk, a program on art and culture for NPR affiliate KCRW 89.9 FM. To listen to the complete show and hear Edward's charming Russian accent, click here.