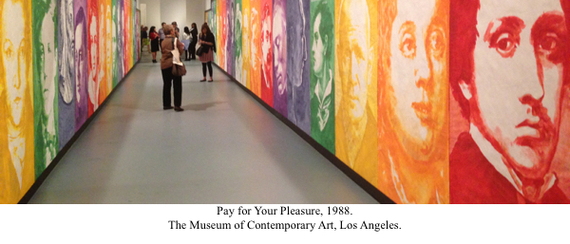 I was surprised to get so many comments from you, my dear and smart listeners, in response to last week's program, where I mentioned the embarrassing misfortune of not being allowed to board the plane for a trip to Europe because my passport would expire in a month and a half. I learned that the current rule is that passports should be valid for at least three months --and some countries even require it to be valid for six months.
Vanda wrote: "Terrorism is making our traveling complicated... I... have a colleague who was turned down for a flight to China because her passport did not have a 6 month longevity."
Michelle wrote: "I found this out when they would not let me board the plane in London to Saudi... I had to rush to the American embassy in London with just minutes to spare and overnight in London... Total drama!!"
Bette commented: "[I] was surprised to hear about your passport debacle. Total bummer, but I guess we all continue to live and learn."
So with all of the above said and done, I hope you will enjoy whatever travelling you are planning for the upcoming months of summer. But if you happen to stay here in LA for this 4th of July weekend, here's a cultural recipe to spice up your smoky BBQ plans.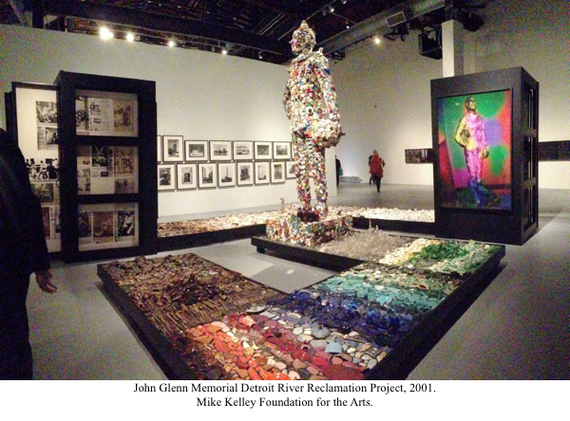 I don't remember having so many major exhibitions going on at once, especially in the summer. Let's start with the international traveling exhibition devoted to one of the best-known LA artists, Mike Kelley (1954 - 2012). After Amsterdam and Paris, it arrived here to the Geffen Contemporary at MOCA to tell the overwhelming story of the troubled artist and of his art as a diary of his tortured soul.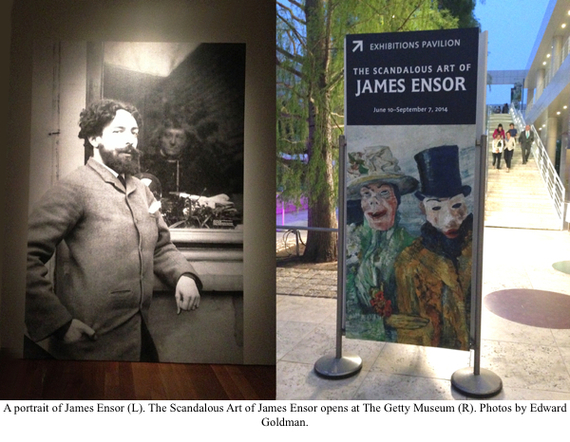 Another high-on-drama exhibition you might want to check out is "The Scandalous Art of James Ensor" at the Getty Museum. The exhibition concentrates on the first two decades of Ensor's career, starting with the "polite" paintings shaped by his traditional, academic training, and, wow, all of a sudden the "polite" rules are discarded in favor of bold, caricature-like depictions of the human form. The star of the show is his monumental painting, Christ's Entry into Brussels in 1889 (1888), with its huge crowd of grotesque figures --among them, a small figure of Christ, resembling Ensor himself.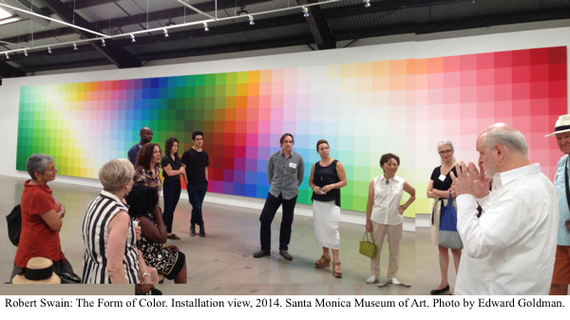 But enough with all the drama. If you want to give yourself a chance to meditate in front of the seemingly simple, but actually endlessly complex geometric dance of colors, go to the Santa Monica Museum of Art to see the exhibition, "The Form of Color," by New York based artist Robert Swain.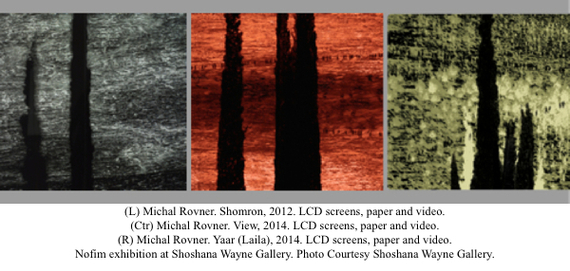 And while you're at Bergamot Station, stop by Shoshana Wayne Gallery to see the exhibition of internationally recognized Israeli-born artist Michal Rovner. Her show-stopping videos present nighttime scenes with hundreds of tiny human figures slowly marching through what feels like pages and landscapes of the New or Old Testament. Or perhaps the pages of some other ancient text, like the Rosetta Stone?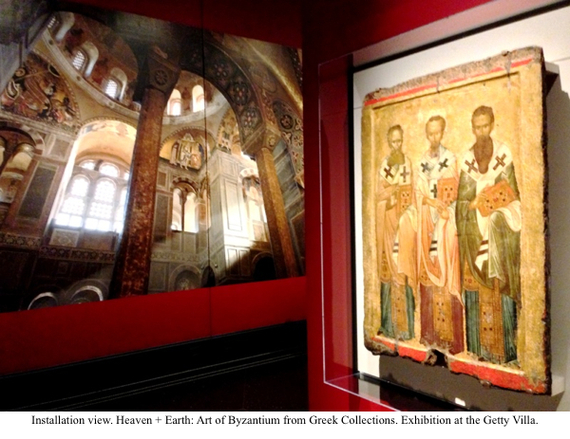 The Getty Villa is hosting the exhibition, "Heaven and Earth: Art of Byzantium from Greek Collections," which presents magnificent, extremely rare examples of Byzantine art from the 4th to 15th century --most of them shown in the United States for the first time. Just imagine seeing an exhibition with not one, but several Mona Lisas. That's how I feel about this exhibition.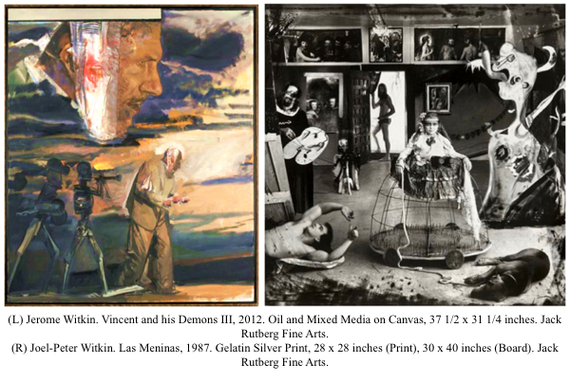 Are you ready for a little bit of shock and scandal? Go to Jack Rutberg Gallery to see the double exhibition of painter Jerome Witkin and photographer Joel-Peter Witkin, estranged identical twins whose lives are perfect fodder for a Hollywood movie. The brothers' artistic sensibilities are worlds apart. Jerome's large-scale, figurative paintings tell complex stories rooted in the real world, while Joel-Peter's photographs are macabre, mind-boggling fantasies that butcher reality into hauntingly mesmerizing compositions.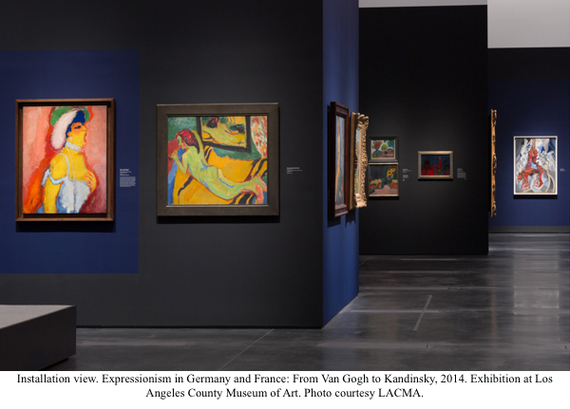 And trust me, you need to see more than once the dramatic, sprawling exhibition at LACMA, From Van Gogh to Kandinsky, expanding the story of Expressionism as not only an artistic movement characterized by works of German artists, but also influenced by cultural interaction with French and Russian artists and intellectuals. Even now, more than a century later, these great paintings by Van Gogh and Matisse, Kandinsky and Jawlensky, Kirchner and Schmidt-Rottluff, still have the power to surprise, to energize, and to challenge our eye.
So, my friends, let's celebrate the 4th of July in style by filling our bellies with good food and our souls with good art.
P.S. If you want to learn about Edward's Fine Art of Art Collecting Classes, please visit his website here. You can also read The New York Times article about his classes here.
___________
Edward Goldman is an art critic and the host of Art Talk, a program on art and culture for NPR affiliate KCRW 89.9 FM. To listen to the complete show and hear Edward's charming Russian accent, click here.