After six months of nonstop, relentless promotion and celebration of the Los Angeles art scene of the past decades, under the banner of Pacific Standard Time, we have embarked upon yet another cultural extravaganza, this time titled Made in LA 2012. Conceived by the Hammer Museum as a biennial survey of the work of LA-based artists, it is organized in collaboration with nonprofit LAXART in Culver City and the Los Angeles Municipal Art Gallery at Barnsdall Park in Los Feliz
The international art scene is crowded with innumerable biennials and triennials, as well as hundreds of commercial art fairs. One would need a very good reason to add to this long list, yet another celebratory biennial. In her forward to the catalogue, museum director Ann Philbin states, "In recent years Los Angeles has given New York (and Paris and London and Berlin) a concerted and determined run for its money as the liveliest, and most flourishing, art capital in the world."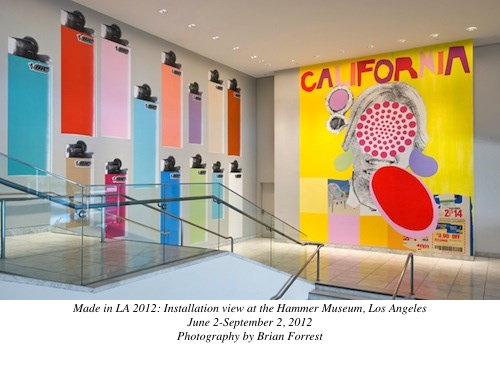 I completely agree with this statement, but when the other five curators of this biennial more or less echo the same sentiment in their essays for the catalogue, it begins to feel as if "the lady doth protest too much." Can you imagine any other self-confident cultural metropolis organizing a biennial titled, say, 'Made in New York?' I doubt it.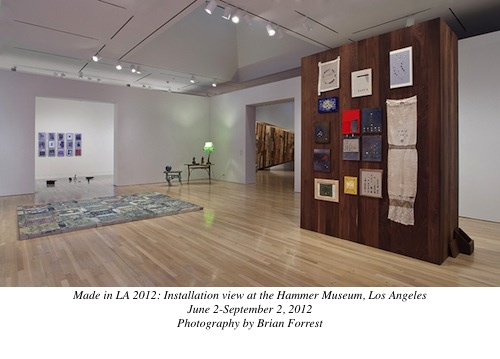 Yes, the Los Angeles art scene was ignored for a long time, but not any more. Over the last two decades, the art world has been paying its respect to art made in Los Angeles. One tribute to L.A. in particular stands out. With its poetic and evocative title, the exhibition Sunshine & Noir, a European love fest to Los Angeles, travelled to Denmark, Germany and Italy before arriving here at the Hammer in 1998, for its only American stop. Then in 2006, our French friends at the Pompidou Center in Paris, went slightly overboard with an exhaustive historical survey of Los Angeles' art, titled Birth of An Art Capital.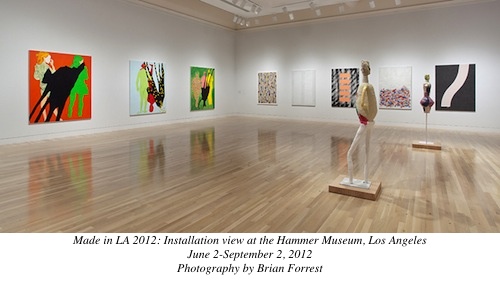 A year later, in 2007, the Hammer itself staged an appealing exhibition of 15 L.A. artists, under the lovely title Eden's Edge. That same year, the Rubell Family Collection in Miami, Florida championed Los Angeles artists in a bold and ambitious exhibition, and the Orange County Museum of Art highlighted Southern California's mid-century art and design in a show titled Birth of the Cool. With all that and more, wouldn't Los Angeles be served better by a biennial with a broader point of view, introducing us to important and cutting edge art from around the country, or even beyond?
Though not quite recovered from the drumbeat of Pacific Standard Time, I still went last week to all three locations of Made in L.A., and even made a repeat visit to the Hammer. Among the thousands of artists from the four corners of the world, who call Los Angeles home, the curators zeroed in on 60 artists, some established and some up-and-coming. There is the expected diversity of media, but overall not too many surprises. And there is not one artist or artwork included that would ignite a welcome controversy.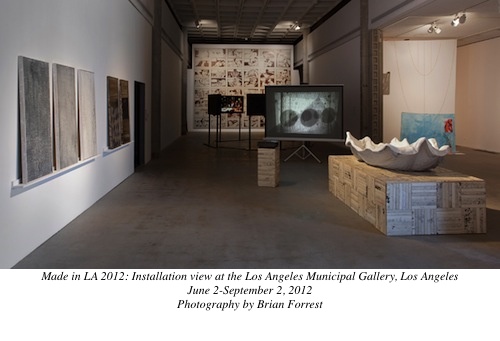 Compared to the Hammer Museum, with its polite, low-ceilinged galleries, the vast industrial space of the Barnsdall allowed the curators to organize a much more engaging and theatrical presentation of art. And LAXART, the little engine that could, has not disappointed, with a punchy celebration of the renowned artists' collective Slanguage.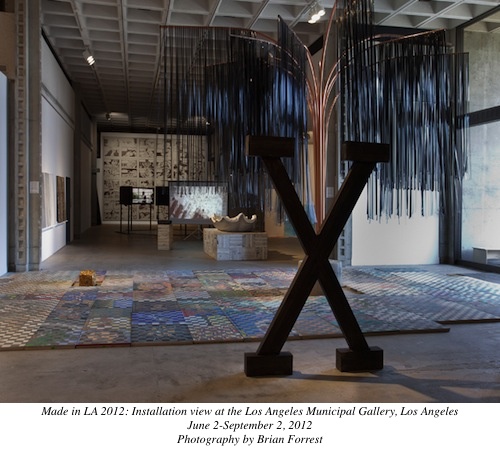 I wish the curators had shown more passion and focus in presenting this biennial, which feels a little all over the place. And reading the wall texts introducing each artist, I felt the curators forgot that they are not lecturing in a university auditorium, but addressing the general public. I failed, but maybe you can make sense of such statements as, "[The artist] uses painting to interrogate the very concerns that inform its death drive: the limits of representation, the politics of abstraction, and the mode of viewing enabled by rectangular canvases on a gallery wall. The artist's technical acuity delivers a kind of critical visuality, asking viewers to draw out affinities between experiencing and interpreting."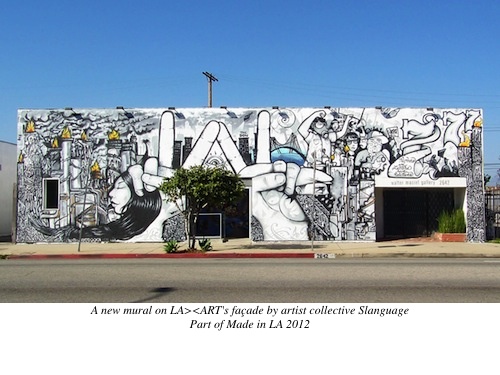 All of the above not withstanding, I want to compliment the Hammer for producing a scholarly, very engaging and exceptionally well-designed catalogue. Somehow it feels that this is where the curators put most of their time and passion. After all, exhibitions come and go, but a catalogue is forever.
Banner image: Made in L.A. 2012, installation view at the Hammer Museum, Los Angeles; June 2-September 2, 2012; Photography by Brian Forrest
Edward Goldman is an art critic and the host of Art Talk, a program on art and culture for NPR affiliate KCRW 89.9 FM. To listen to the complete show and hear Edward's charming Russian accent, click here.