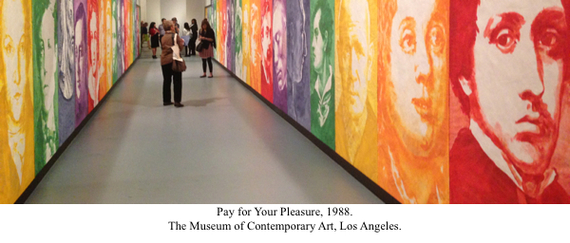 Huge, sprawling exhibition devoted to the art of one of the best-known LA artists, Mike Kelley (1954 - 2012), just opened at the Geffen Contemporary at MOCA. With 250 artworks in different media, this retrospective traces three decades of Kelley's exceptionally prolific career. And it's important to notice the particular elegance and grace with which this complex exhibition is designed and presented by MOCA curator, Bennett Simpson.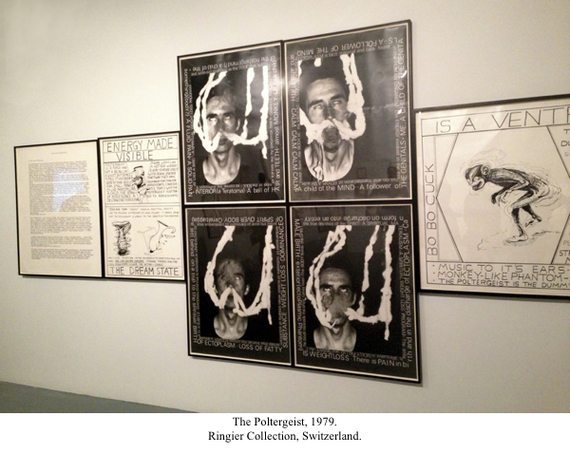 I had the good fortune to see the version of this exhibition last summer at the Pompidou Centre in Paris. There, it was less than half of the current exhibition at MOCA, and somehow it came across as a dramatic, even overwhelming story of the troubled artist and of his art as a diary of his tortured soul.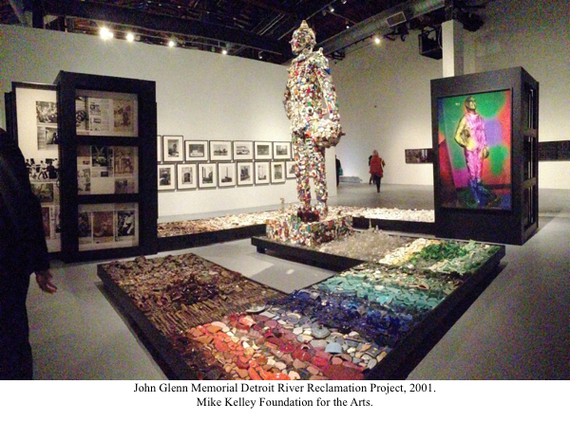 Born in Detroit, Kelley spent most of his adult life here in LA. After graduating from CalArts, he quickly gained a reputation not only as an artist but also as a teacher, collaborator, and performer. If you've ever seen his work before, you might be somewhat prepared for the inevitable sense of shock that you will experience in this exhibition as you immerse yourself into the sacred and profane world of Mike Kelley. Sex, violence, childhood innocence, torture, frustration, religious longing; it's all there -- and much more.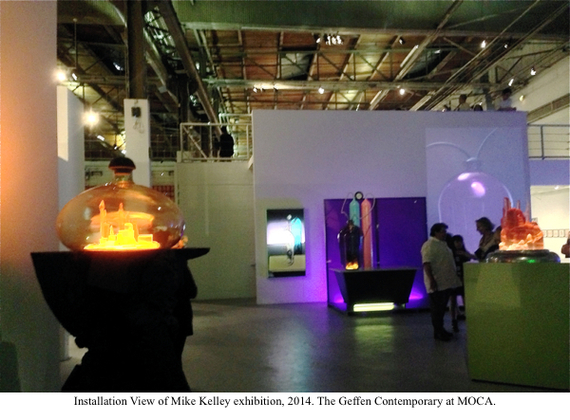 Ann Goldstein, former director of the Stedelijk Museum in Amsterdam, where this exhibition originated, had this to say about Kelley: "Nothing is sacrosanct in his work -- not so-called high culture, history, literature, music, philosophy, psychology, religion, or education. In brining together his interest in so-called low culture -- from crafts to comic strips -- with a reconsideration of identity and sexuality, he was nothing less than revelatory."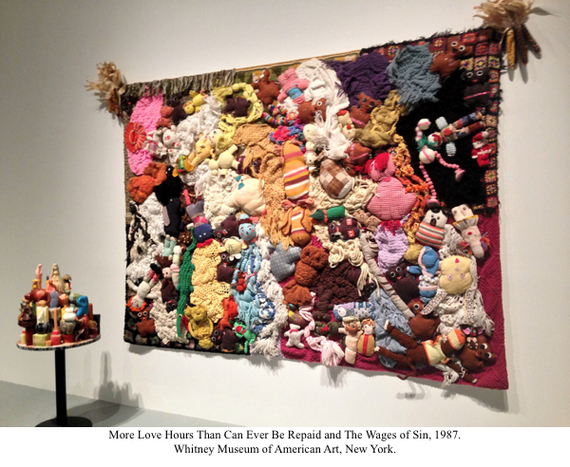 The terrible news of the artist's suicide came just a few months before this retrospective was scheduled to open in Stedelijk Museum in 2012. People who were close to Kelley were crushed by his death but, knowing the numerous demons that haunted him throughout his life, they were not entirely surprised. In a strange coincidence, another internationally celebrated cultural figure, fashion guru Alexander McQueen, committed suicide a few months before his groundbreaking exhibition opened at the Metropolitan Museum, New York in 2011.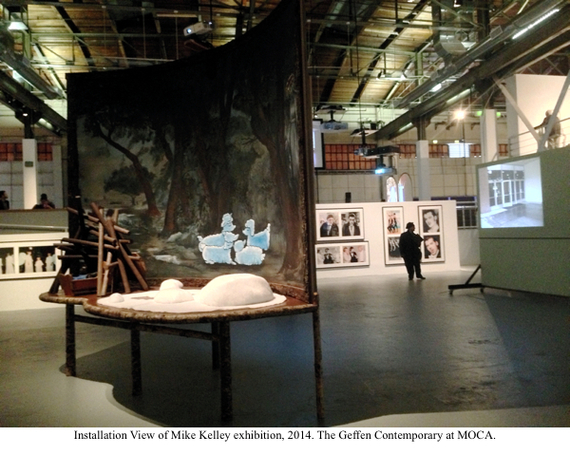 From what I have read and heard from a number of artists honored with a mid-career museum retrospective, I understand that such an experience can be overwhelming and, on occasion, can even temporarily block their creative flow. Compare it with your experience going to a high school or college reunion after not seeing your former friends for maybe 20 or 30 years. It's rather unsettling and even troubling to see and realize how much you have changed and how many of these people, once close, are now total strangers.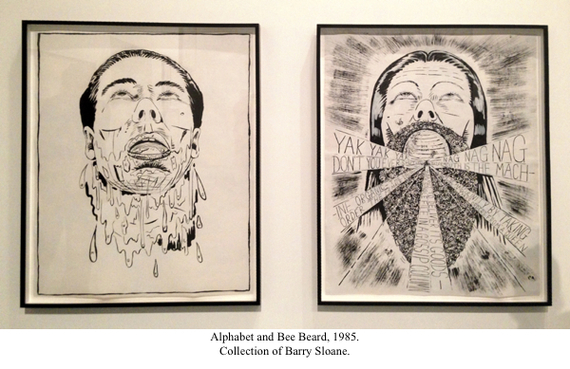 Recently, visiting the studio of one of LA's artists, I asked him how he feels about the potential of confronting all his past works at once. He said, "No way." Then, he continued by saying that, for him, making a new piece is like having a fight, a good fight, but when it's over, it's over. To confront it again would be unsettling and painful. He doesn't want to see the work, think about it, or talk about it; it's done. The relationship is over.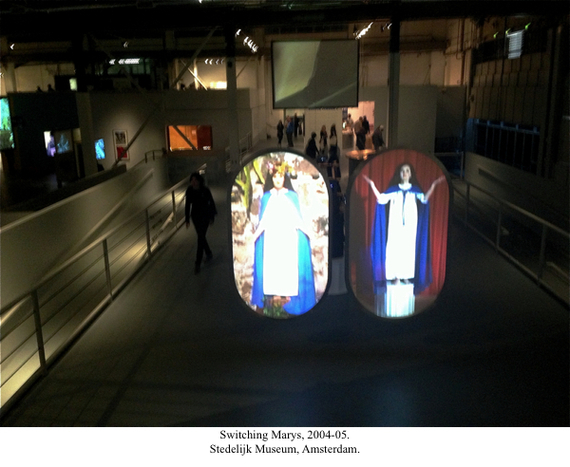 Lucky for us who are not artists, just mere mortals, we can experience the artists' work and be inspired, challenged, and even unsettled. But hopefully without the danger of being crushed.
P.S. If you want to learn about Edward's Fine Art of Art Collecting Classes, please visit his website here. You can also read The New York Times article about his classes here.
--
Edward Goldman is an art critic and the host of Art Talk, a program on art and culture for NPR affiliate KCRW 89.9 FM. To listen to the complete show and hear Edward's charming Russian accent, click here.