The splendid exhibition at The Getty Museum of the most famous 19th century British artist, J.M.W. Turner (1775-1851), was preceded by the release of "Mr. Turner," the Oscar nominated film by Mike Leigh. Whether it was a sheer coincidence or the result of smart maneuvering behind the scenes is yet to be determined. I saw the movie first, and yes, liked it - but to a point. Two months later, I saw this exhibition, and it blew my mind. I wish I had seen the exhibition first. Then, I probably would have enjoyed the movie more.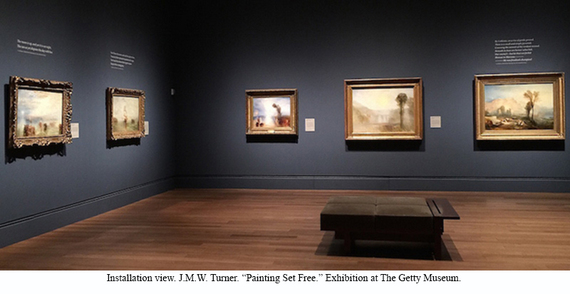 The exhibition consists of more than 60 paintings and watercolors from the last 16 years of Turner's life, which turned out to be the most innovative, groundbreaking years of his long career. Nothing stands still in his landscapes; everything swirls and blows there in the most dramatic but totally controlled fashion.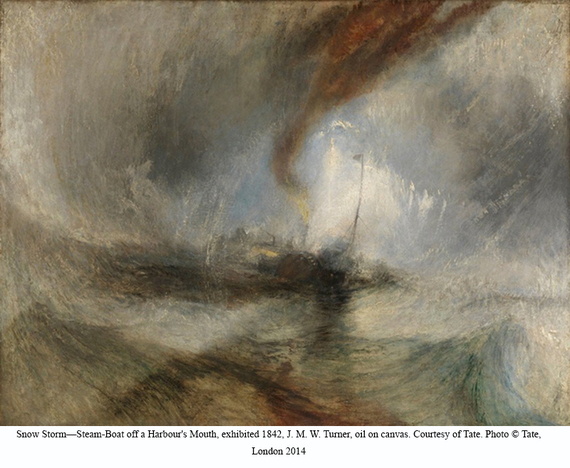 The Getty's exhibition is smartly titled, "Paintings Set Free". Spontaneity, enhanced by his trademark wild gestural brushwork, makes these Turner paintings and watercolors look like they are jumping out of early 19th century restraints, headfirst into the 20th century. It's impossible to look at his paintings and not think of him as the precursor to Impressionism, which came 50 years later. And, if that is not enough, there are a few unfinished landscapes at the exhibition that are difficult not to perceive as abstract.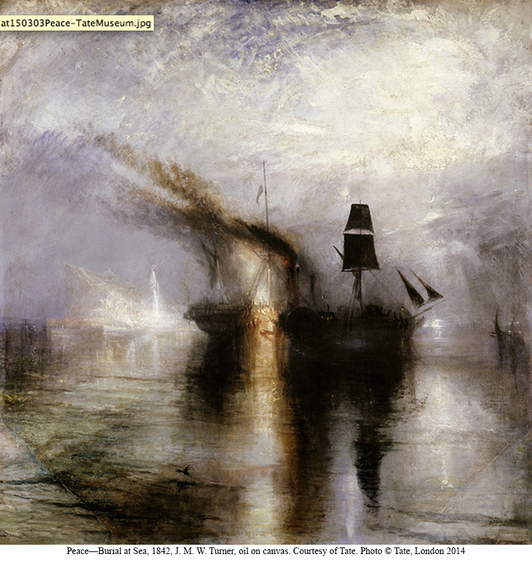 While the movie does a good job of showing Turner as a rather difficult person, as well as a celebrity artist of his time, the exhibition illustrates the particular importance of the last years of his career. There are only a handful of great artists who continued to push and challenge themselves until the very end of their life - think of Titian, Rembrandt, or Matisse - and, for me, Turner is definitely among them.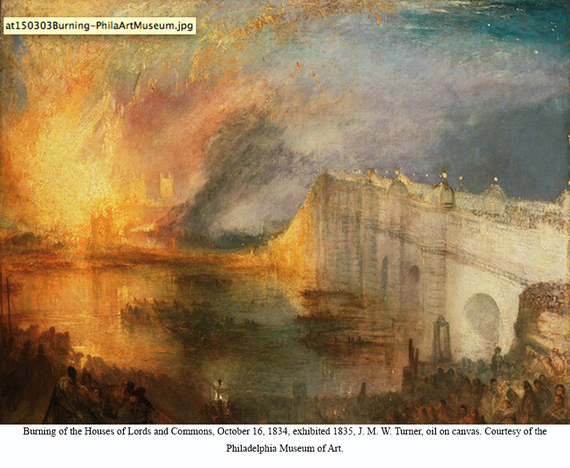 I have a particular way to check my first, favorable impression of any painting - be it by an Old Master, or by a Modern or Contemporary artist: I come as close to it as the museum guard will allow me. I stare at it to discover and to experience the texture of the canvas, until I can almost start to "hear" and "smell" the movement of the paint itself. Just think about a very attractive and smartly dressed person you notice at a party. You come close, introduce yourself, and start a conversation. And to your delight, this person turns out to be even more interesting than his or her appearance suggests. But, I trust that you have had your share of disappointments as well, when to your dismay, this attractive person, upon close examination, turned out to be rather bland, if not totally boring.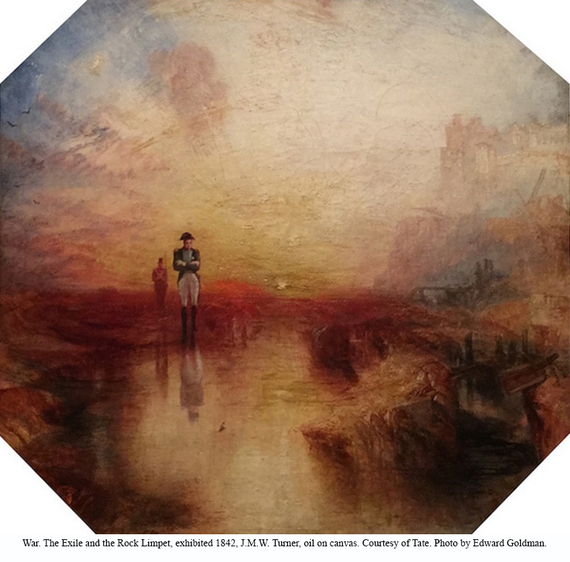 I have to admit that for me, this is the case with the art of the high-profile figurative painter, John Currin, whose highly provocative, sexual images of female nudity are in a number of important museum and private collections. An exhibition of his latest paintings is currently on display at Gagosian Gallery in Beverly Hills. Inspired by Old Master paintings, Currin demonstrates in his work quite an impressive technical skill. And he has the courage and sense of humor to step - knowingly and willingly - into the sphere of kitsch and even burlesque imagery. Just look at his round painting of a naked bulbous behind. Even the Kardashians would die of envy.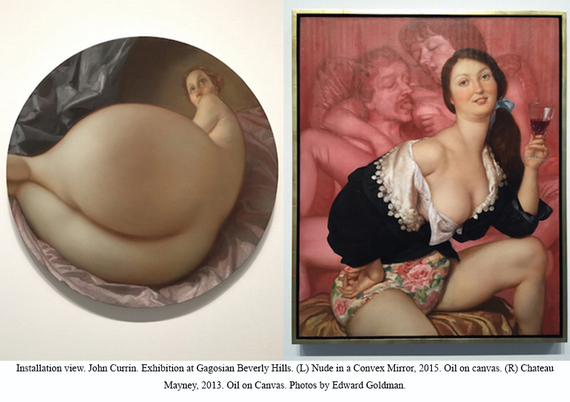 So, after smacking my lips while looking at all Currin's titillating beauties, I came close to the canvases to have an intimate conversation with them, to hopefully get intrigued and even seduced by their texture. Unfortunately, in the case of Currin's paintings, I am disappointed every time I examine his works closely. They are painted extremely thinly, with no detectable trace of the artist's hand. It is as if the attractive, smartly dressed person you have been introduced to gives you a disappointingly limp fish handshake.
To learn about Edward's Fine Art of Art Collecting Classes, please visit his website. You can also read The New York Times article about his classes here.
___________
Edward Goldman is an art critic and the host of Art Talk, a program on art and culture for NPR affiliate KCRW 89.9 FM. To listen to the complete show and hear Edward's charming Russian accent, click here.