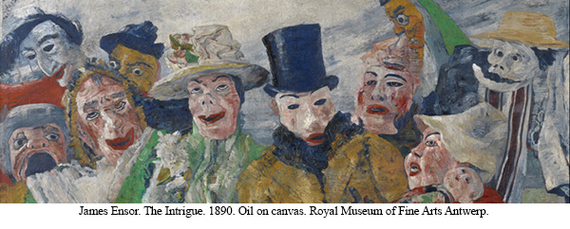 It was the year 1987, when a game-changing event took place here, in our City of Angels. Belgian newspapers jokingly referred to this event as, "The Entry of Christ into Malibu". You want to know what it was all about? Due to a bitter, persistent language division between French and Flemish speakers in Belgium, the country lost a major masterpiece - the monumental painting by its greatest artist, James Ensor (1860 - 1949). The title of this painting is, Christ's Entry into Brussels in 1889 (1888).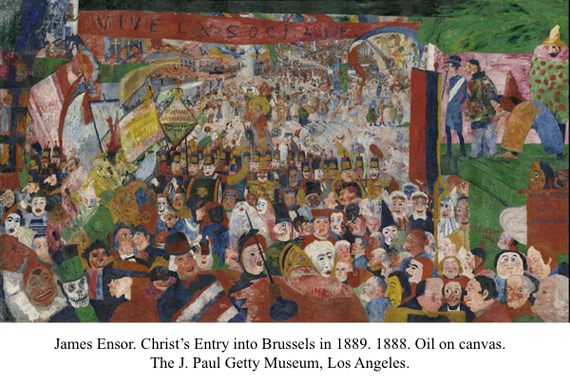 Ensor, a French-speaker, spent all his life in a Flemish-speaking region, in the city of Ostend, on the Belgian coast. When his exceptionally important painting, owned by a private collector, was offered for sale, the French and Flemish administrative authorities in Belgium were not able to resolve their stupid disagreement over which of them ought to raise funds to acquire this national treasure. And so, the Getty Museum stepped in and snatched the painting for an undisclosed sum of money - which, according to some sources, was close to $10 million.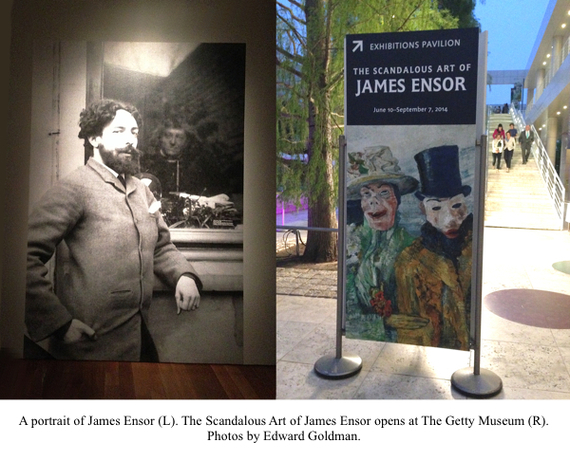 Now, standing in front of this painting created more than 100 years ago, one still hears the noise of its huge crowd and feels shocked by its grotesque figures and faces - many of them, wearing frightening carnival masks. Hidden deep in the crowd is a small figure of Christ, resembling Ensor himself. Is he the subject of celebration or mockery? It's up to us to decide. Ensor is obviously referring to the deep cultural, religious, and ethnic issues dividing his country.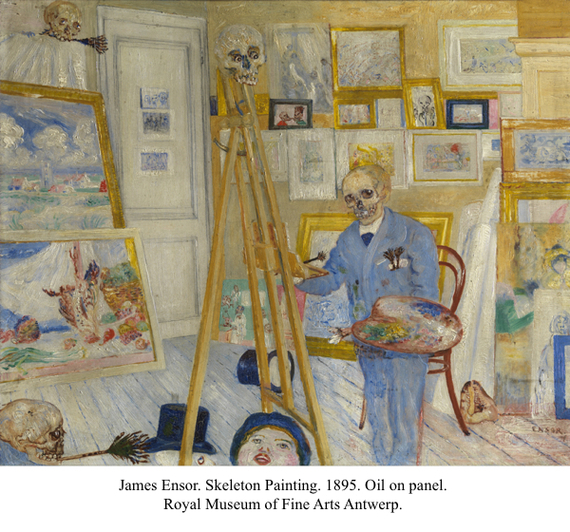 His Christ's Entry into Brussels, with its saturated colors, and energetic brushstrokes, was a groundbreaking masterpiece, paving the way for major revolutionary artistic developments in French, German, and Russian art in the coming decades. And, it was a courageous, even ballsy, decision on the part of the Getty Museum to add this "scandalous" painting to their rather traditional collection of Old Master paintings.
Yesterday, the Getty Museum unveiled the exhibition, "The Scandalous Art of James Ensor," which presents more than 100 Ensor paintings and drawings, including 60 from the Royal Museum of Fine Art in Antwerp, which is currently closed for remodeling.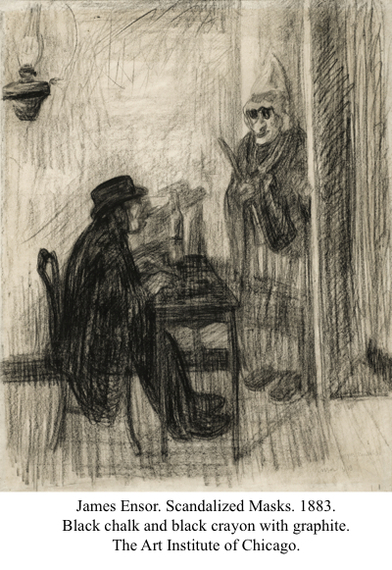 The exhibition concentrates on the first two decades of Ensor's career. There are a number of early, well-executed figurative paintings, including portraits, clearly shaped by his traditional academic training. And, wow - all of a sudden, all this polite artistic behavior is discarded in favor of bold, caricature-like depictions of human form.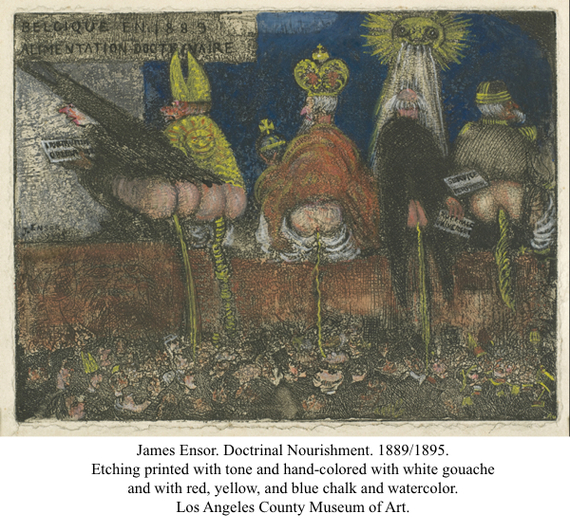 You want a scandal? Here you have it - there is a small hand-colored etching from LACMA's collection, Doctrinal Nourishment (1889), depicting royal and religious figures of authority with their pants down, squatting and defecating over the large crowd of civilians below them.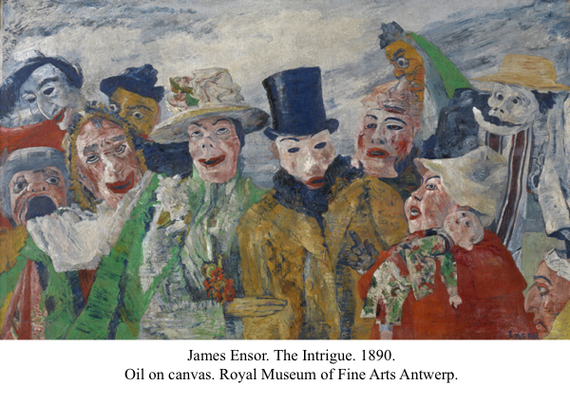 Toward the end of the 19th Century, James Ensor was widely regarded as one of the most important European painters. But, with the arrival of the 20th Century, a strange and rather disappointing development takes place in his art. The daring subject matter and bold execution of his earlier works is nowhere to be found. Considering the fact that the artist lived until 1949, witnessing and surviving World War I and World War II, it's heartbreaking to see him losing his artistic edge and courage. The last 50 years of his career, to put it politely, were totally uninventive. Yet, still, most artists would kill to have a similar though short period of creative genius, as when James Ensor shook the art establishment with his burst of creative, impolite, in-your-face artistic energy and imagination.
P.S. If you want to learn about Edward's Fine Art of Art Collecting Classes, please visit his website here. You can also read The New York Times article about his classes here.
___________
Edward Goldman is an art critic and the host of Art Talk, a program on art and culture for NPR affiliate KCRW 89.9 FM. To listen to the complete show and hear Edward's charming Russian accent, click here.