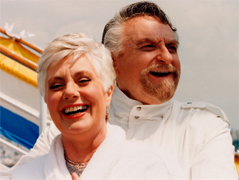 Hubby Marty Ingels tracks down the original Super Luxury Liner right here in the States and christens " The Shirley Jones Love Junket" with Shirley and Marty and 126 close friends embarking on a grand excursion from Jackson Hole, Wyoming, posh railing to Four National Parks (Glacier, Mt. Rainier, Yellowstone, and Grand Teton) in Super Grand Anniversary fashion.
Jackson Hole, Wyoming- Leave it to Marty Ingels to come up with the most Supercalafragalistic Anniversary Gift ever for this 30th with his Academy Award winning Mrs. Partridge, spouse Shirley Jones. Aware that Shirley had never seen the Great National Parks, Marty, who doesn't fly, read that someone in the U.S. had actually purchased the Orient Express in 2006...and found it to be operating under the name of Grandluxe Railways in Evergreen, Colorado. Bing!- Marty jumped on the phone, as only the famed Hollywood schmoozer could, and arranged for the legendary European mega-train to design a Shirley Jones Special, leaving Jackson Hole on Wednesday July 23rd and private jet-set style touring the four parks, disembarking on the 31st of July in Seattle.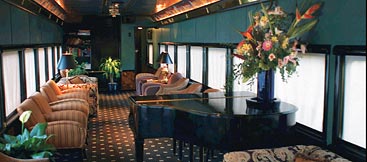 It's a dream most people never get to realize, said a beaming (naturalist) Shirley Jones. As for Marty and his sweet Anniversary jaunt, he sees this venture as his personal North by Northwest, with Shirley as Eva Marie, and guess who as Cary. More privately, close friends, including me, who have seen some historic sparks between Hollywood's uncontested oddest couple, say Let's hope it's 'Northwest' and not 'Murder on the You Know What !