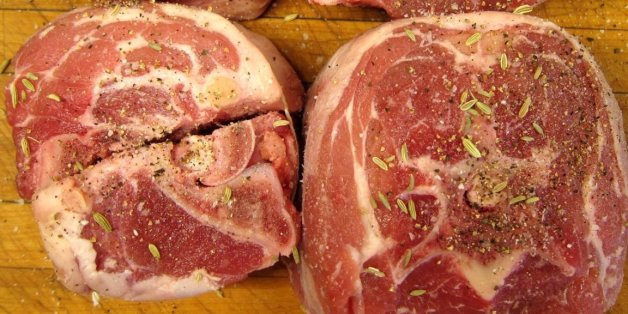 Lamb stew: Typically rich and dark, starting with deeply browned meat; maybe with tomatoes, maybe with olives, always slick with olive oil. Jackie and I never get tired of it. But that doesn't mean we're not open to new options.
At the farmers' market the other week, I found myself buying pale-colored things, such as leeks, fennel, celery root (celeriac) and tart green tomatoes destined never to ripen. Also, at the 3-Corner Field Farm stand, there were thick slices of lamb neck, one of the great braising cuts, in many ways better than its neighbor the shoulder or the ever-popular shank (either of which you can use for today's dish).
Before that market run I'd been thinking of a lamb goulash, but once I got the meat home, its delicacy drew me to the conclusion that it would be overwhelmed by all those dark-brown lard-cooked onions and all that paprika. That's where the pale ingredients came in: I decided a lighter, more acidic accompaniment would give the lamb a fairer shake. Once I'd figured the dish out, I made it twice within a week, the second time in a slightly simpler version that yielded a sauce/accompaniment of amazing versatility, so that's the version I'll describe.
First of all, as soon as I got home from the market, I used some of the tops of the leeks, fennel and celeriac, along with a carrot, a few sage and parsley leaves and some fennel seed, to make a quick pressure-cooker vegetable stock that would echo the flavors planned for the lamb. Then (this was the day before dinner), in a casserole, I lightly -- lightly -- browned the four slices of lamb neck (one per person), which I'd seasoned with salt, pepper and whole fennel seed. I removed the lamb to a plate and added to the casserole chopped leek, fennel tops, celery (regular stalk celery), sage, parsley and lemon zest. When the aromatics had wilted, I added a cup of white verjuice - just because I had some: 2/3 cup of white wine would have done the job -- then returned the meat to the casserole. I added vegetable stock to not-quite cover the meat, set a shred of lemon zest on each piece of lamb, and brought the liquid to the simmer, at which point I checked for seasoning. The casserole, with the lid ajar by just a crack and the meat covered with a circle of parchment paper, went into an oven preheated to 325 degrees F. After an hour I turned the meat; after another 45 minutes it was tender. Start checking after a total of 75 minutes: shoulder or neck may just be done by then -- or it could take much longer, depending on the lamb.
I removed the meat to cool and strained the sauce into a bowl, pressing to extract maximal goodness from the vegetables. When everything had reached room temperature, I wrapped up the lamb and refrigerated it; the sauce too went into the fridge.
When dinner time approached, I prepared the vegetables that would appear in the final dish: I cut celery root, leeks and fennel bulb into neat 3/8-inch dice and got them started in the clean casserole, with a little butter (olive oil would be another way to go) and another few sage leaves, slivered. I removed the fat from the sauce (it had congealed and was easy to lift off the surface) and added the sauce to the vegetables. When the vegetables were nearly tender, I added two green tomatoes cut into the same size dice and the grated zest of a medium lemon, then tasted for seasoning and -- crucially -- acidity. Of that, more was needed, so I added the juice of half a lemon.
Now, I laid in the pieces of lamb to heat through, then served them with plenty of vegetables and sauce. Boiled potatoes, crushed then lightly browned in butter with mushrooms, were a good accompaniment.
This didn't explicitly recall Greek/Middle Eastern lemon sauces, though it had some of their brightness, but with an undertow of earthiness from the autumn vegetables and the meat.
The amount of liquid and vegetables I used guaranteed leftover sauce - quite a lot of it. That was intentional: we repurposed it. Twice, no less. The following night, we ate some of it as a vegetable soup with bread and butter, then the night after that we used the last of it - just a third of a cup per portion -- as sauce for a tiny piece of striped bass served as a first course. For that, I freshened it up with chopped fennel fronds and slivered celery-root leaves, a little more sage, and an additional squeeze of lemon juice. And no, it was not weird to serve a lamb-based sauce with the bass: meat sauces with fish are not uncommon, and this one was so vegetable-y and lemony that it made for a pretty perfect start to the meal.
PHOTO GALLERY
A Brighter Lamb Stew