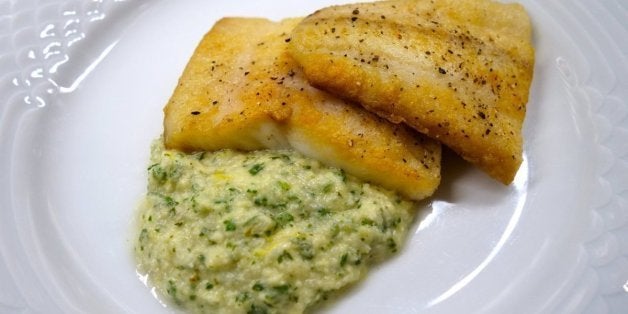 In just a few weeks, real spring garlic will be in the farmers' market -- what they call "wet" garlic in Britain. By that I mean young garlic whose individual cloves have formed but are not yet surrounded by their tough skins. It is juicy and sweet and entirely garlicky: a lovely short-season ingredient that Jackie and I look forward to every summer.
For the time being, however, what we're seeing is garlic in an even earlier stage of development, when it looks a lot like scallions even if some bulbs are starting to grow into their characteristic teardrop shape. The texture is looser and the flavor not quite as marked. Especially since there was no other new produce in a recent Manhattan market (the asparagus we bought last Saturday seems to have been a lucky find), I picked up a couple of bunches from which to make a sauce for another market purchase: thick fillets of flounder hauled out of Long Island waters.
Normally, I'd have used that slightly more advanced spring garlic for this kind of sauce, but I'm jumping the gun to describe what I did so you'll be ready when it finally comes to market -- and in any event the outcome was similarly delicious.
To make the sauce -- which I did several hours in advance of dinner -- I used only the white/purple bulbs plus the tiniest bit of pale green stalk; The rest will be chopped and rolled into a garlic variant of Chinese-style scallion pancakes. The yield from two bunches was a big handful of bulbs. I sliced them thin, sweated them over low heat in a generous tablespoon (around 20 g) butter, sprinkled with salt and pepper, then when they were soft but not at all browned added a scant quarter cup (60 ml) chicken stock. If I hadn't had any, I'd have used vegetable stock or water. This I reduced by half over medium-low heat: The liquid began to look slightly milky as the garlic juices and butter formed a light emulsion.
Now I added half a cup (120 ml) of whole milk and brought it to the simmer. I transferred this into a narrow container and pureed it thoroughly with an immersion blender, then scraped it back into the pan. I added the grated zest of half a lemon and tasted for seasoning. It needed an aromatic but subtle point of interest, so I added a wee pinch of ground clove (crushing a clove with the side of a big knife, then "chopping" it with the knife is the freshest and easiest way to get this).
When I was about to pan-fry the fish, I reheated the sauce and added the juice of half a small lemon and a good quarter cup of finely chopped parsley. The sauce had the consistency of a loose mayonnaise or tartar sauce -- perfect for eating with the golden-brown fish. Its sweet garlic flavor had been softened by the slow cooking and the milk, but it remained obvious.
It would be great with any white-fleshed fish, or with scallops, though in the latter case I'd add an additional tablespoon of lemon juice. So it's up to you: make it now, or wait for the more advanced spring garlic. Or follow my lead and do both.
PHOTO GALLERY
Anticipating Spring Garlic With a Great Sauce for Fish