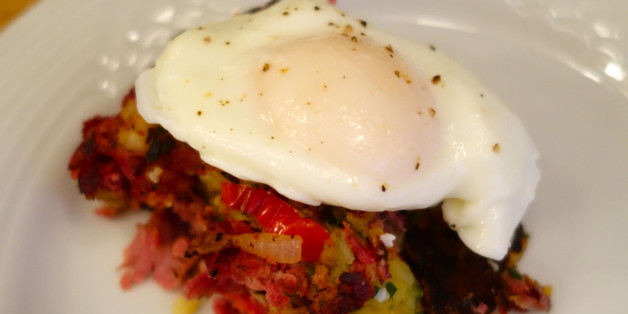 In the days when Jackie and I had more obligations, I'd occasionally be left alone for a few days or a week while Jackie did her duty either to her parents or to her employer (most of my own responsibilities could be discharged right here in New York). I'd cook for myself most nights, but would always order takeout at least once, typically two big Jewish-type deli sandwiches, one of pastrami and one of corned beef (which our UK friends insist on calling salt beef). I'd eat about a third of each and freeze the rest of the meat with a view to making hash when Jackie and I were reunited.
Corned beef, or corned-beef-cum-pastrami, hash is one of the best things anyone can eat, and this was always a great treat, more so than the original sandwiches (though not more so than the reunion), but since our lives have become pretty much commitment-free, these solo trips are rare. A while ago, however, Jackie and a friend went away for a couple of days (her friend was the star of an art exhibition in Detroit), so I revived my old ways and called the deli for those sandwiches. When happily sated, I vacuum sealed the leftovers and stowed them in the freezer, where they lay until a couple of weeks ago, when I transformed them into hash.
The way I do this is to start with potatoes: I eyeball my corned beef and aim to match its volume with potato. Better to have more potato than meat than the other way around. I peel them and simmer them in salted water until done. Meanwhile I identify an onion of decent size, halved and cut into slices between 1/8 and 1/4 inch (roughly 5 mm) thick, which I cook in clarified butter or neutral oil over medium-low heat. As they begin to wilt in the skillet I core and de-rib a red bell pepper, though green is just as good - perhaps better because it is less sweet. I cut it into strips of the same width as the onion slices and perhaps an inch or an inch and a half (2.5 to 4 cm) long. The pepper joins the onions in the pan. If there's any thyme around, I add just a little, along with salt and plenty of black pepper. I let this quietly sizzle, stirring or tossing from time to time, until the vegetables are cooked through, but not browned: browning comes later.
As they are done, I place the onion mixture and the potatoes into a large bowl, to which I add chopped parsley, a big handful: you'll want to taste it in the final dish. When the potatoes are cool enough to handle, I crush them in my fist - there is no better, perhaps no other, way to get the requisite combination of chunks, lumps and puree - then combine them with the onions, peppers and parsley, still using my hand. Properly seasoned, this by itself would make a delicious hash; if you have non-meat-eaters at the table, make more of the vegetable mixture and keep it separate.
Now I stir in the corned beef (and, in this instance, pastrami too, since there was some in the leftover pack) cut across the original slices into half-inch (generous 2 cm) strips. If you are making hash with corned beef that hasn't already been sliced, so much the better: shred it, but not too fine, and your hash will have an appealing chewiness. I always check again for salt and pepper at this point. The mixture can be made in advance up to this point, even a day ahead.
Typically, I brown the entire hash as single thick cake, using a little fresh oil in the same 10-inch (25 cm) non-stick skillet as I'd started the onion in. I sometimes use a plate or pot lid to turn the whole thing over to brown the second side, but if I find it sticking (note to self: it's time for a new skillet), I turn it piecemeal using a spatula. This has advantages, as the interior of the hash will contain crisp browned bits. Another way to brown the hash is in single-portion patties, which are much easier to handle. Whichever path you take, keep the heat no hotter than medium or medium-low to make sure that the mixture heats through before its surface has over-browned. (Be aware that this hash has no binder ingredients and will be fragile.)
As the hash approaches doneness, I bring a pan of water to the simmer, and when it is ready to serve I poach eggs in the water, one or two per person (you can poach them in advance, chill them in ice water, then re-heat them in simmering water when it's time to eat - re-heating takes a minute or less). I top each portion of hash with an egg or two, well drained and seasoned with salt and pepper.
We always eat our corned beef hash with ketchup (though I try to keep the ketchup away from my poached egg), and so should you.
I love any dish of cooked potatoes, onions and other vegetables, crisped in a skillet: Bubble and squeak is one favorite. But what an ingredient corned beef is! From its salt-and-spice cure, it is inherently, deeply seasoned; it is tender from its long simmering, but it retains the fibrous texture of the brisket it is usually made from. Even visually, its pinkness makes this an especially good-looking hash - far prettier than those made from roast beef or poultry.
One of these days I'll figure out how to get some without having to endure a few days of solitude first.
PHOTO GALLERY
Corned Beef's Manifest Destiny: Hash