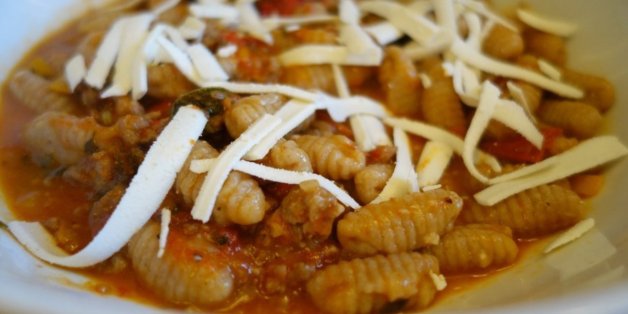 In certain areas of life, I'm a traditionalist. Pasta is one of them -- the pasta itself, not the dishes it can be turned into, where I'm open to just about anything. That means I generally make pasta with (white) wheat flour unless the traditionalist route takes me to, say, buckwheat for those flavorsome wintry noodles, pizzoccheri, or to some other grain for a doughstuff that has been made of something other than wheat since Hector was a pup.
But on a recent trip to Sweden, Jackie and I learned a little bit about barley flour: at the Skansen outdoor museum, a couple of women were making old-fashioned barley-flour flatbread, and it was delicious, which is not really a surprise considering how good pearled barley is. I tried this at home, and the first attempt was a flop; if I acquire the knack I'll probably tell you about it, but don't hold your breath.
Still, barley flour tasted great, and I wanted to use it in some way that would take advantage of its flavor. Looking at vacation photos from a few years ago, my thoughts turned to dense, chewy, no-egg pastas along the lines of Puglia's orecchiette and cavatelli. These are fun to make by hand and marry supremely well either with sturdy greens like Swiss chard or with tomato-y sauces. It almost goes without saying that they are traditionally made of wheat (golden semolina, often), but I had a feeling that a mixture of flours would yield a somewhat new but entirely recognizable version of the original.
About a pound (450 g) of dough will make four portions, so long as the sauce/accompaniment is ample, and to achieve this I used something more than two cups of flour (roughly 300 g) and something less than one cup (maybe 225 ml) of water, but quantities will vary wildly depending on the flour. About two thirds of the flour was a mixture of white and whole wheat bread flours; the remainder was mostly barley flour, plus a little not-too-coarse semolina (this, for some reason, contained a little corn as well as wheat). In the food processor, I blended the flours with a quarter teaspoon of fine salt, then added room-temperature water until the dough was pliable but neither too dry (crumbly) nor too wet (sticky). Ideally, after it has rested for half an hour or so wrapped in plastic, you should be able to shape it on the work surface without a dusting of flour (but if a little flour is needed, by all means use it).
The shape I most enjoy making is akin to that of cavatelli (like those little elongated seashells that look as if they are rolled in on themselves), but formed on a ridged gnocchi board. I suppose that makes them more like the Sardinian malloreddus or gnocchetti sardi, but pasta terminology is more than I can handle on a hot, humid day. Whatever an Italian might call them, I made mine by using the palms and fingers of both hands to roll a quarter of the dough into a fairly thin rope -- less than half an inch (a little more than a centimeter) in width -- then cutting it into little pieces and using a table knife to "butter" each piece onto my gnocchi board and smiling as it rolled itself up into a lovely little dumpling. If I hadn't had a gnocchi board, I'd have done it right on the work surface (a wooden cutting board), which would have yielded a similar shape but without the ridges. You may get the idea from the photographs below, but if not, just search for videos on making malloreddus or cavatelli. This job can also be done with the fingertips rather than a knife, but I find that a knife is easier.
I sprinkled them with semolina so they'd remain separate (they would have anyway, I think) and left them on a tray in a single layer until dinner time. These freeze well, by the way: put the tray in the freezer, then when the pasta is frozen transfer it to a plastic bag for storage. Don't defrost before cooking.
The sauce was a lazy cook's ragù, one of our favorites: For two portions, I sweated a shallot and a clove of garlic in olive oil with some dried chili flakes, then added the meat from two Italian-style sausages (pre-seasoned -- see the idea?) and broke it up with a spoon as it cooked. When it had just begun to brown, I added half a cup (120 ml) of white wine and reduced it to nearly nothing. Then I added some cherry tomatoes that I'd previously roasted with olive oil and thyme (they could also be added fresh), and poured in a scant cup (maybe 225 ml) of stock (any kind, barring fish, would do; I used chicken). Because I had some, I also threw in a few fresh sage leaves. This simmered for 20 minutes, uncovered, and it was done. No stock in the house? Just use more tomatoes, fresh or canned -- or a simple tomato sauce.
The gnocchetti sardi or cavatelli or whatever they were took five minutes to cook in boiling salted water; they should be dense, but must not taste raw in the middle. Use a skimmer or slotted spoon to move them from the boiling water right into the pan of sauce and combine well over medium-low heat; add pasta water if the mixture is not wet enough. Stir in a little grated pecorino (or parmesan) cheese, and top with shredded ricotta salata if you have any; if you don't, finish with more grated cheese.
One grand thing about these pastas is that they really taste of the grain you've made them with. Normally, that means white wheat flour (or semolina, which of course is wheat); in this case it also meant whole wheat, a little bit of corn and, best of all, barley. Each piece of pasta gets properly chewed, not just swallowed, so even with an aggressively flavorful sauce this is a grain experience, and a delicious one at that.
PHOTO GALLERY
Mixing Grains for Pasta With Flavor and Chew