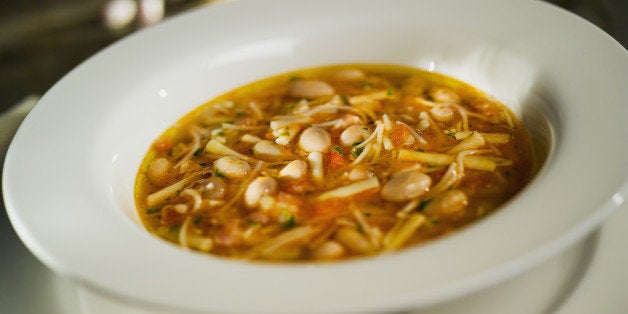 This is probably too much information, but the reason I cooked a big pot of beans a couple of weekends ago is that I was having a wisdom tooth extracted. This was to be my first encounter with oral surgery, and I feared the worst: that my poor traumatized jaw would ache so badly that I'd be eating nothing but soups for a week. Beans are a good starting point for these, as for so much else. But as it happened, the procedure was a walk in the park, and after one cautious dinner of eggs I was ready for fairly solid food.
That said, Jackie thought it would be prudent to use some of those beans in at least one transitional meal, and we quickly settled on that wonderful semi-soup, pasta e fagioli -- pasta with beans. It's been a favorite since the happy days when I had all 32 teeth, so there was no sense of sacrifice. I've long had a particular way of making it, using chicken stock and a risotto-like technique to cook flavor into the pasta and consistency into the liquid; I have described this technique in another place, so here I'll merely say that cooking the pasta this way is really worth the small effort it takes.
This time, however, another favorite thing came into play: an aromatic celery root (aka celeriac). I had a feeling that incorporating it into my pasta e fagioli would palpably change and enhance the dish. I deeply peeled a celeriac measuring a little more than four inches in diameter and cut it into roughly 3/8-inch dice and sautᅢᄅed it in minimal olive oil until it had just begun to brown -- it would finish cooking in the soup. I set half of this semi-cooked celeriac aside for the next day, and when the tiny bowtie pasta and shallots were nearly done added the rest to the pan along with a generous cup of cooked borlotti beans (from the fine grower Rancho Gordo). Finally, I elongated the soup with bean-cooking broth, checked for seasoning and brought it to the table, where we sprinkled our first bowlfuls with grated parmesan, and our second ones too.
As predicted, the celeriac nearly turned this into a new dish, both in flavor and in texture: It made a tender, very slightly fibrous contrast to the slithery pasta and the creamy beans with their just-perceptible pop as we bit (yes, I could bite!) through their skin. I think this -- along with the risotto-like pasta technique -- is actually a way to improve on a classic that is just so close to perfect.
PHOTO GALLERY
Pasta e Fagioli: One New Ingredient Makes a Big Change