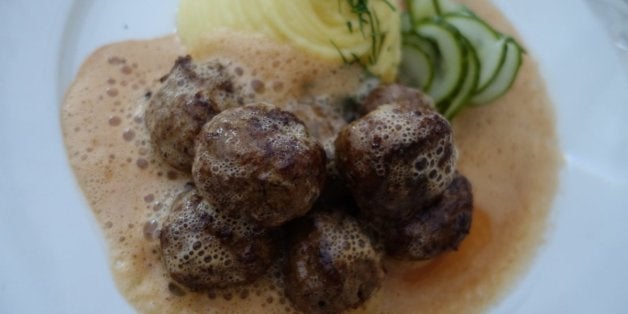 Since last week's post, Jackie and I have continued to eat very well on our vacation. Some meals won't yield much by way of home cooking, such as our extraordinary modern dinner at Mathias Dahlgren's Matbaren in Stockholm (though even there, a horseradish and fish roe sauce to brush onto raw scallops could be repurposed). But I'll certainly be trying things from other meals and snacks.
One of these was at the excellent outdoor museum, Skansen, where a couple of women were demonstrating how to make Swedish flatbread, both the traditional kind made of barley flour, water and salt, and the newer (late nineteenth-century) sort that uses a mixture of wheat, barley and rye flours and includes yeast. They explained everything with clarity, and I was able to handle and taste the raw dough, so I think I have a pretty good idea of how to do this. Okay, I don't have a wood-burning oven running even hotter than a Neapolitan pizza oven, but I do have a pizza stone in my oven and am going to give this a try.
Still in Stockholm, we had delicious meatballs at the restaurant of our hotel, the Hotel Skeppsholmen. It's on an island just a few minutes' walk from the mainland, and it was like staying in the country. Idyllic. The chef, Magnus Johansson, buys excellent Nordic products and cooks them with a sure hand. His meatballs were well spiced, tender and flavorful; oddly I've never cooked Swedish meatballs, and after tasting his sterling version I'm determined to make some soon.
Also at Skeppsholmen we had potato dumplings stuffed with mushrooms. How could I possibly not make something along those lines at home?
Then we flew to London. After a good show at The Bush Theatre, we had dinner in a nearby Polish restaurant, the Patio, where I was reminded of what a great dish bigos is -- long, long, long-cooked sauerkraut with pork and smoked sausage. I've made it a few times, but have never written about it. Maybe I'll wait for autumn or winter, though.
In a few days I'll be back in the kitchen and r'arin' to cook.
PHOTO GALLERY
More Vacation Tastes in Stockholm and London