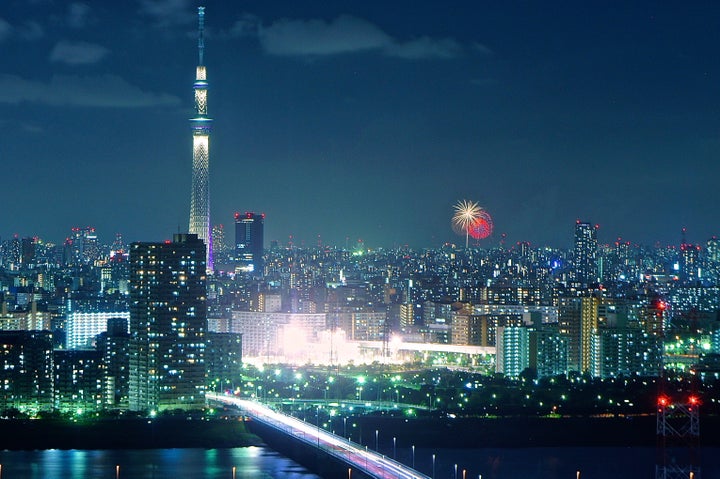 Having stayed in, and adored, the Park Hyatt Tokyo during the first leg of our most recent trip to Japan, my wife and I thought we'd give the Grand Hyatt a whirl too. It seemed to be all abuzz when we dropped by during our previous visit, in 2007, and it's in the lively neighborhood of Roppongi, where we'd never stayed and where there are lots of new things to see, including 21_21 Design Sight. (Well, they're not new by ever-changing Tokyo's standards, but they have appeared since we were last there.) So when we returned to Tokyo after nine days of travel around Japan, we picked up our things at the Park Hyatt and got a cab to the Grand.
If the Park Hyatt is a haven -- spaces gradually get warmer and more intimate as you make your way from the entrance to the reception area, and even the corridors on the guest room floors are arranged in such a way that they seem relatively private -- the Grand Hyatt is a destination; a public event. It is a more "normal" hotel in that sense: The reception, concierge and cashier desks are in the big main lobby, along with the entrances to two of the hotel's many restaurants. The scale is large and the atmosphere can be exciting with the right concentration of people: We always loved walking through the front door from the upscale urban hubbub of Roppongi Hills to the lobby's own, no less upscale hum, then passing between a pair of gigantic guardian sculptures to the elevators.
Our comfortable king-bedded room was decorated with good taste and imagination. I found it to be a bit skimpy on storage: The wardrobe is cramped, though the bedside tables are equipped with spacious drawers. This is not ideal if, like us, you quickly lose track of where you've stowed your shirts: a consolidated storage area would be an improvement. We weren't bothered by the lack of a door on the toilet (there is one, of course, separating the whole bathroom/wardrobe area from the bedroom), but some people might find it strange.
We generally have to force ourselves to use hotel swimming pools and gyms, but the Grand Hyatt's are so tempting that once we'd seen the fitness areas we actually went twice. The impeccably maintained pool and the deck-side jacuzzi and chaises longues add up to a most relaxing environment, and the shower room is worth a visit on its own: It contains a Japanese-style communal bath that is as big as some backyard pools I've seen. No matter where I am, but especially in Japan, I always manage to breach some rule of health-club etiquette, but here my gaffes were indulged with kindness and grace.
One of my favorite parts of the hotel was its "street" of restaurants in a semi-outdoor space on the sixth floor -- which is entirely charming and bears no aesthetic relation to a food court: the scale is modest, for one thing. There's a steakhouse, a sushi place, a Chinese restaurant and a good Japanese restaurant called Shunbou, where we had dinner on the night of our arrival. The open kitchen -- it is always a treat to watch the action -- produces a range of dishes from plain charcoal grilled fish to elaborate kaiseki-style meals drawing (as so many restaurants in Japan do) on seasonal produce. The dᅢᄅcor is clean and informal but full of beautiful details -- and the problem of the view from a sixth-floor restaurant in a dense urban area has been cleverly solved with the construction of a wall of rock outside the windows, a theme that recurs on this restaurant street. That informality -- and the unexpected presence of families with children and people dropping in to sit at the counter -- makes for a happy atmosphere that it would be hard not to enjoy.
Our dinner (a chef's-selection menu listed as Kenzan, which is priced at ᅡᆬ16,000, or about $190, a head) followed this seasonal path and included several dishes containing matsutake mushrooms -- which are met each year with the same enthusiasm as porcini are in Italy or morels in the Pacific Northwest. Chestnuts, stuffed eel and wild vegetables also made welcome appearances in a sequence of dishes that were consistently beautiful and, with one lapse (a too-dense chestnut puree with a too-bland piece of grilled tilefish), elegant in flavor and preparation.
If you're not tempted by any of the hotel's restaurants and are, for some reason, disinclined to go out of doors, there's a bridge from the hotel to the Roppongi Hills complex, where there are dozens of bars, restaurants and shops, some of them quite good. The terrific and seemingly all-knowing concierges will make good suggestions; we relied on them for all sorts of shopping, sightseeing and transport information, and their responses were invariably imaginative -- and instantaneous.
If you read Part One of this pair of stories, you'll know that my wife and I are in love with the Park Hyatt and its very particular personality. Are we in love with the Grand Hyatt? Not quite: Perhaps it is a little too animated for our quiet tastes. But would we return? Absolutely.
Grand Hyatt Tokyo; 6-10-3 Roppongi, Minato-ku, Tokyo 106-0032; +81 (0)3 4333 1234; http://www.tokyo.grand.hyatt.com. Depending on dates, double rooms start at ᅡᆬ39,270, around $475.
PHOTO GALLERY
Tokyo Hotels, Part Two: The Grand Hyatt