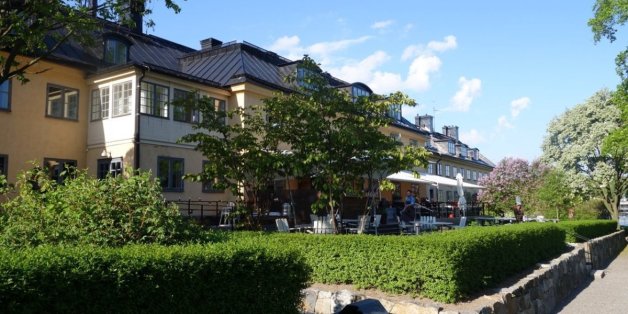 When looking for places to stay in Sweden last month, we hit upon two fairly new, slightly quirky hotels that both proved to be excellent choices.
Sweden's coast is a place of islands -- thousands of them. Stockholm itself sprawls over several, large and small. Still, when looking for a convenient hotel there it is easy to focus only on the traditional hotels on the "mainland," and I've discovered that that's a mistake. The little island of Skeppsholmen is a scenic six-minute walk from the main part of town, and in addition to the excellent Modern Museum it contains the Hotel Skeppsholmen. The entire island used to be a naval base, and the hotel is housed in two late-seventeenth-century barracks, each 100 meters long. Because it is a landmarked group of buildings, its rooms vary a lot in size; also, they are not typical luxury accommodations, and if you want grand hotel surroundings, you should probably stay at... The Grand Hotel (the site of the extraordinary restaurants of Mathias Dahlgren).
Sure, my wife and I have a weakness for that kind of cossetting, but we adored the Skeppsholmen, with its spare, modern design with weekend-house touches like the simple painted wardrobes. In a few ways (the curious bathroom sink, which has no basin, just a ceramic "rock" onto which the water splashily flows), design trumps practicality, but the place is so pleasant that this only made me smile. Here, we were right in town but also out in the country: Our quiet room overlooked a lawn with deck chairs, a tennis court and the water (where Lake Mälaren flows out into the Baltic Sea). We were fortunate with the weather -- during our May visit the skies were unremittingly blue and the temperatures mostly in the low 70's F (say, 22 C) -- and the life of the hotel was lived outdoors: post-breakfast coffee, pre-dinner drinks and dinner itself all happened under the big umbrellas on the terrace, or out on the lawn.
When staying in such a delightful hotel, you will want to eat at least one dinner there. Happily, the restaurant is very good (including at breakfast time). Its chef, Magnus Johansson, is a careful shopper and works hard to track down honest meat, fish and produce, including the best cold-smoked cod roe I've eaten: almost mousse-like in its light consistency, and neither over-smoked nor over-salted. His mushroom-stuffed potato dumplings are something I'll be tinkering with at home, and so are his flavorful (Swedish) meatballs with perfect mashed potatoes. There are more creative dishes on the menu, too, but the classics are hard to resist.
Eating traditional but gently modernized dishes on the terrace, then having a nice stroll across the footbridge to the next island when even at 11 p.m. the sky is still light: What could be a more enchanting way to visit Stockholm?
* * *
In Gothenburg -- where we went mainly to see an opera but which is a charming destination in so many other ways too -- we stayed in what used to be the central post office: The Clarion Hotel Post. It's a big place (500 or so rooms) and it is right across the street from the railway station. Normally that would be two strikes against it, but we were coming and going by train and the on-line photographs looked terrific, so we thought we'd give it a try. Fortunately, it had considerable charm and sometimes considerable beauty, so I suppose I need to adjust my prejudices about big railway-station hotels.
The imposing, austere 1920s brick façade, with stairs and groups of columns at either end, faces a large open square adjacent to one of the city's canals. This is a fine location for either business or tourism, not least because any number of trams and buses stop right nearby; there are plenty of taxis too. The hotel's ground-floor public areas are vast but show few signs of their architectural or functional origin -- the modern décor is slightly whimsical and almost flashy, but not in an irritating way: it's all very appealing. The quiet bedrooms too are entirely modern - clean design and comfortable beds and furniture -- but the corridors and some of the stair landings evoke an old office building in a pleasing retro way.
There is one space, however, that retains the post office grandeur: The Norda Bar & Grill, where the consulting chef is New York's Marcus Samuelsson, who was raised in Gothenburg and who has written a curious Nordic-American menu that includes pulled pork on the one hand and a (gigantic) Swedish shrimp sandwich on the other. It is housed in what was the main business hall and has been gorgeously sexed up with draperies, loungy furnishings and warm lighting, which serves to emphasize the coffered ceiling (made of plaster incised to look like stone -- evidently at a vast cost in workers' time before the building opened in 1925) and the remains of the windows at which generations of Gothenburgers lined up to buy stamps and mail packages. It's a lovely, alluring place for a drink, though we found that we ate better outside in independent restaurants (notably Thörnstöms Kök).
By contrast, breakfast in the hotel was excellent: an advantage of a huge establishment is that it can put out an impressive buffet in the morning, including high-quality members of every food group you can think of. Serve yourself -- coffee and tea are good (a big selection of loose teas is set out, along with paper sachets for customized tea bags); there was also a tea kettle and Nespresso machine in our room. Astonishingly, there's a rooftop pool, too small for real swimming but amusing enough if it is not full of children.
Service is at a smooth and friendly business-hotel level, which is to say guests are left to do many things by themselves -- unless they ask for help, which is instantaneously and graciously provided. If you're traveling by train, you can't beat this hotel; even if you're not, you should consider it for a visit to Gothenburg.
Hotel Skeppsholmen. Gröna gången 1, Stockholm, Sweden; +46 8-407 23 00; info@hotelskeppsholmen.se. Depending on date and availability, rooms can start at around $210. $300 is a more typical starting point.
Clarion Hotel Post. Drottningtorget 10, Gothenburg (Göteborg), Sweden; +46 31-61 90 00; cl.post@choice.se. Depending on date and availability, rooms can start at around $210. $350 is a more typical starting point.
PHOTO GALLERY
Two Unexpected Hotels in Sweden