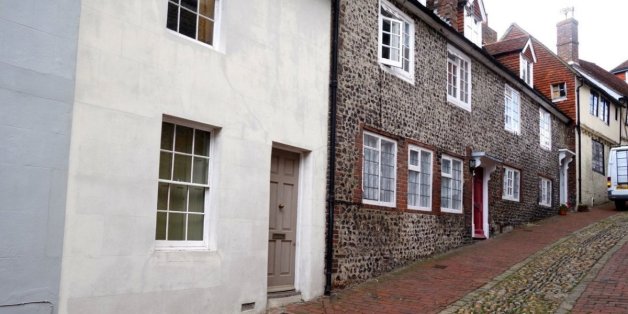 If you are attending a performance at Glyndebourne - the quintessential country-house opera festival and among the most alluring - it is too easy to think of the nearby East Sussex town of Lewes as little more than a railway junction where you catch the jitney or a taxi to the opera house. That was a mistake that Jackie and I made when we first visited the festival more than thirty years ago during a trip to London: we scurried there and back without paying attention to the town.
Last August, at the very end of the 2014 season, we saw two Glyndebourne performances on successive nights (a happy experience on which I shall soon have more to say), staying in Lewes and getting a good touristic look at the place. We stayed at a hotel recommended by a friend: Pelham House, parts of which go back to the sixteenth and seventeenth centuries. It has a lovely garden descending from the rear of the main building, where we had a beer while waiting for our room to be readied. It also has a hospitable staff and a range of rooms that vary from fairly small singles overlooking the hotel's front court to "executive" doubles with great views over the garden and the landscape of the South Downs: the one we stayed in had a splendid free-standing tub in the middle of a bathroom larger than some New Yorkers' studio apartments. The hotel is a short walk from Lewes station; if you're carrying just an overnight bag or if your suitcase has wheels, there will be no need to get a cab. There are other hotel options in and near Lewes, but Pelham House is the place we'll be returning next time.
As you walk from the station to the hotel (okay, there's parking at the hotel if you have a car), you'll see more than one reference to the American revolutionary figure Thomas Paine, who lived and worked in Lewes, which in those days had a long-standing anti-royalty streak. Though we Americans know in theory that the key authors of our revolution were of British stock, seeing one of them commemorated in an English town brings a smile to our lips.
But Lewes was an important place long before the eighteenth century. At least from medieval times, it was a major port on the River Ouse - just a few miles upstream from England's south coast (Brighton is nearby). There are signs of prehistoric and Roman settlements here; the Saxons built a fortified castle on the town's high point, and after the Norman invasion a new one rose on the same site, as well as a substantial monastic establishment (a priory built of stone brought from France via that river port). A significant battle was fought here in 1264, and during Roman Catholic ascendency in the sixteenth century, a group of seventeen protestants were executed in the center of town, on the site of the modern town hall. Anne of Cleves gained a house in Lewes when she lost Henry VIII, though evidently she never lived there.
To get a handle on this extensive mass of history, your first stop should be the Barbican Museum at Lewes Castle, where all is set out in a clear and appealing way. Unless you happen to be there on November 5, you won't get to see the unusual and provocative way Guy Fawkes night is celebrated in Lewes, but the museum explains this interesting twist on an English custom (inter alia, they burn Pope Paul V in effigy). Then climb to the top of the castle, from which you will get gorgeous views in every direction. From here, pick your way down the steep (San-Francisco steep, and then some) Keere Street, along which are several historic buildings, including a fifteenth-century timber framed building, now a book shop, at the top end of the street. Follow the signs and continue to Anne of Cleves's house. As noted, she didn't actually live there, but the sixteenth-century house is pretty much intact and offers a rare opportunity to visit a building of this kind: substantial and spacious, with a nice little garden, but not the sort of grand country house or palace that we tourists more often encounter.
Back up toward Keere Street is another sixteenth-century house, this one more imposing and built of Caen stone appropriated from the ruins of Lewes Priory: Southover Grange. Its gardens are now a landscaped and well-manicured public park of considerable beauty: not to be missed if only because it contains a mulberry tree bigger than any I could have imagined, which is thought to date from the 1600s.
If you are attending an opera at Glyndebourne, that itinerary will see you through from after breakfast until you need to go back to the hotel and change for the show - which generally begins around 5 p.m.
On the matter of Glyndebourne, I'd always been skeptical of the old claim that during the season you are likely to bump into opera stars on the streets of Lewes. But at least on this visit it turned out to be no myth: As we trudged up the hill from the station, a woman yielded right of way on the sidewalk and, as we passed, called out "Nice tie!" - I was wearing one of my favorites. She looked kind of familiar, and afterward Jackie said, "Wasn't that Karina Gauvin?" Well, Ms. Gauvin was performing that week, in Handel's Rinaldo (she was terrific), and when I checked with her by e-mail she confirmed that it was indeed she who'd been taken with my polka-dot neckwear.
That's just operatic paint on an already beautiful lily: With or without Glyndebourne, Lewes is worth a solid day of your time.
PHOTO GALLERY
Lewes: Not Just a Railway Junction