Strangely, the qualities I look for in a good burger actually mirror what I look for in the ladies. I'm after the hotness. I'm after some olfactory intrigue. And good conversation doesn't hurt.
That's the approach that underdog burger chain Smashburger brought to Boulder last night at its "Sneak Peek" prior to officially opening for business this week. The day-long festivities included a lunchtime romp with local bloggers and influencers as well as a more general free food-a-thon in the evening. Before, during and after, Smashburger stoked interest locally with ardent action on @SmashburgerBLD, a Twitter account created specifically for the new location and managed locally.
While lobbing Twitter bombs is nothing new at this point, it's nonetheless an incredibly effective way of engaging those peeps most likely to spread the word about your pomade, vacuums or burgers. Smashburger's approach to social media was explained to me, not by an armada of slick marketers, but by the company's founder, Tom Ryan.
"It's a more immediate way of doing what traditionally minded businesses wish they could do," Ryan said. "There's enough spam out there already, so we don't see much value in that approach. People are skeptical of it anyway. We just want people to know we're here - and we're listening."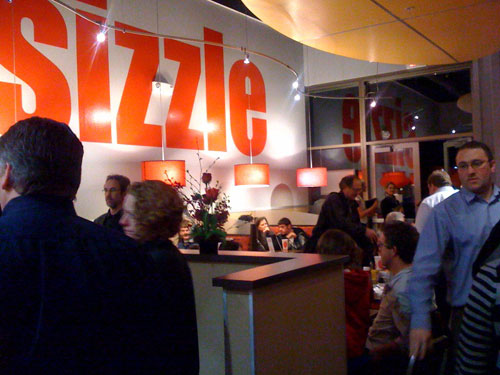 That listening manifests itself in the menu. Smashburger created a veggie-friendly black bean burger specifically for Boulder, given the concentration of local legume lovers. Ryan said that it's become standard operating procedure to offer region-specific menu options when applicable. That said, I want a Gummi Burger. It's got nothing to do with Boulder, but good gravy - wouldn't a Gummi Burger be awesome?
The food was tasty and service was great, though the joint was super crowded given the "OMG this is an event!" nature of the evening. I don't want this to evolve into a Yelp review, so I'll end with a general high-five to Smashburger for bringing a slightly more social burger to a town still mourning the loss of Tom's Tavern. Hit me up if you want to meet for a shake, ladies.