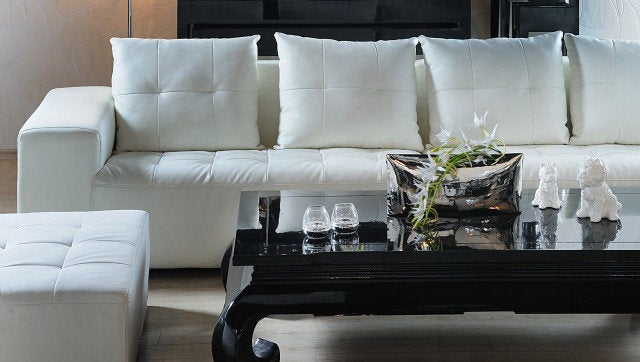 I recently moved into one of New York City's excellent large apartment houses. It is a bulky building of mid-20th century construction, occupying half of a square city block. Like many middle-agers, it had just had a "face lift." Cosmetic surgery is not just for people. If you pause to think about it, refacing a building affects more people than one imagines: not only tenants and their guests but, passers-by, and the building staff.
When I visited what would become my new abode, the building was veiled in scaffolding. Most of the scaffolding has now been removed -- only a fragment, the entrance, remains to be completed. The remainder of the three sections and the tower is now immaculately sheathed in horizontal panels of white and black and gray.
It's the sort of coat that should wear well and retain its style.
From my windows on the 21st floor I look out across a cityscape of Manhattan's blend of five-story town houses, along the grids into which the borough is divided as well as streets where tenements that now live primarily in the paintings of Edward Hopper have given way to 30- and 40-floor "high rises."
Brick signals the age of a building. The latest arrivals are more often clad in glass or concrete. What lends my daytime hard-edge view its softening are the roof top gardens and the town house backyards flourishing beneath a canopy of sky. There, leafy trees catch the breeze and flowering plants welcome butterflies and bees. Cafᅢᄅ tables, slender chairs, even a chaise or two on a terrace breathe a hint of vacation home into a New York apartment.
So this winter, in need of post-move "R&R" and with an invitation from a dear family member who lives there, I decamped to mild, balmy, southern Florida in early February. I was anticipating a palette of pale blues and yellow/greens. I also remembered the pink edges to rainbows and vivid-hued bougainvillea. What I discovered surprised me.
We leave NY and New England, Canada and the mid-west in winter to escape gray days and black nights that start way too early on standard time. We're willing to forgo the soft cushioning of deep banks of white snow -- beautiful initially, less enchanting as it turns to slush and then to ice.
The housing market is waking up on the east coast of Florida. Older homes are being refurbished. And the favored palette in home dᅢᄅcor? Neither pastels nor vivid tones. Instead, time-honored white and black and gray.
In furnishing a vacation home (and most of these homes are in that category) the concept is to "keep it simple." Uncluttered. Comfortable. Chic, contemporary sophistication that is age- neutral and open to accents of color. Shimmering, pearl gray walls (a subtle derivative of the palest blue sky). White woodwork and moldings. Glossy white kitchens. Black sofas and hard edge clear glass or lucite tables.
Each element reminds us of the wintry cities we left "up north." Are we expressing a deep-seated subliminal longing for the familiar?
Color slips into a home on our backs -- in the tee shirts and shorts we wear -- and clashes with nothing we sit on. In fact, our clothing -- dressy or casual -- becomes an "accent" brightening up the indoor scene.
For formal visits, Louboutin's red-soled shoes make a true fashion statement against white floors and the black upholstery of a sofa.
And perhaps, that's why this backdrop triad of white, black and gray works for us.
It interferes with nothing and is compatible with the one or two accent pieces we select to define ourselves: for one person, an Oriental vase, for another a Stickley oak chest, or a Regency desk, a single great painting, poster or photograph -- some unique decorative piece that evokes conversation centering on a topic far removed from golf or bridge scores.
The air outside is soft. The sunsets are spectacular. The interior is perfect -- a stage set for relaxation. And life is good. Softly purring ceiling paddle fans distribute the cool conditioned air gently repelling the humidity that can seek entry through sliding screen walls/doors.
And the scrim of misty white that periodically screens our northern city-views during a snowfall, when transferred to a southern wall attains the clear white crispness once associated with nurses caps "way back when" nurses wore starched caps. Southern sunlight is the key element.
Clean-edged, sophisticated, always appropriate, black and white. It's what works right now, down south.