In their wigs, theatrical make-up and grandiose veils, it's unlikely that the Sisters of Perpetual Indulgence could be confused for ordinary nuns. Their 2003 Gay Pride float featured a masked George-W.-Bush-like figure straddling a cock-rocket, publicly flaunting his belatedly discovered "weapons of ass destruction." Their Good Friday ceremonies include Hot Cross Buns, a fetish-fashion show benefiting local charities, held in a San Francisco sex club, and the Sisters are a staple among the Folsom Street Fair leather-daddies, where they collect donations for nonprofit organizations. These and other similarly colorful fundraisers have landed them on the Vatican's Papal List of Heretics.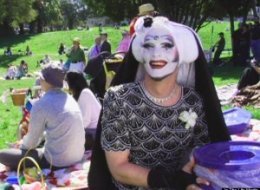 "We realized right away that the nun's habit contains a lot of social stigmas all in one. Gender issues, gender-identity issues and religious bigotry issues. So the habit to us is like a lightning bolt," says Sister Vicious Power Hungry Bitch.
Since their first appearance in San Francisco on Easter Sunday in 1979, the Sisters of Perpetual Indulgence have used the power of parody to expose the forces of bigotry, complacency, and guilt. Today, the Sisters are a global collective of queer performance artists devoted to promoting human rights, respect for diversity, and spiritual enlightenment.
"I think one of the biggest misconceptions about Sisters is that we mock nuns," says Sister Mary Peter. "What I'm doing is celebrating a very old vocation that women have carried for centuries. All I'm doing for this century is taking it outside the convent walls and I'm finding those people who wouldn't step into a church or a temple or a synagogue, but who need a loving touch and some care and some sensitivity."
This month on the public television documentary series In The Life, the Sisters of Perpetual Indulgence share how, unified as an Order of many faiths and spiritual beliefs, they've been "promulgating universal joy" for over three decades. To find out when it airs in your local area, to stream or download it, go to the In The Life media website: www.inthelifetv.org.