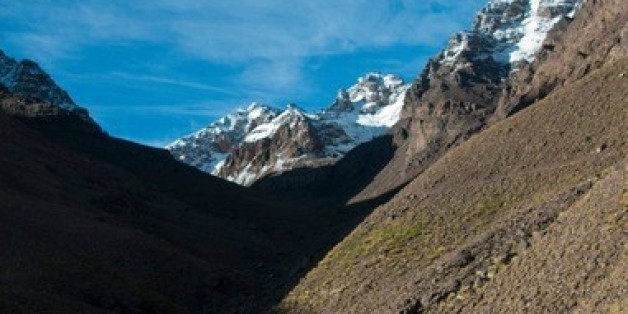 "What made me think I wanted to climb a mountain?" I asked myself out loud. We were in day one, hour three of the slow, extremely strenuous, even boring trudge toward the summit of Mount Toubkal in the High Atlas Mountain Range of Morocco.
But there I was, in September, with 31 others, on a physical challenge so tough my brain couldn't have anticipated it. It wasn't supposed to be this way. We were thinking more hike than climb; we should have asked more questions.
And then it started to rain -- a steady non-stop deluge for six hours. No matter how much waterproofing you've done, in that kind of water you're going to get wet. Very wet. Soaked through every layer of clothing, down to the skin. And even though you're drenched through and through, you have to keep going because there's nowhere else to go. You're on a mountain. The Neltner Refuge, where we planned to spend the night, was hours away.
Here's how I got myself into this mess. The TNS Global (where I work) parent company, Kantar, has a relationship with UNICEF. This trip was a fundraiser for UNICEF's Brighter Futures, with the money slated to help children in Malawi, Bangladesh, and Bolivia. It sounded amazing and I signed up immediately. I'm happy to say that our team raised about $110,000, exceeding our goal by approximately 30 percent.
Back to the mountain climbing. We finally made it to the Neltner Refuge after about eight hours. The place was full. We slept 26 to a room. There were four showers, two toilets that sometimes flushed and two of those hole-in-the-floor thingies they called toilets. Bring your own toilet paper.
We were greeted by a staff who came bearing gifts of mint tea and cookies before they served us a hot dinner while we sat around the fire trying to kill the bone-deep chill we had from being soaked for so long. Our grumblings eased and we actually started to have fun, getting to know each other, playing games, and comparing our day's miseries.
Day two started at 6:30 a.m. We were to complete the trek to Mount Toubkal's summit in nine hours (four to five hours to reach the top and four hours to return). One guy in our group refused to go. He waited for us at the Refuge. I didn't blame him. I (and a few others) didn't really want to go either, but we allowed ourselves to be cajoled into it. Plus, I didn't really come all that way not to try. I wasn't happy, though.
The weather got worse, not better. After a few hours, we were turned back by the snow, ice, and wind. Many were disappointed. I wasn't. I was ready to turn around. In fact, a few of us turned back about an hour before the diehards did. It was dangerous. My goals had been met: raised money, climbed a mountain, and embarked on a new adventure. Reaching the top or not didn't matter to me.
Our guides, Khalid and Ibrahim, were beyond amazing. They safely and with good humor led 31 first- timers up and down a mountain in some of the harshest conditions the area has had in years. I love those guys.
Can something be awesome and horrific at the same time? Apparently, because that's what this was for me. I really hated the climbing part; it was much, much tougher than many of us imagined it would be. But it was more awesome than it was horrible.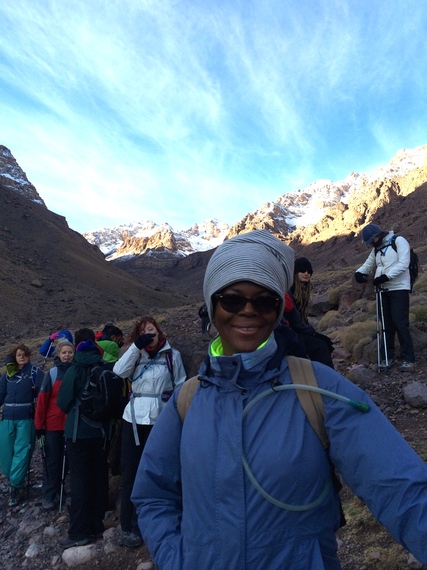 And now that I've had a few weeks to recover in the comfortable confines of my New York City apartment, I've realized that I learned a few things:
I don't like mountain climbing. Not even a little bit.
Gross things become less gross if you spend enough time with them. Case in point: The trail was filled with donkey poo the entire way. After a few hours of trying to step around it, we began to plow right through. When I'm worried about slipping and falling off a mountain, a little (or a lot) of poo on my boots means nothing.
I know what it feels like to think I could die. What we were doing was dangerous and we weren't properly trained. While I was climbing, I realized that it wouldn't take much to lose my footing and go tumbling down, down, down. It was an odd feeling, but I felt surprisingly serene.
In the face of danger, I still have a sense of humor. Even about my death. As I was processing that I could die up there, I thought of the way loved ones often speak of someone who has died doing something crazy. They always say, "S/he died doing what s/he loved." People wouldn't have said that about me. They would have said, "WTF was Eleanore doing on a mountain, anyway"? I imagined myself lying in my coffin with a sheepish, apologetic look on my face.
I'm old. Most of the people on the climb were in their 20s and 30s. There were a handful in their 40s, but I was the oldest person by at least 10 years. And I couldn't keep up. I'm in good shape but I now realize I have to modify that: I'm in good shape for an almost- 60-year old. I ended up in the back, climbing with the sick people. There were a number of people who were having a rough time, slowed by headaches, nausea, and muscle aches. I had none of those things but they were moving at a pace much more to my liking. So those were my people.

And now that I've had time to recover, I look back almost in awe. I did something pretty amazing, for a good cause, with a great group of people. I won't do it again, but I'm feeling pretty proud of myself. What a magnificent experience -- this Spinsterlicious Life!