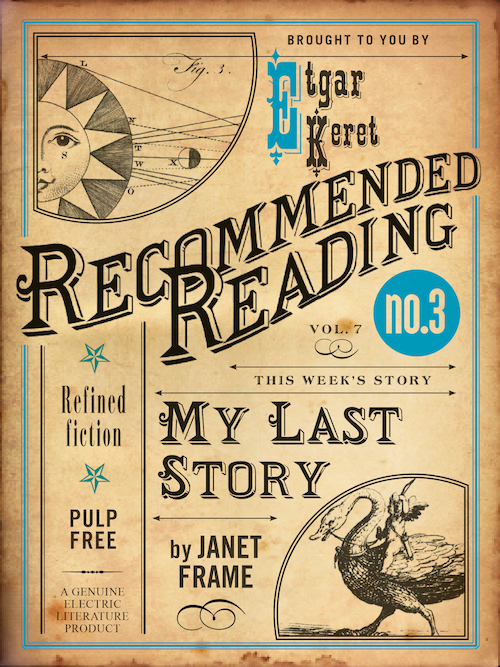 Acclaimed Israeli writer Etgar Keret guest edits the latest issue of Recommended Reading a free magazine from Electric Literature. Here's Etgar's introduction to "My Last Story" by Janet Frame.
Where does the need to make up a story come from? I think that every time I've ever read a story, that question echoes in my mind. What is it that made the writer spin such a complicated plot and invest his entire being in developing characters he never knew instead of devoting the same time and energy to, for example, putting together a tasty salad or playing an exciting game of Scrabble on the living room floor? That's why I have always been interested in stories that have to do with writing. Stories that remove the insoluble question of the nature of creativity from its permanent blind spot and place it front and center.
The problem with texts of that kind is that, in many cases, they are clever, but almost never moving. As if that reflexive sort of writing moves writers to their mind and away from their heart. There are, of course, exceptions, and Janet Frame's "My Last Story" is one of them.
I don't know what makes it work so intensely. Maybe it's the refusal to write what stands at its center; maybe it's the fact that despite its title, it isn't really a story in the fictional sense of the word, but rather a compilation of apparently actual events in Frame's life: a collection of experiences, memories and emotions, and not of invented happenings she could have created from the same raw materials.
In the 1940s, Frame was institutionalized in mental hospitals, diagnosed with schizophrenia. When her first collection of stories, which ends with this one, was published in New Zealand, its great success saved her from having to undergo a lobotomy.
Like all writers, Frame had no pragmatic reason for making up stories, but the fiction she created had a clear and pragmatic effect on her life: writing kept her complex, sensitive mind whole.
-- Etgar Keret, translated by Sondra Silverston.
Read Janet Frame's "My Last Story" and more free fiction now at Recommended Reading.