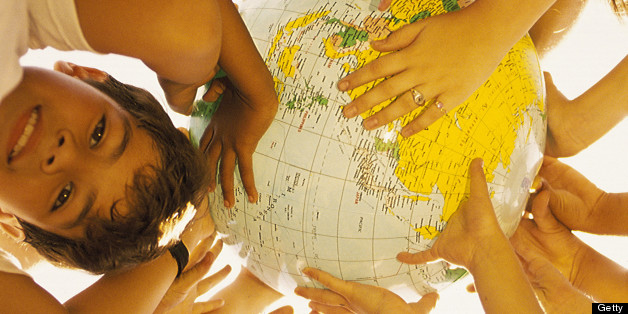 Global citizenship is not an official term recognized by heads of state and certified with a multi nation passport.
Being a global citizen does not require a passport, but it does require a belief system. A belief in diversity of cultures, of beliefs and of perspectives. A belief system that prioritizes global issues that although outside our borders, impact each one of us. A belief system that holds at its core the fact that no one should face life threatening consequences just because of where they were born. A belief system that understands that our neighbors are no longer the ones down the street, but instead are the individuals across the globe who we are connected with by nature of ever increasingly interdependent world.
Being a global citizen means that although you may not have traveled to the four corners of the earth, you are curious and interested in cultures and in the stories of people everywhere.
Which is why, as we prepare our children for the 21st century, we must empower them to be global citizens. We must help them understand that their voices matter and that they have the opportunity to create change big and small.
Empowering our children means giving them the tools to write a letter to their member of Congress or advocate about a cause they believe in. It means giving them the resources and tools to develop their passions and understand how they can use their strengths to help others. Developing global citizens means fostering a sense of interdependency in our tweens so that they know grow up knowing how to brainstorm, problem solve and collaborate with one another.
Our tweens are watching us. They are learning through subtle and not so subtle actions what is important and what isn't. They are seeing their moms use their voices in social media, telling stories that entertain, reflect and teach. They are seeing that voices matter.
Moms + Tweens + Social Good in Washington DC
Which is why it is time to engage....to come together as moms and tweens in one space share, to brainstorm, to discuss and to plan. As part of the + Social Good platform, inspired by the Social Good Summit, Washington DC area moms and tweens (ages 8-12) are invited to spend a morning together in an interactive session that will foster and develop global citizenship. The Moms + Tweens +Social Good workshop will take place at the Hilton McLean Tysons Corner, outside of Washington DC on Saturday August 3rd.
Topics that will be discussed are:
What are the causes and things that we care about?
What does it mean to be a change agent?
How can we use our voices for good?
How can moms and families model being global citizens?
What has worked?
What are ways we can use technology to be global citizens?
The morning will be interactive with both mom and tween panels, as well as hands on learning about how to write a letter to a member of Congress or which social media platforms are appropriate and safe for tweens to use.
Learn more and register for the Moms + Tweens + Social Good event.
Check out the new developing global citizens Facebook page for more information and resources.
Our tweens are ready. They are hungry for concrete ways to be unstoppable and have their voices matter. The question is, will we give them the tools that they need?