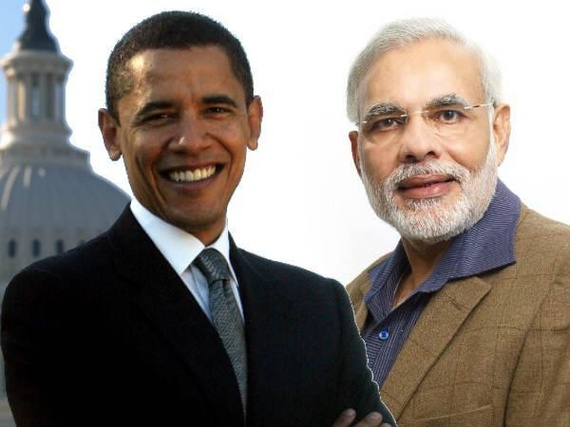 Co-authored by William Witenberg a contemporary artist focused on abstract painting
The new Indian Prime Minister, Narendra Modi, will be meeting with President Barack Obama on the 30th of September. Prime Minister Modi is arriving at a moment when India-America relations have been worse then ever in recent memory. The strain on relations was recently underscored by Modi's widely quoted statement, "if you ask anyone among the more than one billion people living in India who is our country's greatest friend, every person, every child knows that it is Russia."
The official Indian government's response to the invitation was that Prime Minister Modi was "looking forward to a result-oriented visit with concrete outcomes that impart new energy to (the) India-U.S. strategic partnership." However, there can be little doubt that Modi has, at a minimum mixed feelings towards America. In 2005, he was denied a visa because of his supposed Hindu Nationalist views. There is irony in the fact that America is inviting a man, that once was denied a visa to enter the country, to meet the President. It underlines how important India has become to America. The importance for America of building stronger ties with India cannot be overstated.
India has been a strong supporter of Russia during the Ukraine crises. It has ignored western sanctions imposed upon Russia. Russia is trying to repair the Chinese-Indian schism over Pakistan. The invitation for Prime Minister Modi to come to Washington and visit with President Obama after he addresses the United Nations can be seen as a way for President Obama to have an opportunity to reduce the friction between the two countries.
For Modi it can be an opportunity to advance his economic agenda. Modi's just completed political campaign, based on promises to the Indian business community, that he would bring more foreign investment into India and that there would be more investment in infrastructure projects. It is expected that the same economic agreements, which resulted from Modi's recent summit with Japan's Shinzo Abe in Tokyo, will be discussed in Washington. Japan agreed to increase it's investment in India and agreed to provide loans for infrastructure projects. It is anticipated that American investments in India and financing for large projects will be on Modi's agenda at the meeting.
The meeting of the leaders of the two largest democracies in the world will be watched carefully by Russia. While India is unlikely to change its most favored nation status with Russia, Modi will likely try to achieve a balancing act of improving India's economy without threatening its long term relationship with Russia.