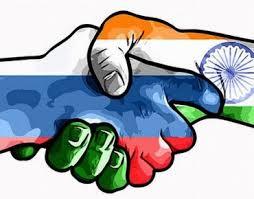 Co-authored by William Witenberg a contemporary artist focused on abstract painting
As the United States and Europe increase their sanctions on Russia, unsurprisingly Russia is moving closer to one of its long term allies: India. America and Europe keep pressuring Russia to change its policy with respect to its support of separatists in Eastern Ukraine, the unintended consequence is America is pushing India into closer relations with Russia.
Russia is the second largest arms exporter in the world, and half of Russian's arms production goes to China and India. When sanctions were announced on Russian military equipment the Indian government rejected them. While the 30 year multi billion dollar Russian oil pipeline deal with China has been widely discussed; the potential deal brewing between Russia and India could be as important as that deal. India is estimated to likely be the world's largest oil importer by 2020. Russian Ambassador to India, Alexander Kadakin expressed hope that the "biggest ever energy project in history (the pipeline) ... would enhance India's energy security." The closeness of the ties between Russia and India were underlined when Prime Minister Modi stated. "...if you ask anyone among the more than one billion people living in India who is our country's greatest friend, every person, every child knows that it is Russia."
Some may find the close relationship between the world's largest democracy and Russia surprising. But Russia has long recognized the benefits of being a friend to a country of one billion people. Not only does Russia have a business partner who will be a consumer of its energy and military products, but India also is a political friend in times like these, when the United States is trying to gather world support to influence Russian behavior.
In response to recent American and European Union sanctions Russia has banned imports for one year of fruit, vegetables, milk, and diary products from the EU countries and America. India will gladly fill the vacuum created by this sanction. The irony of the worlds largest Democracy helping Russia during these times underscores the importance of Russia and India's ties. More significantly Russia and India are discussing the replacement of the dollar and the euro with the rupee and ruble for trade between the two countries. If this happens it will be a sign to Russian allies that that there is a way around western sanctions. Russia has done this with China already and should they succeed with India; Russia will be less affected by the increased sanctions. And the role of the dollar as the world's currency will be reduced.
At the end of the day, if western sanctions serve to increase ties between Russia and India, as well as Russia and China, it may be that the sanctions have backfired and strengthen rather than hurt Russia's standing in the world. While Russia has grown increasingly close with China, India distrusts China due to a long festering border disagreement. However, China has recently attempted to resolve these differences because, like Russia, it believes that a genuine Asian bloc requires the support of India, and an end to their relatively cold relations. China made the first move in warming relations by inviting India to participate in the APEC summit in Beijing, this November, one-upping the United States. Russia and China have recently indicated that they want India to play a more significant role and become a full member of the Shanghai Cooperation Organization (SCO). Russia has long advocated this position and it is likely that it has persuaded China to back greater Indian involvement with the SCO. India will undoubtedly seek and receive Russian support to persuade China to back its India's bid for a permanent seat in the United Nations Security Council. A seat that will, if brokered by Russia, only serve to diminish western influence in the United Nations.
The consequences of a deeper alliance with India serve to strengthen Russia's resistance to sanctions.