It has been an unbelievable week. As we witnessed a massive manhunt in Boston for the second suspect allegedly responsible for the horrific marathon bombings, an entire nation has been deeply affected yet again by ever-increasing violence in America. The heinous attacks that took place last Monday remind us that we are all Bostonians in the prism of terror.
This past week also brought a surreal number of tragic events across the globe. From the shocking Boston marathon twin bombings, the West Texas fertilizer plant explosion, ricin tainted letters in the mail, to three major magnitude earthquakes across the globe. And, let's not forget the momentous and shameful failed gun-control legislation in the Senate.
The third Monday in April is historically one the most celebrated days for Bostonians. But this year's state holiday (observed on April 15th) turned out to be one of the most shocking days in the city's recent history. It commemorates the day when brave Americans sacrificed their lives to launch the start of the American Revolution with the Battles of Lexington and Concord and "the shot heard around the world." A tribute, if you will, to the start of the American War of Independence; with its official declaration on July 4, 1776.
This is not a perfect world, or nation, but as in the words of the late Bostonian and one of our Founding Fathers, Samuel Adams, "Neither the wisest constitution nor the wisest laws will secure the liberty and happiness of a people whose manners are universally corrupt."
The twin bomb explosions detonated at Boston Marathon's finish line last Monday took innocent lives and changed the lives of many-more than 20,000 runners and thousands of spectators young and old. Three people including an eight-year-old boy were killed, close to 200 people severely wounded, and a fourth person was killed Thursday. It changed us. It changed the way our kids see the world. It changed the way we see our neighbors. It brought back images of the incomprehensible tragedy of 9/11, the recent shootings in Sandy Hook, and countless other lives caught in the pervasive web of terror and global discord.
The news of this indelible moment echoed within seconds across the nation and the world. For me, it was a paralyzing moment turning vigilant. Schools were out last week in Boston and kids were home watching and listening to media reports. I can only imagine how it must have been for them.
Heightened tension and caution was the norm throughout the week for all Bostonians and all of us. We gathered around our desks and dinner tables wondering and asking, what was next. We awaited news developments from an intense and massive developing investigation. These were scenes meant for the big screen. How can two individuals manage to shut down a U.S. city like this? Security was immediately ramped up in the nation's largest city.
As a native New Yorker, the presence of immediate additional police and emergency response vehicles was terribly unnerving. But nothing can compare to the feelings of confusion, terror and disbelief by those standing all along Boylston Street near the finish line.
One spectator, Maria Avgitidis, a New York based dating industry professional, took a brief break from her Boston business trip to celebrate Patriots' Day with fellow Bostonians. She was unaware she was caught in the chaos. She recounts her experience. "I was at the 40 km (24.8 miles) marker line. I had no idea what had happened until many of us received text messages from friends, asking "Are you okay?!" approximately 10 minutes after the attack. That's when the cops began to notify the spectators as well. The runners however... as they passed the 40km marker line, they had not a clue what was up ahead. Most of them looked puzzled as the cheering had dimmed. The cheering never dims so close to the finish line."
Although terror attacks happen almost every day somewhere around the world, when it happens on our turf it becomes real and palpable. But this was also an attack on a marathon; an important event that historically represents the depth and breadth of heroism and victory through the ages.
Boston's longest running annual marathon was inspired by the first modern-day 1896 Summer Olympic Games held in Athens, and was first held in 1897. It is a marathon like no other; the closest race to the Olympic experience. Today, we are all marathoners running toward the finish line. And, Bostonians are the modern-day heroes.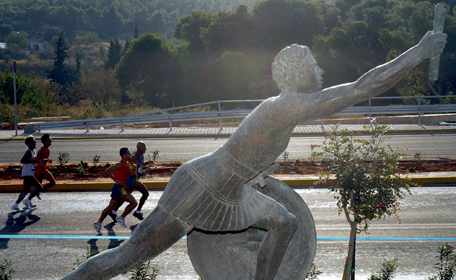 The marathon race is a memorial to the Athenian soldier and professional runner, Phidippides -a hero in one of the greatest turning points in history stemming to the ancient Athenians who in 490 BC battled a massive Persian army outside of Athens, on the outskirts of the city of Marathon. The battle ended. Athens defended against the invading Persians. Phidippides was called again to run to Athens (26 miles away) from Marathon to carry the news of the victory.
The story is debated but according to Plutarch, Phidippides ran back the entire distance to Athens, and exclaimed "Νενικήκαμεν" or "We have won." He then collapsed and died from exhaustion. The Athenians like the American Revolutionary War heroes, ran a deadly race toward freedom and victory. And they won. This paved the way for the emergence of Classical Greek civilization and Europe.
Today, we continue the race for our long-fought liberties. We rest easier knowing that justice will likely be served if the second suspect survives his critical injuries. We are confident and proud in knowing we have outstanding first-responders and emergency medical teams who are mobilized en masse to help save lives. We count on top law enforcement officials, FBI, and SWAT teams to respond to criminal emergencies. And, we are stronger as a people because we recognize how fragile we all are.
America exists today because of its unwavering fight for freedom by many brave souls. However, just as in the bloodshed days of our forefathers and of antiquity, these acts of terror only strengthen our resolve to live by our principles and to value our civil liberties even more-those same principles that have drawn immigrants to America for centuries through today.
What is most disturbing is that these bombings were allegedly carried out by young adults living in this country who happened to be siblings. These were young men with families of their own who expected more from them in the land of opportunity. Surely the pundits will be studying the elusive Tsarnaev criminal case for a long time.
Many questions still linger. Most importantly, how do we prevent this from happening again? We unite with Boston's grief and sadness because we know, albeit more clearly-what could lie in wait for anyone of us at any given time.
President Barack Obama traveled to Boston on Thursday to lead an interfaith memorial service with a message of hope and healing. It was a powerful message coming from a most compassionate leader. By last Friday night, he addressed the nation with a deep sense of gratitude and resolve. He asked what had been on our minds all week: "What led these young men... to resort to such violence?"
For now, the City of Boston has some closure. The innocent victims will always be remembered, and surely next year's Boston Marathon will come back stronger than ever before. That is the human spirit.

While terror aims to inflict fear and heighten the divide, it can also become a catalyst for unity, courage, and change. I hope we learn from this as a nation, and as a community. We expect more from our elected officials and our lawmakers. We expect them to step up to the plate more than ever before and make bold efforts to ensure the safety of its citizens and our children. We cannot allow for this to happen again. After all, this is supposed to be the land of the free and home of the brave.