The decision is made - it's officially, finally time to take that bucket list safari. But with that one decision comes a hundred doubts. How best to plan your perfect once-in-a-lifetime trip? Where to even start? You've got security issues on your mind. There are the vaccinations that might be required. What is the food going to be like? Will the kids get bored? Can you get them off their iPhones long enough to take in the wildlife you will travel so far to see? You don't want to go all that way and not see the Big Five! On the other hand, will there be WiFi in the camps? You'll have to keep an eye on things online if you are going to be gone for a couple of weeks! You turn to Google, which quickly becomes your best/worst frenemy.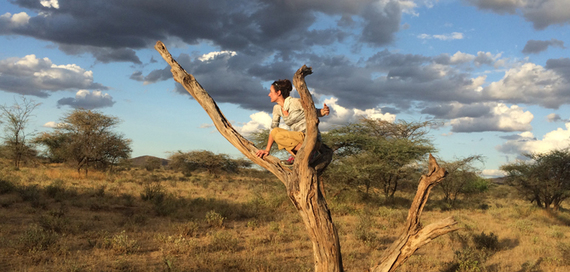 As a travel designer who has traveled for many months over the past several years visiting the best safari regions and camps of Africa, I hear these doubts and questions all the time. I'll cover the basics and shed some insider knowledge on how best to plan your safari:
Where to go?
This depends on the kind of safari you want and how long you have. It is best to choose between East Africa and Southern Africa, which are quite a distance apart. You can comfortably do one country in seven to twelve days but need at least two weeks to include multiple countries in your itinerary.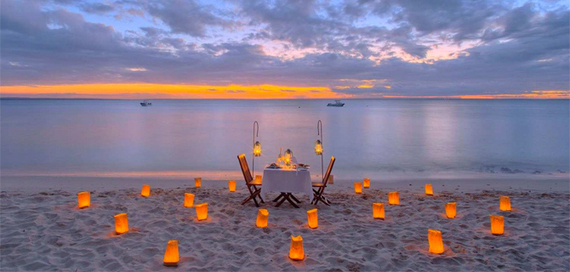 Safari destinations are each a little different, pairing well with certain personas. It's all about finding your match! Are you a couple looking to combine wine tasting with a safari in luxury camps? Go to South Africa and start with Cape Town, then visit Sabi Sands in Kruger, and finish up with a romantic weekend in Victoria Falls. If you need some R&R after your wedding, start with a beachy island stay in Mozambique at Azura's uber-romantic lodges on the islands of Benguerra or Qualilea, or enjoy a rugged romantic retreat on the coast at the brilliant and beautiful Grootbos Lodge, two hours from Cape Town.
Is your focus the Great Migration? Catch it in Serengeti National Park at Alex Walker's small private camp on the Mara River for an up-close and personal experience or at one of the Asilia camps, known for their commitment to conservation and community.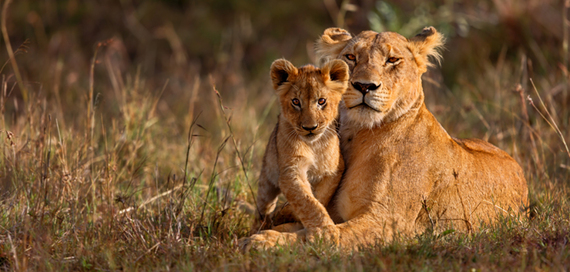 Are you eco-concerned and intrepid? Make your way to Kenya's Laikipia and Samburu regions in the North, where dynastic Kenyan families still run lodges perched in unlikely places and can fill you with generational tales of life in the bush. Ol Malo and Sabuk Lodge, Sarara, Tassia and Loisaba Camp boast achingly beautiful views and intimate encounters with local tribespeople. Or volunteer at Campi Ya Kanzi in the Chyulu Hills - Hemingway's "Green Hills of Africa" - to make a difference in the lives of the Maasai.
Are you an ahead-of-the-curve trendsetter? The Okavango Delta in Botswana and South Luangwe in Zambia have both emerged as new "it" destinations in recent years, with fantastic game viewing in uncrowded reserves.
Always looking for the rare and unique? For an other-worldly landscape experience, visit Namibia, where massive red dunes stretch to the ocean's edge, sheltering colonies of mating sea lions.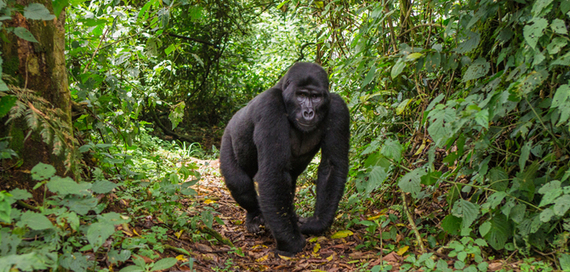 Do you go bananas over primates in the wild? Thanks to well-organized conservation efforts, gorillas now abound in the hillsides of Rwanda and Uganda and have been known to sometimes appear on the grounds of the lodges where you will be staying!
Is the sky the limit in terms of budget? Ol Jogi is a splendid 60,000-acre conservancy that rents exclusively to private parties.
When to go?
Happily, Africa safari destinations fit well with families' school calendars. Summer is a wonderful time for Kenya and Tanzania, with glorious temperatures in the 70s and 80s during the day and chilly mornings and evenings. Southern Africa is a little colder during our summers but can't be beat for December holidays, when it is full-on summer there. If you aren't constricted by the school calendar, January, September and June are wonderful months everywhere. In East Africa, avoid the rainy months of November and April, although climate change is making the arrival of rain a bit more unpredictable.
Where to stay?
Africa offers the best remote accommodations in the world: small personal camps with a modest eco-footprint dominate the pack. Service is second to none, with early morning tea or coffee served in your tent or cottage, surprise bush breakfasts and elegant gourmet dinners and sundowners. Many camps now have their own organic gardens and/or buy locally so produce is abundant and fresh. The garden at Sirikoi Camp at Lewa Downs is quite extraordinary! At these wonderful camps, your schedule is your own, tailored for you on a daily basis.
What you will see
Game is abundant in the Maasai Mara, Serengeti and the Okavango Delta. Some habitats favor a concentration of certain species. For elephants, go to Chobe Park in Botswana or Amboseli in Kenya. Elephant Watch Camp in Samburuland in Northern Kenya offers an in-depth experience of elephant conservation and intimate encounters with the multi-generational families of elephants they have been working with for decades.
Wildlife can feel a bit more tame or habituated in Kruger National Park, which receives many hundreds of thousands of visitors a year. By contrast, Laikipia in Northern Kenya receives less than 100,000 and boasts the second highest concentration of wildlife in Kenya. Visiting private reserves such as Ol Ari Nyiro, commanded by world-renowned author and conservationist Kuki Gallmann and her daughter Sveva Gallmann, offers an experience of "wilder" wildlife, still startled by the appearance of humans and Landrovers. This makes for observations of more furtive behavior.
Activities on safari
The typical day on safari is becoming less typical all the time. While game drives still take place in the early morning and late afternoons when animals are most active, many camps have added all sorts of other activities to their repertoires: walking safaris, horseback and camel riding safaris, helicopter and bush plane flights to neighboring reserves and landscapes, on-site massage and spa services, and even tennis, swimming and yoga.
However, staple conversations with hosts and guests--those personal encounters that inspire travelers to leave their computers and devices in their tents--are among the most memorable aspects of any safari. You may find yourself planning your next trip with friends newly made in camp. Many camps and lodges offer communal dining, which makes getting to know fellow guests a breeze.
Of course, there is always the phenomenon of "khaki fever"--falling in love or in lust with your guide. Many a marriage has been done and undone as a result of khaki fever, which Africa has fine safari literature to document. Stories from Kenya's Happy Valley days are among the most entertaining guilty reading pleasures for armchair lovers.
What about security issues?
Have you seen the news lately? Sadly, yes, we live in a world plagued by a migrant crisis and threatened by terrorism. However, when it comes to safaris in the remote African bush, you'll find an incredibly peaceful place with an image problem, not a security one. As far as danger from animals is concerned, listen to your expert guides, and you will be just fine.
Safari Dos and Don'ts:
Safari lodges as well as guests are guilty of less-than-best practices. Here are a few of my personal pet peeves:
The welcome song and dance: Though well intentioned, having the whole staff out in front of the lodge to welcome new guests with an African song and perhaps a dance can get old just about immediately. It feels embarrassing to all and is one of the more corny customs some lodges persist in continuing.
Staff who ask you whether you have been to their country before: This has become a classic question (most noted in Tanzania) that staff have clearly been instructed to use as a conversation opener. It's tiring for guests that have to answer it over and over and must be boring for staff to hear about! Rather than recount my itinerary, I prefer to get into more real conversation with guides, drivers and other staff I meet on safari. Asking about their families will produce a weal• th of cultural information, and politics is on everyone's mind (especially America's current election cycle!).
The village visit: Don't just visit a village, commit to one! Many camps and lodges run programs that benefit local communities. Rather than just visiting a village and buying some beadwork, ask about the community's needs and invest in education, medical care or other urgent requirements.
Yes, you need to charge your cameras: But don't be the Ugly American who is focused on their gadgets first and foremost. Part of the opportunity of being in Africa is to immerse in nature and get away from a heavily technologized environment. Also get to know people. You can friend them on Facebook later.
Get on African time: Yes, it is true. African time still exists (if you will let it). In the old days safari-goers primed themselves for long tracts of unstructured travels that they would improvise as they went along. These days travelers are loathe to give up their micro-managed schedules, as much as they think they need a break from them! Try falling into a rhythm of being rather than doing. There is nothing wrong with lingering at long meals, taking in the stars around the evening bonfire, spending a few hours watching elephants at the water hole. A safari offers luscious opportunities to while away the time in sensory stillness. While visiting Sabuk Lodge in March of this year, I spent an entire day in my room, basking in the amazing view of the surrounding mountains and river. Notice the light change. When was the last time you got to do that?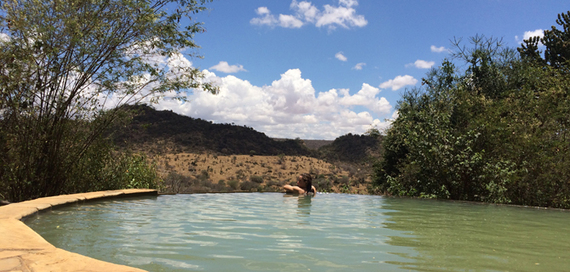 Dominique Callimanopulos is a travel designer and founder of Elevate Destinations, a leading travel company that connects travelers with altruistic opportunities worldwide. She will be launching Elevate Safaris, an eco-luxury custom safari brand, in Fall of 2016.