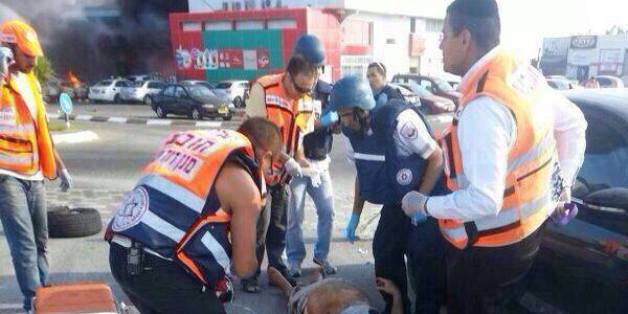 My family and I have now spent three days shuttling between Jerusalem bomb shelters, eyeing the skies for missiles targeting Tel Aviv. Sirens are wailing around Israel and United Hatzalah, the organization I founded to provide volunteer medical emergency first response across the nation, has maintained 2,300 volunteers in the field to assist the wounded. When sirens sound and missiles land, everyone runs. These volunteers do not waver. They run to the victims. They run to save lives regardless of the danger to their own.
The reality on the ground differs from what's reported in the media. The images of Israel, when compared with those of Gaza, make it seem Gaza residents are those most impacted by the conflict. But Israelis living in the southern portion of the nation -- where some of the nation's most populous cities are located -- are living and sleeping in bomb shelters. Missiles are falling upon them, exploding around them. These missiles are raining shrapnel on children. The conflict's true victims are the innocents killed and traumatized by this violence.
Dov Maisel, among United Hatzalah's founders and now its director of international operations, had a scare, today. Dov, a seasoned paramedic, is not easily scared. He's served as the chief paramedic of various medical teams in Haiti, Japan, and the Philippines when disaster struck and the people of those countries were in need. He is among the best paramedics in Israel. He once found his uncle killed in a terrorist attack on a bus ten years ago. I have known him my entire life and can attest to his calm, courage and sensible nature.
Dov just ran into my office at United Hatzalah headquarters, trembling. He had received a chilling phone call from his 7-year-old son, Tomer. Tomer was leaving day camp in the city of Ramla, where they reside (near the airport). Suddenly, Tomer heard an airborne explosion. The Iron Dome intercepted a Hamas missile, thankfully causing it to explode in midair. The siren did not alert the child to run into the shelter, so he was exposed to the danger from above. Pieces of metal rained down from the sky all around him. He is seven years old but knows what to do in such harrowing situations: to lay on the ground abreast a wall with his little hands shielding his head. After the metal and shrapnel stopped falling, he reached into his pocket for the phone his parents had given him in case of an emergency. Dov answered the phone and heard his young son's voice: "Abba," the boy said. "It exploded right above my head."
Dov told me he was going home to be with his children. I embraced him and told him to give Tomer a hug from me, as well.
While innocents in Israel flee the missiles, United Hatzalah volunteers run towards the aftermath. They run into harm's way to provide whatever help is needed, wherever it is needed, even without the necessary protective vests and helmets that are right now in such short supply. Many use the motorcycle ambulance we developed -- what we call an "ambucycle" -- to rush to the scene of a missile attack. These ambucycles save lives because they don't get stuck in traffic and they carry the same life-saving equipment as an ambulance. But they arrive in an average of less than three minutes, when ambulances typically take as much as 10. Every second counts when someone is struggling for breath. When they are bleeding. When they are injured and need help.
This situation is affecting us all in profound and troubling ways. This afternoon, my son, who is 11-years old, walked our dog, when he heard the dreaded siren. But he had nowhere to run and later told me he was more worried about the dog, Chica, than himself. So he took the dog and put him underneath his shirt to protect him and lay down on the ground, as he's been taught. He heard an explosion, then another. Three explosions back-to-back-to-back. This is a fear no parent should ever meet, no 11-year-old boy should suffer through.
I feel that although Israel is strong and resilient, we are deeply vulnerable. We worry for our families, and our friends. I worry for all of my volunteers, who drop everything to rush into the most dangerous situations to help those in need. With this to worry about, I'm focused on getting the help we need to protect the people of Israel from indiscriminate missile attacks, and protecting those who risk their lives to protect others.
To learn more about United Hatzalah please visit www.israelrescue.org.