While the rest of the world scrambles for snacks to fortify them during the estimated four-hour Academy Award TV extravaganza-Los Angelinos are set on a single, site-specific and strategic mission.

From Hollywood to Santa Monica and up to Malibu, Los Angeles women are engaged in a shared ritual -- a pre-Oscar rite of passage that bonds them all -- the sisterhood of the blowout.

Virtually every salon -- every chair, in every mid-to upscale hairstyling establishment -- is full.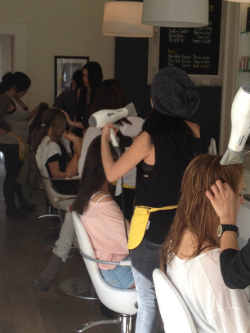 This phenomenon-pre-Oscar primping-is not just the purview of celebrities and the 3300 stars and industry insiders who attend the awards show. It's also de rigueur for post-Oscar parties and around-the-town celebrations. What the superbowl is to football, the Academy Awards are to the entertainment industry. And here -- it's the look that scores.

With an estimated 11,934 salons the metro-LA region -- according to Citysearch, Los Angeles is a hotbed of girl beautification.

At Drybar in West Hollywood, stylist Kristine Mkhchyan is booked solid. "It's addictive," she says, "People become friends. It's fun. You watch a movie. Get a drink. It's a girlfriend thing."

Michael Canale, Beverly Hills uber colorist-who's created Jennifer Anniston's color since the beginning of Friends -- and Lives of Style celebrity style colorist, says, "Mine is a girls' club. Oh my god, yes. This is definitely a girls' club. Everyone mingles very well."

A long-time Canale client-who's attending the Vanity Fair party adds, "It's a speakeasy. A joy to be here. All my best girlfriends come here."

Canale adds "More people are getting set up for after parties. We're giving them a glamorous look. A lot of long bangs, set up for movement and long hair too, with lots of glosses and sealers or extra highlights."

And what of Anniston-the original Friend? Canale says he's done "more of a striking, cool-toned blonde-in the front. Her hair's definitely longer -- and it shines."