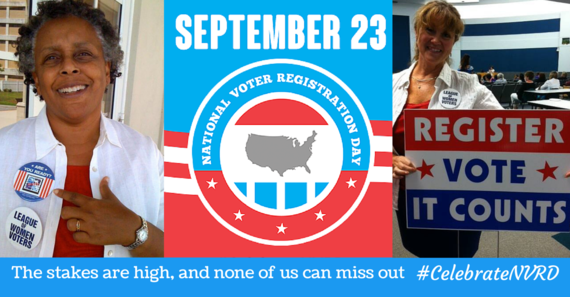 Today is National Voter Registration Day (NVRD), the day for eligible Americans everywhere to register to vote! Voting is our chance to stand up for our families and communities by letting politicians know what matters to us. Voting is our duty and responsibility as citizens. With Election Day, November 4, just around the corner, now is the time for all of us to get ready to participate and to help our friends and family get ready too!
The League of Women Voters is celebrating National Voter Registration Day because registering to vote is the key way to ensure that you can engage in our country's political process. We come from all walks of life, and we vote for lots of different reasons. But today, all Americans deserve the chance to stand up for what matters most to them. And the best way to do that is to register and vote.
The entire House of Representatives and dozens of US Senate and Governor's races will be decided by voters this year. The candidates for these offices, and thousands of others, are asking for a shot at the job of representing you. And guess what? Each of us gets to decide who we want to hire. These races are about jobs, our economy, access to health care and safety in our communities.
That's why it's critical that each of us registers to vote -- and that we encourage the people in our lives to do the same!
Today, volunteers from 400 Leagues across 48 states are among the over 2,000 partner organizations holding thousands of voter registration events across the country. From high school and college campuses to concerts and public health centers, the League of Women Voters and our partners will be out in full force to register eligible voters!
In 2012 and 2013, National Voter Registration Day partners helped 350,000 voters register to vote on this single day of nationwide action. Today -- with your help -- we want to empower even more voters! In celebration of National Voter Registration Day, here's how you can join us in Making Democracy Work®.
On November 4, voters across the country will weigh in on thousands of elections at the local, state and federal levels. The stakes are high, and none of us can miss out. Empowering ourselves to vote is the best way to honor our country and have a say on what matters most to us, our families and our communities. With your help, we can make sure every eligible voter can take a stand and make an impact this Election Day!