The first time a baby rolls over, or sits up. Her first steps, his first words. Each is a milestone that gets recorded in baby books and etched on mothers' memories.
For most babies, and most mothers, these milestone roll by and are ticked off the list.
But for me, and many other moms, each milestone is earnestly fought for and cherished all the more for the extra effort our children have to put in to accomplish them.
For me, it was Elijah's first words. Most babies begin talking on schedule as expected, some a little sooner, others a little later. Elijah's first words came late, and after much time and hard work on his part. My husband and I will never forget them.
Elijah was born 15 weeks too soon. One day we were filled with hopes and dreams for our first child, then, suddenly, we were faced with the enormity of the consequences of our son being born prematurely and having to literally fight for his life. Elijah spent seven months in a newborn intensive care unit. Doctors there discovered the duct between Elijah's pulmonary artery and aorta in his heart didn't close the way it should. This caused his lungs to fill with fluid, making it nearly impossible for him to breathe properly. Elijah underwent extremely delicate surgery to close the duct in his heart and he had a tracheotomy in his throat to keep his airway open. The trache prevented him from learning how to speak. He's almost 13 and he continues to have and speech therapy.
But he's come so far. Now he gives speeches for the March of Dimes!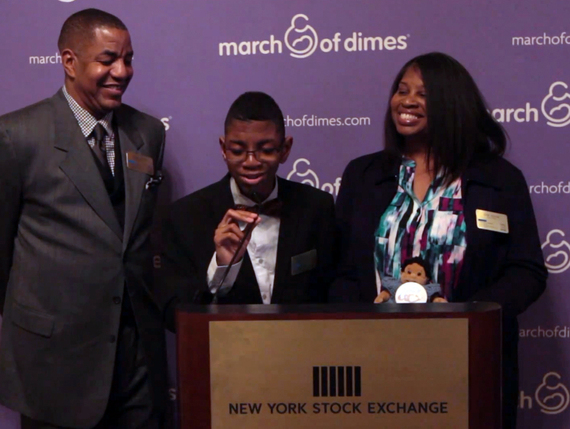 Elijah's first word was "Dad" and he was a bit over 2 years old when he spoke. Today, Elijah serves as the 2015 March of Dimes National Ambassador Child. He talks about his early birth and understands that he's still working to overcome the health consequences of being born too soon.
We've been March of Dimes volunteers since shortly after we brought Elijah home from the hospital. We are honored to be chosen to tell our story, so that help the public better understand the most serious child health consequences of being born too soon and support the March for Babies. We're proud that Elijah will add his voice to that message.
Follow Elijah's adventures as the March of Dimes National Ambassador at: https://www.facebook.com/MarchofDimesNationalAmbassador