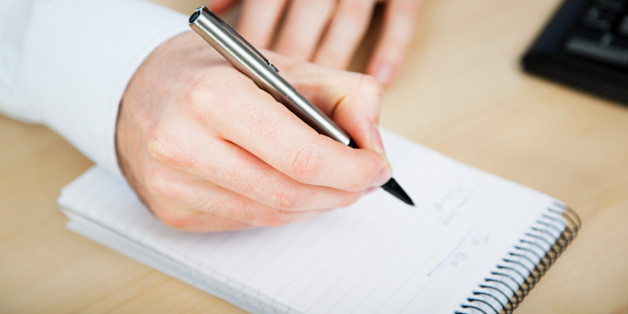 I'm someone who likes lists -- grocery lists, things-to-discuss-with-my-husband lists, decision lists, goal lists. My particular favorites are to-do lists. I can be caught adding something to the to-do list right before I finish it, just so I can check it off and get that instant sense of satisfaction. (Sound familiar to anyone?)
Recently, though, I had been feeling listless (no pun intended). Although I'm an MBA student with a constant wave of stimulation and opportunities to learn, I was not feeling energized. This seemed abnormal for someone who has spent all of her adult life with the next assignment or undertaking always in sight. I had recently landed a great summer internship, which had been my primary goal for a period of six months. Suddenly, I was left with more unscheduled time than usual. Like most business school students involved in various clubs, leadership activities and community outreach, on top of classes, I often schedule my life many weeks in advance. With any free time, I refer back to that handy to-do list and try to devote myself to attacking whatever is left. With the internship settled, my list seemed less pressing, less important, less motivating.
Soon after this realization, Arianna Huffington came to speak at Wharton about how she is redefining success and about taking time to experience wonder. During the discussion, I tried to remember the last time I stopped in awe of something, a time I broke from my color-coded, list-riddled calendar and fed my natural curiosity. When was the last time I let my focus wander and my mind wonder? I wasn't sure when it was. I leave myself little time to see the world around me. In the past, this has not bothered me because it seemed like the most efficient way to get things done. However, this concept of "wonder" hit me right when I was looking for something to replace the empty space in my to-do list.
Perhaps nothing demonstrates wonder better than seeing the world through the eyes of a four-year-old. Recently, my nephew came for a visit and showed me just how much I was missing. For him, everything is about following his curiosity -- from how he could use a lemonade stand to save money and buy Legos to taking the Amtrak train to visit family in other states. When the adults start talking, he asks what we mean by "marketing" and "liberty" and we attempt to explain. Confronted with his limitless supply of questions, I became very aware of how much we know (and take that knowledge for granted) but how little we could explain it fully to him. Somehow, I had learned so much but managed to lose some of my natural curiosity. Turns out, I kind of missed it.
If not a childlike curiosity, what typically motivates an adult? Personally, I've been driven by the opportunity to push myself and achieve professional and educational markers in life's all-encompassing list. I've had an ingrained sense that my achievements -- the list of places I've worked and the institutions where I've attended school -- were the way to define success. And I don't think this is an incorrect way to chart one's path. I am proud of my achievements and I believe that they are a way for me to use the talents I have and the skills I've learned. I was raised with limitless opportunities thanks to the hard work of my parents. Working hard towards education and career goals is part of who I am.
But my nephew had me wondering if this path to success that I've been following so closely wasn't quite the one I was meant to follow. He related to me that his 2-year-old baby sister cried in his father's arms when he and his mom left to come visit us. She wanted to come too, but this was his special trip with his mother (to spend quality time together). He told me, "We just needed a little time for ourselves." As funny as it was to hear a 4-year-old say that, it made me realize that I do as well. I may need a little time to myself, to pause, to reflect, to reconsider whether I'm spending time on the things that will be my life's successes.
Truth be told, I still get nervous, even disappointed, if I imagine a scenario where I do not have a successful career by rising to a senior management position. In my path to understanding fulfillment, I'm realizing that I need to think more about how I will go about working towards my goals. What impacts do I want to have outside of my career? It may be these that more significantly define who I am.
I've started to take some time at the beginning and end of each day to think about the day ahead and reflect on the day's past. Without worrying about my endless lists, I savor some moments to wonder about what I've experienced and what's to come with no action points to distract me from this precious time to just be. Some might call it meditating; I think of it as staring at an empty to-do list. I will see where this path takes me next.