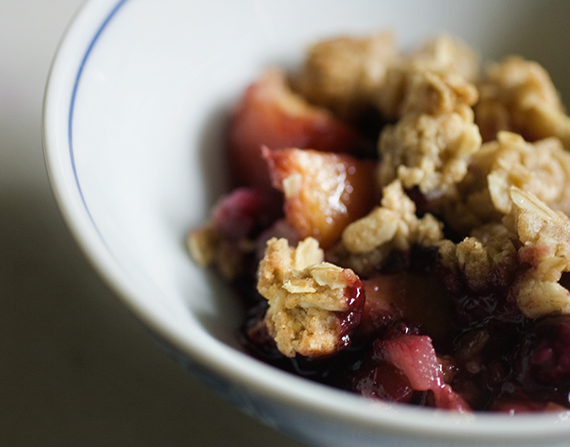 It's summer, and that means it's blackberry season.
I grew up in the Pacific Northwest, where the blackberry bushes were inescapable -- weeds, even. I passed the thorny plants growing along our neighborhood, behind my school, and against the sidewalks. We had some in our backyard when we first bought our house, until my mother hacked the branches away in a fit of determination. Every year, when I spotted the fat berries hanging low on their vines, like clusters of black beads, it felt more like summer than anything.
Because they're so expensive, I didn't eat a lot of berries growing up. Even today, in my mind they're exotic. Raspberries, blueberries, marionberries -- they should be reserved for special occasions, like a birthday or celebration. But blackberries were so plentiful, and so easy to get.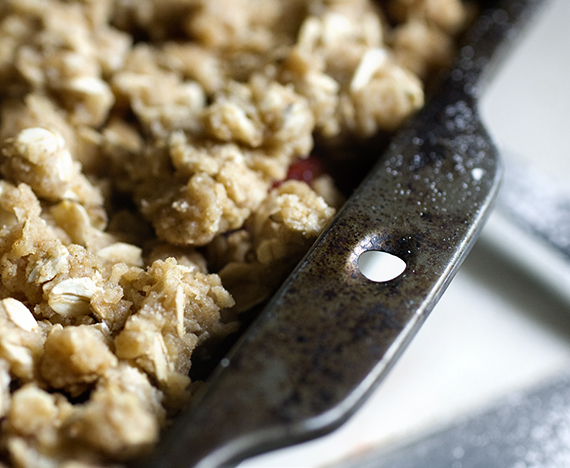 My mom and I liked to visit a park by our old condo. I'd never seen so many blackberry bushes before. They towered high over my head like a maze, and the air between them seemed to buzz with insects and filtered sunlight and the sweetness of sugar. Even in the shade we couldn't escape the hazy swelter of the afternoon sun, like hot breath on our backs. Spiders dangled from leaves and you could hear the blood pump in your ears.
I liked to reach for the darkest, plumpest berries on the highest vines, straining on my tiptoes and stretching up. As gentle as I tried to be, they burst out of their skins when I dropped them into my bowl. Before long my hands would be perfumed with juice, which stained the ridges of my fingerprints purple-red and smelled like July.
The whole way home, I'd breath the fragrance in and dream of dessert. Like this one.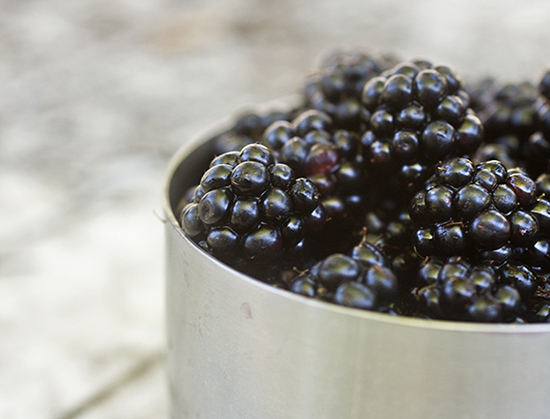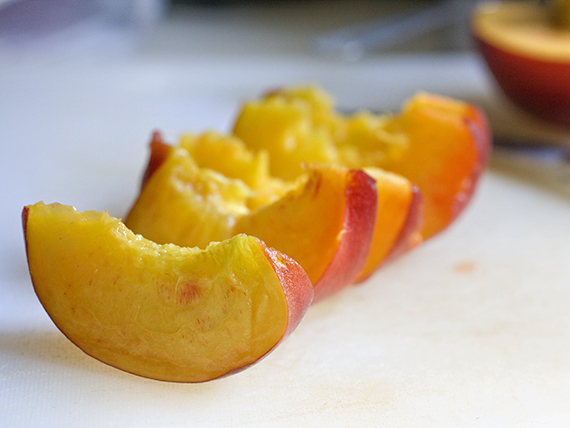 The blackberries are truly the star of this blackberry, peach, and ginger crumble. But the peaches are really delicious too. I like peaches, but I can't say that I love them. I don't think I've ever had a perfect peach, or even a really good one. The rest of my family has -- every year my grandma wistfully describes fresh peach ice cream and lattice peach pie. Or better yet--fresh and eaten off the tree. But me? I'm satisfied to cut them into rough chunks and toss them with berries in a crumble.
The ginger is almost an afterthought, but such a good one. I love dicing crystallized ginger into tiny cubes, because it leaves big sugar crystals and the sharpness of ginger all over my cutting board. You only get a little in each bite, but you know it when you find it.
The original recipe calls this dessert a crisp, but I substituted some cream cheese into the oat topping. I had some leftover to use up, and the result was delicious. I could taste a subtle tang, and it made the topping a little soft and chewy. I'm not sure what makes a crumble a crumble, but somehow "crisp" didn't seem right. All I know is that I shamelessly dug into whatever-you-call-it straight out of the pan, hot or chilled, for breakfast or for dessert in the warm twilight.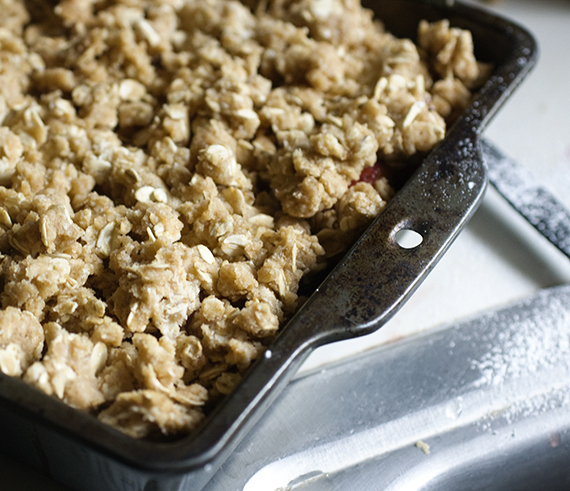 Fruit Filling
1 1/2 pounds ripe peaches (about 3 large peaches)
8 oz (about 1 1/2 cups) fresh blackberries
1/4 cup brown sugar
2 tablespoons cornstarch
Zest of a tangerine
1/4 cup finely chopped crystallized ginger
Cream Cheese Oat Topping
3/4 cup rolled oats
3/4 cup flour
1/2 cup brown sugar
3/4 teaspoon ground ginger
Big pinch of salt
1/3 cup butter, melted
1/3 cup cream cheese, room temperature
Preheat the oven to 400 degrees F and place a rack in the center.
Rinse all the fruit. Cut the peaches into bite-sized chunks. I quartered my peaches, and cut each quarter into 4 chunks. Set the blackberries and chopped peaches in a medium bowl.
In a small bowl, whisk together the sugar, cornstarch, orange zest, and chopped ginger. Sprinkle it over the fruit and gently toss to thoroughly combine. Transfer the fruit mixture to an 8ᅢラ8″ baking pan.
To make the cream cheese oat topping, whisk together the oats, flour, sugar, and ground ginger. Stir in the butter with a fork, then stir in the cream cheese until a coarse, dough-like topping forms. Sprinkle it in chunks over the fruit in the pan.
Bake the crumble for 20-25 minutes, or until the topping is golden brown. I like it hot, warm, and (though my mother can't believe it) straight from the refrigerator.