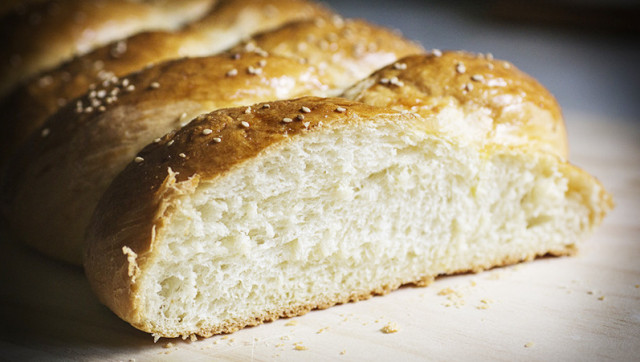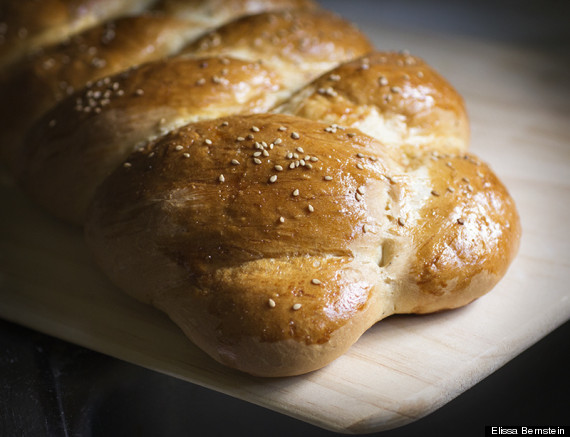 I only fell prey to homesickness once during my semester abroad in Europe -- done in by a bite of bread. I found the bakery one cold morning in France, on a quiet stretch of cobblestone narrow and short as an alley. The street might have been unremarkable if it weren't the center of Paris' Jewish quarter, unofficially nicknamed the Pletzl, or Yiddish for "little place."
I didn't know that. I just followed the smell of yeast, dates, and pressed almonds to a Yiddish bakery around the corner.
Cracked blue tiles made up the storefront, thin strips of yellow outlined the windows, and a flowerpot propped open the door. Inside, the lights cast a yellow glow over packages of matzo crackers, marzipan, and meringues in cellophane. Bread lay uncovered in neat stacks on wooden shelves. One rack housed tray after tray of strudel stuffed with apple, sesame, fig, a mélange of nuts and seeds. Another plate featured thick slices of buckwheat cake, slathered with warm honey, which cooled into a sugary crust.
That's when I discovered the challah, innocently resting atop a nose-level shelf, exhaling a mirage of fragrant air.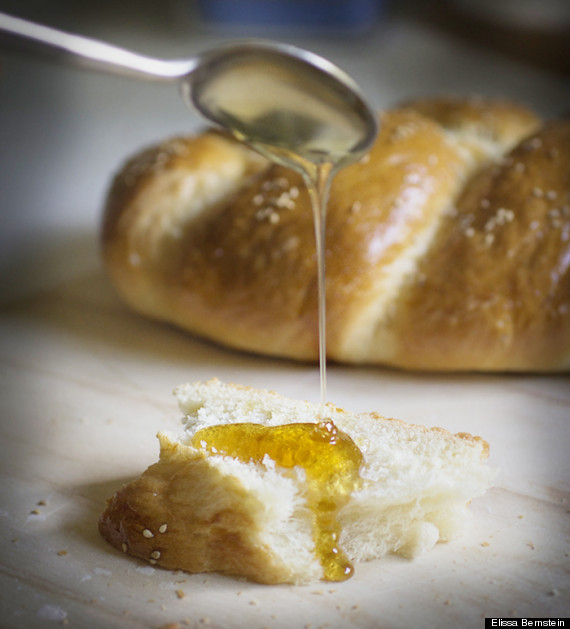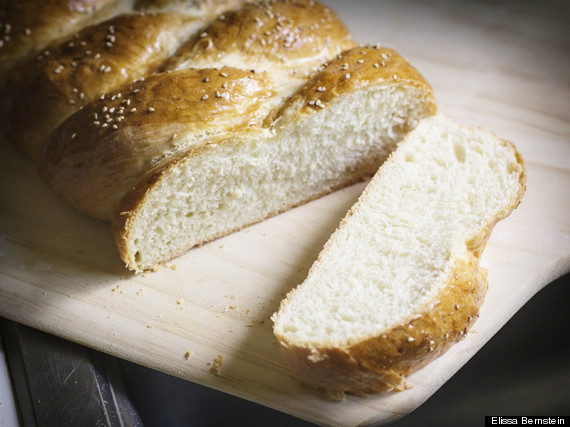 Challah has a history as rich and dense as the bread itself. Traditional Jewish meals call for the breaking of bread, and challah, Hebrew for "loaf," has been eaten since the existence of the Bible. The loaf is usually braided, but can also be twisted into knots or rolled into a spiral, each with unique significance depending on whether the occasion is an everyday dinner or a holiday ritual. Challah requires a generous number of eggs, finely sifted white flour, water, yeast, honey, and multiple rises before baking. It's a humble, fulfilling staple steeped in religious history -- the same recipe Israelites used for their Sabbath 4,000 years ago.
And yet, unexpectedly, the sight of it reminded me of my mother.
My mother grew up an extraordinarily picky eater in the tiny, bustling city of Taipei. Every morning before school, she stopped at a Taiwanese bakery and bought a loaf of bread for breakfast, tearing off warm hunks on the walk to class. She skipped lunch entirely and then for dinner, bought a second loaf on the walk home. When she immigrated to the United States and met my father, a Jewish American foodie from New York City, he nicknamed her the Carbohydrate Queen because of her limited palate.
My mother has since developed a taste for western food, and so I grew up eating eggs benedict smothered in hollandaise and medium rare steak, caramelized onions on everything. But she still loves bread best. And even though it's nothing like the airy Taiwanese buns she grew up on, my mother bakes my favorite challah in the world.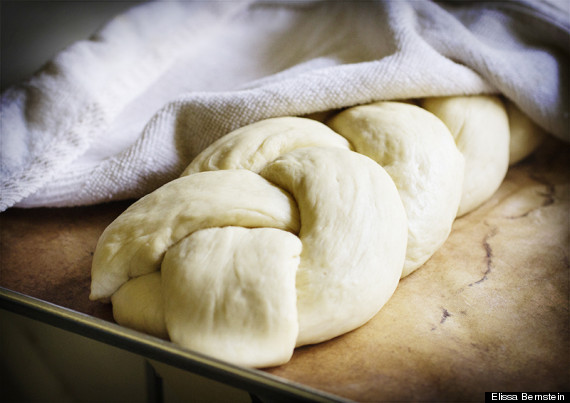 My dad taught her the basics one afternoon. He used a traditional challah recipe from a bread bible cookbook he's trusted forever, showed my mother how to punch down the soft dough and brush on the egg wash. Her first few loaves were doughy in the middle or as thickly-crusted as mineral rocks. We ate them anyway, consumed the warm insides with honey and butter and jam, toasted the stale ends and made French toast.
After a while, she began tweaking the recipe, going by the feel of the dough instead of exact measurements, swapping out ingredients for her own convenience. Like maple syrup instead of honey, a little less egg, sesame seeds instead of poppy. Her challah today doesn't taste like the original, but it's perfection, and it's completely hers.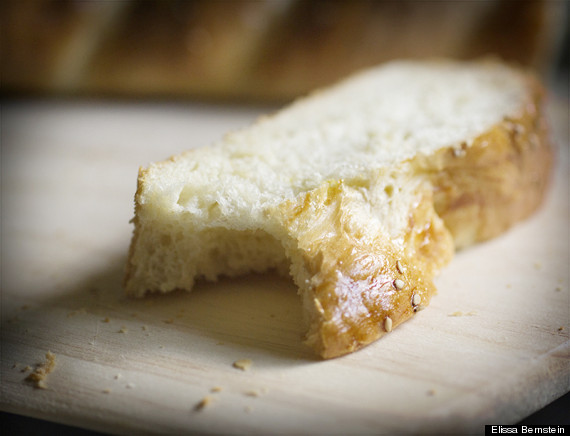 I thought about all this as I reached for the bakery challah. The crust had cooked to a deep chestnut brown, glossy from an egg wash painted on before baking. A few plump raisins peeked out from the folds of dough. The bread gave in under the pressure of my fingertips, soft as a pillow.
Unable to wait, I paid and sat on one of the tin chairs outside. I unwrapped the crinkled white paper and tore off a twist. The bread melted on my tongue, eggy and tender, moist even without dairy. I licked my fingers between bites and searched for crumbs on my scarf. I wolfed down the entire braid before it even cooled, until all I had left was the paper, damp from steam, and a warm belly.
The challah had been technically flawless, the best I'd ever tasted. Suddenly, I felt further away from home than ever. I walked back to my hostel in a dream. Paris was beautiful -- the clouds grey and tight like wool, the air crisp in my lungs, tan and blue mosaics glittering. But all I could think about was my mother and her kitchen on the other side of the world, and how grateful I was to have returned home, even for the briefest moment, transported by the power of bread.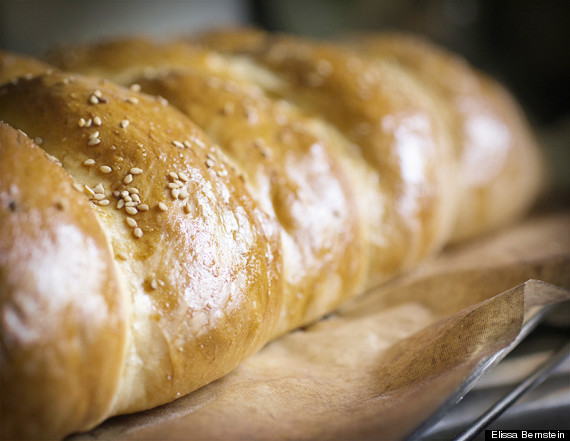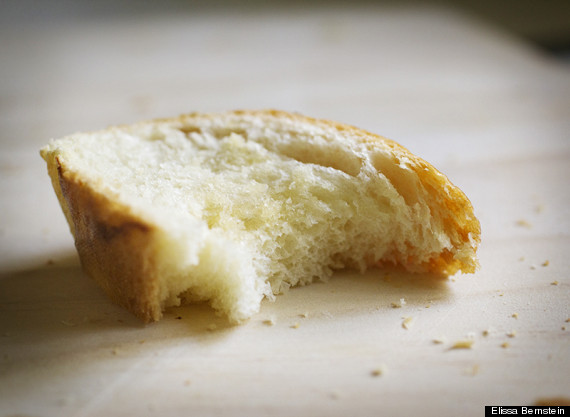 Mom's Challah
1 tablespoon dry yeast
1 cup water
3 1/2 cups (500 ml) unbleached flour
1/2 teaspoon salt
2 tablespoons maple syrup
1 egg, beaten
4 tablespoons unsalted butter, melted
Egg glaze (1 egg beaten with 1 tablespoon water)
2 tablespoons sesame seeds, for sprinkling
Sprinkle the yeast into the water in a bowl with a pinch of sugar. Let sit for 5 minutes, and then stir to dissolve.
Mix the flour and salt in an electric mixer. Make a well in the center and pour in the dissolved yeast. Add the maple syrup, beaten egg, and melted butter into the flour well. Mix with the dough hook on medium speed for about 10 minutes, or until the dough is shiny, elastic, and smooth.
Put the dough in a buttered bowl, turning to coat evenly with the butter. Cover with a dishtowel. Here, my mother uses a trick to simulate humidity in our Seattle kitchen - she microwaves a cup of water until it's boiling, about three to four minutes, and then places the bread in the warm microwave to rise for one hour. If you don't use her trick, it takes about two hours for the bread to double in size. Punch down the dough and let it rest for 10 minutes.
Divide the dough into three equal pieces. Roll each piece into a 16" rope, tapering the ends, then braid together.
Place the braid onto a buttered baking sheet, cover with dishtowel, and proof until doubled in size, about 45 minutes - 1 hour.
Brush with the egg glaze and sprinkle evenly with sesame seeds. Bake in a 350 degree F oven for 45 minutes until the loaf is richly golden and hollow sounding when tapped underneath. Cool on a wire rack.